Pillows, Pads, Blankets & Throws Products
American Blanket Corp.
Dalton, GA (706) 226-5555
This relatively new resource for high-pile acrylic jacquard throws has joined forces with sister company United Weavers of America to develop area rug and throw coordinates, shown for the first time at this week's market. The debut coordinate line pairs a 4' x 6' area rug and a 50" x 60" acrylic blanket throw in a coordinating, though not necessarily identically matching motif. Four new looks make up the new coordinate program, including Laurel, Montage, Silkwood and Daniela. Taking aim at the tweener market, American Blanket shows off two new patterns taking aim at this key demographic, including Rugby Stripe, a traditional stripe in multi-color combos that work for tweeners as well as adults. Two other prints round out the collection, including Giraffe, an upscale animal skin, and Flagstaff, a traditional Southwestern look.
American Trading
New York (212) 685-0081
Expanding its basic bedding collection is the American Trading Co., which offers new blankets priced at $5.95, new sleep pillows for $2.95 and imported throws for $9.95.
Beacon Blankets
Swannanoa, NC (828)686-3861
In its first market as a stand-alone company, the new Beacon Blankets is showing off a tightly edited debut collection of new blanket looks, with a comprehensive and massive introduction of new looks promised for the spring 2002 New York market, said Tedd Smith, president. This time up, Beacon shows off Trader Stripe under the Fieldcrest nameplate, a washable blend of 70 percent wool and 30 percent acrylic, telling a premium-fiber and easy-care story. The four-size program uses a cream background with green, yellow, red and black stripes. Super Soft is a fiber-woven conventional blanket of 100 percent acrylic micro-fiber for a supple hand. The three-size program is under the new Beacon Blankets Make Warm Friends label.
Bedroom and Window Creations
La Hambra, CA (562) 902-2600
From this company is a new imported patchwork fabric that may be used for bedspreads or throws.
Bowron Sheepskin
Denver (800) 926-9766
The Infinity color range features a new colorway, Alaska Blue, for the collection of natural rugs, throws, pillows and cubes, all made in 100 percent sheepskin in New Zealand.
Bucky Products
Seattle (206) 545-8790
Bucky offers Bucky Hotties, an expansion of the company's gift line, for this market. Offered in a neckwrap, bodywrap and hot water bottle, each may be heated or frozen, are filled with whole buckwheat seed filling and are covered with chenille with satin accent piping.
C&F Enterprises
Newport News, VA (757) 873-5688
C&F introduces a new collection of embroidered quilts with colors ranging from periwinkle, lavender and sage to vintage cranberry. Also new is another quilt collection, which combines clear, bright fabrics with textured chenilles, and several quilts with embellishments such as beading, ribbon embroidery and hand-stitched crazy quilting.
CHF Industries
New York (212) 951-7800
CHF introduces its quilt-in-a-bag line. Combining a portable bedding ensemble that bridges consumers' interest in quilts and sheets, the ensemble will include a 100 percent cotton quilt with a twin or full/ queen percale sheet set.
Classic Slipcovers
Vernon, CA (323) 583-4500
Two new offerings, a reversible slipcover in olive/lilac and rust/taupe, and Stanwick Fringe, a 43 poly/57 cotton slipcover done in laundered jacquard and a natural colorway, all bow.
Divatex Home Fashions
New York (212) 252-0802
New for market is the Royal Opulence blanket, which is done in 100 percent pima cotton and a jacquard construction. Made in India, the blanket will be offered in more than eight colors.
DJC Design Studio
Concord, NH (603)228-0488
This pioneer resource for fashion throws using luxury fibers in hand-woven looks blends a luxe, plush chenille yarn with real feathers. Bali Bronze is a generous 54" x 72" throw chenille throw in a bronze colorway using soft, natural pheasant feathers on each end.
Down Inc.
Grand Rapids, MI (616) 452-8731
New 240-count cambric down blankets are offered with a 5-inch sewn through end-to-end box stitch. The queen will be sized at 90" x 90" and have 17 ounces of fill. Also offered is the Blue Goose comforter, which features a patented construction placing fill in areas where it is needed most. Offered in a 290-count and bright white cambric construction with braided cording, the comforter may be filled with Hungarian goose down or premium white goose down.
Down Lite International
Loveland, OH (513) 677-3696
Down Lite enters the license market with its licensed Croscill Home line. Offered in a good/better/best and luxury strategy, each are filled with white goose down with high fill power. The fashion collection of prints, woven jacquards and embroideries will coordinate back to Croscill's new 310-count Couture sheeting collection.
Down Right
Brooklyn, NY (718) 232-2206
Down-filled, all-season blankets in sage, crème and white are new. Each features a sewn-down box construction with a satin flange and are machine washable.
Eagle Products
Hof/Saale, Germany 0049 9281 819 130
A new chenille throw with a modern design is made from soft lambswool. Sized at 60" x 88", the throw is offered in blue/lilac, red, brown/silver, black/gray and lavender.
Faribault Woolen Mills
Faribault, MN (507)334-6444
This premier producer of woolen blankets unveils two new collections. The Harvest group mixes autumnal sweater colors of copper, brick, stone and acorn with full-color stripes and plaids in a 100 percent Ramboulet washable lambswool group. The Ramboulet sheet is a cousin to Australia's prized wool producer, the Merino. Drawing its theme from the mysterious night skies of the winter solstice, the Noire collection uses 19-micron, ultra-soft yarns in a medium-weight construction.
Frette
New York (212) 299-0400
This high-end manufacturer and retailer expands its Royal collection with fall hues, part of the collection from new designer Cristina Azario. Velvet throw and accessories are available, as is a coordinating cashmere throw and towels.
Gerbrend Creations
Melbourne, FL (321) 952-1551
Ambiente is a 100 percent lambswool throw from Switzerland that is available in natural/black, natural appenzell blue, and natural taupe.
Greenland Trading Company
Walnut, CA (800) 677-8140
The Birdhouse quilt, a 100-percent cotton quilt with polyester fill, applique and piecework is new.
Hometex Products
Charlotte, NC (704) 374-1326
The U.S. marketing arm of Mexican-based San Marcos, Hometex is making a major statement with super-soft, raschel knit printed throws in children, juvenile and adult prints. A new fiber introduction results in a finer hand and richer color coverage.
Hudson Industries
Richmond, VA (800) 356-5715
Foam manufacturer Hudson unveils its Like-Latex pillow, which utilizes urethane foam to emulate the properties of popular latex pillows.
Ibena
New York (212) 563-6305
A new 2002 collection of Dormisette by Ibena solid-color and jacquard woven velour blankets is shown in two styles: the Solare collection, a blend of 60 percent cotton and 40 percent acrylic, and the Naturelle group of all-cotton velours.
Louisville Bedding
Louisville, KY (502) 491-3370
Louisville partners with Dupont to use MicroSilk and UltraLift. Both will be used in Louisville's better bed pillows and mattress pads.
Messina and Zucker
New York (212) 889-3750
This company gets into the expanding down comforter and blanket business with a goose down blanket in six soft colors and featuring a 250-count Swiss dot cover with satin binding on all four sides. A new Comfort Soft pillow filled with a down-like fiber is also new as well as the Serenity, which has high-quality slick fiber for increased loft and durability.
Northern Feather
Delta, British Columbia (604) 940-8283
The company offers new collection of high quality duvets, pillows and featherweights with hypoallergenic fill, called Nature Down Classique.
The Northwest Company
New York (212)725-6996
In its core sport license franchise, Northwest launches a new NFL tapestry throw line called Three Point Stance, with the patterns drawing their inspiration from a hot t-shirt line. Each team-specific throw features looks associated with the team or its home city. Also new in the sports shop are new designs for MLB, NBA and NHL. Coordinating sports tote bags are new. A new look in 50" x 60" Royal Plush raschel knit NFL throws is an "in your face" helmet design. Northwest also intros a new line-up that includes Spiderman, Woody Woodpecker, Eloise, Rocket Power, Cubix, N'Sync and 98 Degrees. Each is accessorized with a jacquard woven pillow.
Charles D. Owen Mfg.
Swannanoa, NC (828) 299-2582
Playing to its historic strength in printed juvenile bed blankets, and joining forces with Springs Industries, Owen taps into the Harry Potter franchise with a juvenile novelty blanket, and ties in with the film opening in November. Once again using one of Springs' premier nameplates under a new licensing pact, Owen launches a Wamsutta center medallion, jacquard woven cotton bedspread.
Pacific Coast Feather Company
Seattle (206) 336-2324
Many new colors and sizes will be introduced for the company's down comforter line as well as new surface interest in the cotton and microfiber lines. The Super Loft and Dual Support pillows will be added to PCF's line of down and feather pillows while three new constructions will be added to the line of synthetic pillows. For its Sealy licensed collection, three new designs will be added on the comfort end of the pad spectrum.
Pegasus Home Fashions
New York (212) 679-3241
New for market and representing an expansion of the company's cotton thermal blanket line are fringed 100 percent cotton thermal bedspreads in white, natural, light blue, rose and hunter.
Pendleton Woolen Mills
Portland, OR (503) 226-4801
Under a new Pendleton Home group, the venerable woolen producer launches a broad array of adult bed blankets, throws, juvenile blankets and accessories, as well as traditional Native American wool blankets and shawls. A basic bed blanket group includes Heirloom, an exceptionally soft and supple virgin merino lambswool blanket. Easy Care is a 100 percent washable virgin wool blanket that retains a soft hand after washing. Chevron is a distinctive herringbone weave pattern in three colors. Pure and Natural uses all-natural wool colors — no dyes — to tell a multi-color story in stripes. Frontier Stripe is a virgin wool multi-stripe. In addition to the core woolen group, the Lodge collection includes a National Park Series of wool blankets, including Rainier, Glacier, Grand Teton and Grand Canyon looks. The Woodlands group highlights lodge looks in an 82/18 wool/cotton blend. Outdoor blankets include Yakima Camp Stripe, a blend of 86/14 wool/cotton. A lineup of Sports Blankets includes the Carry Along Motor Robe, a combination of travel blanket, steamer rug, auto robe and stadium blanket.
Perfect Fit Industries
New York (212) 679-6656
For its Bedsack brand of products, the Metropolis pillow-top mattress pad has a natural cotton cover and is overfilled with polyester. The Egyptian 250 Pima cotton Bedsack Comfort Pillow and GTF Luxury Pad are also both overfilled with Perfect Puff polyester for added comfort. The Ultra Dry GTF Waterproof Pad features a soft brushed fleece-top fabric, polyester fill and a vinyl moisture barrier. For its Spring Air collection, the Ultra Soft Waterproof Comfort Pad is new and features a 233-count cotton Teflon coated fabric.
Smith & Johnson
New York (212) 889-1818
Tapping into a fast-growing category, Smith & Johnson is beefing up its bedspread business with all-cotton tufted patterns that include a geometric basketweave, an all-over luxury chenille and vintage florals in duvet covers, bedspreads and blankets. Decorative pillows now coordinate with tufted, quilted, printed and woven bedding patterns. New quilt looks encompass a wide variety of looks, from traditional to contemporary.
SnugFleece Woolens
Pocatello, ID (208) 233-9622
The new SnugSoft Elite mattress cover features a 1.5-inch pile, 2-inch corner straps and is machine washable.
Springs
Fort Mill, SC (803) 547-1500
Newest to this major mill's range of products is a quilt ensemble with a quilt, sham, sheet set, bed skirt and decorative pillow. Seven ensembles, Bellhaven, a vintage tea-stained floral, Spring Country, a country quilt of gingham and calico florals, Calico Ribbon, a patchwork of small florals, scrolls and solids, Notting Hill, a romantic floral combined with checks and calico prints, Heirloom, a red-and-cream diamond patchwork paired with a toile gingham and paisley, Cyndi, a block patchwork of periwinkle, blue, aqua and daisies, and Marisol, in kiwi, red, blue and yellow blocks with starts and hearts, are all new.
Sunham Home Fashions
New York (212) 361-4100
Sunham introduces a complete line of woven quilts embellished with decorative ribbons, trims and embroidery techniques, targeting a new customer and filling a need in the marketplace.
Sure Fit
New York (212) 869-6633
Expanding its existing programs, Sure Fit offers its faux silk collection featuring Madras Matelasse Plaid, which comes in a straight-skirt style and ties in two colors. Also new is a 100 percent cotton duck floral cover called Gardenia, which is available in a regular skirt.
United Feather & Down
Des Plaines, IL (847) 296-6500
UF&D expands it blanket collection with new colors for its 230-count cambric cotton and 21-count cotton sateen lines. Sage, khaki, light blue and fuchsia are added to the 230 line, while navy, forest green and brick will supplement the 312 offering. The Personal Comfort pillow collection will be previewed in Joseph Abboud signature fabrics for the first time. The lumbar support pillow Comfort Reader will relaunch this market with new pricing and packaging while a new down lap throw program is new. The Primadown program has also been improved by blending Freshness Assured hypoallergenic down with Primaloft, designed for more softness and greater resiliency.
Verduno Collection
New York (212) 873-1456
Modern designs provide the inspiration for this studio's pillows, duvets and throws. Fabrics include hand woven silks, such as dupione, mutka, shantung and tussah, alone or in combinations. Other fabrics, such as linen, can also be used. Throws are available in approximately 54" x 64", depending on the design. An inside wool batting is used for such lightweight fabrics as dupione silk.
WestPoint Stevens
New York (212) 930-2000
Making full use of its newly acquired Chatham blanket business, the major mill launches two new textured stories in carriage-trade blankets. A new premium-fiber entry at the top of the line is a tonal Supima herringbone blanket. And a super-soft raschel-knit, high-pile fleece bed blanket is a blend of 85 percent acrylic and 15 percent polyester in natural, white, watermelon, gold, olive and ocean.
Woolrich
Woolrich, PA (800) 995-1299
Continuing a 330-year-old tradition that dates back to the nation's frontier days, Woolrich is showing all-wool Hudson's Bay Point blankets, originally used for trading with Native Americans. The Hudson's Bay blankets are loomed in England, and are offered in three sizes: four-point, a 72" x 90" full; six-point, a 100" x 90" queen; and eight-point, a 108" x 100" king.
Related Content By Author
Subscribe to
Home Textiles Today eDaily
Receive the news you need to know about the trends in the industry delivered right to your inbox.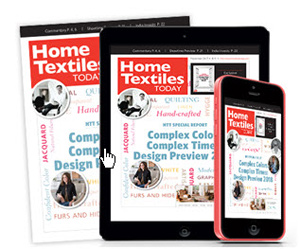 See the November 2017 issue of Home Textiles Today. In this issue, we look at Complex Colors, Complex Times--Trend forecasters and interior designers weigh in on 2018 palettes and motifs. Other articles include: Data: Exclusive HTT soft window research; Innovation: Material Changes conference preview; Country report: India invests in the future and Fabrics: Showtime preview. See details!