Kitchen & Tabletop Products
Anchor Home Products
Prospect Park, NJ (800) 525-0852
The new Summer Breeze collection is a licensed design from Pfaltzgraff dinnerware for Anchor's new covers for appliances and coordinating window treatments — an expansion of Anchor's existing line of Pfaltzgraff-licensed product.
The Arlee Group/Table Trends
New York (212) 689-0020
Table Trends offers an array of salsa-inspired colors in its Rainbow group, a collection of solids and stripes in mango, palmetto, kiwi and caribbean. Also new are delicate embroidery embellishments on the company's 100 percent cotton collection as are new surface techniques for the natural fibers of raffia, straw and jute.
Arlee Home Fashions
New York (212) 689-0020
Suede is a new major construction and look for Arlee's new table and kitchen collections. The line of coordinating decorative pillows, chair pads and place mats is available in 15 colorways, including leather, luggage and saddle.
American Trading
New York (212) 685-0081
Two tablecloths, one imported from China and the other an embroidered damask imported from Turkey, as well as a 100 percent cotton kitchen towel, printed aprons and a window curtain, are all new.
Ashford Court
New York (212) 679-6335
The new Posey Shop collection includes table runners and place mats in floral patterns on a variety of constructions — tapestries, jacquards, chenilles, printed fabrics, wovens, cotton and satin. This collection is part of a fully coordinated line of table linens, decorative pillows, duvets and window treatments. Also new is Ashford Court's Northern Exposure collection — featuring lodge looks — of table runners and place mats in assorted constructions, including tapestries, jacquards and chenilles. Finally, Ashford Court's new Wild Kingdom collection of place mats and runners features more than 25 designs of animal and safari fabric designs in faux leather, animal skin patterns and chenille and tapestry constructions.
Ashford Textiles
Gardena, CA (800) 804-6960
Ashford Textiles' new basket weave kitchen towels are made of 100 percent cotton and are available in red, sky blue, yellow, olive and green. Product is available in two sizes — 15" x 25" and an oversized 18" x 24".
Bardwil Linens
New York (212) 944-1870
Patchwork is the new style coming out of Bardwil. New collections include the 100 percent cotton Country Toile in blue, featuring blue patches of gingham and vintage florals, and American Celebration, featuring a classic style. In vinyls, new introductions for tablecloths and place mats include Martha's Vineyard and Bahama, the latter featuring bright colorways.
Charles Crafts
Larkinburg, NC (910) 844-3521
Charles Crafts' new Ultraweave micro-fiber textiles made of micro-fiber yarns are available in taupe, starry night, canary yellow, moss green, slate blue and brick red. This new product represents the company's first entry into a new construction other than cotton for kitchen towels.
Columbier-Hacot
Valhalla, NY (914) 683-1229
Vis a Vis, with warp and weft color, is a new combed cotton jacquard woven collection from Anne de Solene. Included is Cachemire, in a terracotta colorway.
Concinno Home
Denver (720) 359-9139
Concinno Home's new 100 percent cotton paisley runner with beaded fringe is imported from India. It is available in four color combinations: pink, brown and green; red, turquoise and white; red, brown and green; and red, brown and turquoise.
Denyse Schmidt Quilts
Fairfield, CT (203) 254-3264
A dinner napkin, place mat and cocktail napkin, all hand silk-screened on 100 percent cotton duck, are new.
Friedola Gebr. Holzapfel Gmbh & Co. KG
Meinhard-Frieda, Denmark 49-0-56-51-3-03-1-24
Friedola's new Flair Classic 100 percent cotton tablecloth is damask and stain resistant. The company will support the sale of this product with special packaging and display units.
Golden Holidays
Irwindale, CA (626) 303-0083
Golden Holidays' new 100 percent silk runners — titled Regal — feature an Indian sari border design and are available in gold, silver, copper and more colors.
Heritage Hill Home
New York (212) 481-0747
Vintage floral is one theme for this company's new bedding collections, on 200-count sheets. Also new is globe-trotting collection in 320-count pure cotton, as are luxury, pure cotton, 400-count, fiber-reactive dyed sheets and comforters with accessories. Patterns include the Ambassador Paisley bedding ensemble, a 320-count sheet set with embellished hem oversized comforter of 320-count pure cotton with ring stitching, as well as duvet.
India Overseas Traders
Philadelphia, PA (215) 922-2755
India Overseas' new Botanica collection of place mat and napkin coordinates comes in two color combinations — blue with green, and pink with yellow — and made of 100 percent cotton. Also new is a collection of wipeable straw place mats and new embroideries and embellishments for other new introductions.
Jeffrey Fisher Home
Toronto (416) 362-4663
Jeffrey Fisher embraces the holiday spirit by unveiling its exclusive line of lavishly designed holiday stockings. Each satin-lined stocking is handcrafted into five styles, including a black velvet model adorned with bezel-set Swarovski crystals and trimmed with ostrich feathers and another of an Italian tapestry stocking hand-finished with shimmering topaz beads and faux-leopard pompons.
Kay Dee Designs
Hope Valley, RI (800) 537-3433
Kay Dee Designs' new Marseille and Brittany traditional toile designs — in red and blue colorways, respectively — are part of the company's new Provence/Tuscany collection that includes coordinating aprons, terry towels, potholders, oven mitts, pantry towels, place mats (quilted and vinyl) and napkins. This collection also includes other designs: Limone, Vila Roma, Fowl Play, Olive Grove and Tuscan Pears. A new tropical collection being introduced includes various designs: Key Largo, a brightly colored tropical fish motif; Sanibel, classic shell motif in naturals; Tropical Foliage, a licensed design by Paul Brent featuring hibiscus; Pineapple Coast, brightly colored fruit medley design; and Trade Winds, a Hemingway-inspired palm tree design. A third new collection is based on nautical themes and includes six designs, some inspired by New England coastal living. And finally, a new barbecue-themed collection includes aprons, 17-inch oven mitts and terry-lined pocket mitts, all with bright colors and comical motifs.
Klear-Vu Corp.
New York (212) 679-3657
Klear-Vu is expanding its line of trademarked Gripper stool seat covers with three new patterns: Dover, a floral tapestry in natural and midnight colors; Denim, made of a durable cotton fabric in indigo; and Aquitaine, a printed cotton toile in royal, sage and merlot. Gripper coordinated product lines include chair pads, rocker sets, bar stools, decorative pillows, place mats, napkins and more.
Kim Seybert
New York (212) 564-7850
Among her many new introductions, Kim Seybert is introducing a new basic metal bead group that includes linen rhinestone regular and cocktail napkins and matching place mats that are available in square and round shapes.
Lintex Linens
New York (212) 679-8046
Lintex Linens' new collection is an expansion of its Spanish-made line and part of the company's move to grow its damask offerings of cotton/poly table linens. New collections include Santiago, available in six bright colors, and Lugo, available in an array of pastel colors. Other new collections of place mats include: Organdy, with embellished designs of fruits, made in India, and Brasserie, a 100 percent cotton tablecloth made in India in solid vibrant colorways. Lintex is also expanding its terry jacquard kitchen towel line made in Brazil and coordinating it with some of its table linen collections.
Looking Glass Enterprises
Pueblo, CO (800) 752-3044
Looking Glass' new orchid napkin ring comes in fuchsia, ivory and mayabi. The flower is made of a silk-and-poly blend and the stem is made of plastic.
Louisville Bedding
Louisville, KY (502) 491-3370
The company debuts a new line of place mats and napkins, titled Victoria. Done in 100 percent cotton print yarn-dye with coordinate plaid accents, the mat is quilted, comes in four colors and reverses to a plaid.
Louisville/Saydah Home Fashions
New York (212) 679-7164
The new Chef's Pantry collection coordinates with a kitchen collection by parent company Cecil Saydah. Two new wovens include the designs Window Pane and Shadow Box, which coordinate with bamboo place mats in three styles and are available in natural, sage, yellow, burgundy, navy hunter and black.
Matouk
New York (212) 683-9242
The new Victorian Rose tablecloth is a burnout design that coordinates with napkins, runners and place mats and is available in white. It is a poly-cotton fabric with scalloped embroidered edges. Also new is the Confetti collection, a sheer white poly-nylon organdy voile with a mini polka-dot, all-over design.
Messina and Zucker
New York (212) 889-3750
Chef's Essentials, a variety of restaurant-quality kitchen textiles with a fashion approach for the home in four colors, will be unveiled. The line will include an oversized stripe basketweave towel as well as teflon, silicone and flame-retardant terry cloth potholders and oven mitts. Also new is a Millennium microfiber kitchen program, which will include a towel and dish cloth. The towels are offered in terry, check, houndstooth and waffle-weave constructions. A solid and fashion print collection called Casual Dining will be introduced for the table as well as a Royal Damask Collection and a two-piece set of decorator rounds.
Mohawk Home
Sugar Valley, GA (706) 629-7941
Mohawk Home will be introducing more than 50 new place mat and table runner collections that tie back to existing solid-color programs. Several of the collections will have coordinated chairpads and decorative pillows. Designs are Americana; French country/cottage; Asian/Exotic; Western/ Mountain Retreat; Garden/Inspirational; Seasonal and Trend. At its showroom, Mohawk is presenting these introductions according to theme and lifestyles.
Mystic Valley Traders
Woburn, MA (781) 933-0666
Mystic gets cozy this fall with Fireside, a new bedding ensemble with a lodge feel. Table linen coordinates are included.
Oilcloth International
Los Angeles (323) 344-3967
Oilcloth International's new Bows print is a one-sided place mat made of oilcloth with printing supported by vinyl. It is available in red and blue.
Pacific Coast Home Furnishings
City of Commerce, CA (323) 838-7808
More table toppers and runners in new fabrics and designs and exclusive trimmings will be introduced.
Park B. Smith Ltd.
New York (212) 889-1818
The new tapestry kitchen textiles and table linens collection coordinated with place mats, napkins, potholders, oven mitts, kitchen towels, aprons, tablecloths and café curtains.
Revere Mills
New York (212) 725-7583
Revere is introducing 12 new kitchen towel patterns and four new pre-packs that come as one set that includes a kitchen towel, dishcloth, potholder and oven mitt. All are made of 100 percent cotton.
Rose Tree
Dallas (214) 637-6900
Two new solid programs will be added this market: Morningdale, a textural cotton with an ottoman background and scroll design in the foreground; and a new hemstitch product available in multiple colors and configurations. Eight new bedding ensembles are new, including Casad, a rich, chenille with roots in California contemporary with heavy bullion and thick rope cording.
Sam Hedaya Linens and Homewear
New York (212) 725-2900
Sam Hedaya's new Calypso collection of tropical looks is made of 100 percent white visa polyester. The emphasis is easy care.
Sferra Bros.
Cliffwood, NJ (732) 290-2230
Sferra's bestselling Bistro table linens line in pure linen has five new colors — carnation, putty, cornflower, graphite and terracotta.
Stone Brook Linens
New York (212) 686-3101
Stone Brook Linens' new tablecloth introduction is a poly-cotton rotary print on scroll jacquard and comes in a single colorway, lilac.
Sultan's Linens
New York (212) 689-8900
Seven new kitchen patterns will be introduced, and all coordinate with kitchen towels, dishcloths, potholders, oven mitts, tablecloths, place mats, chair pads and kitchen curtains.
Table Trends
New York (212) 689-0020
New salsa colors are the highlight, with a design titled Rainbow, a collection of stripes and solids in mango, palmetto, kiwi and Caribbean colorways. Also new are delicate embroidery embellishments, all made of 100 percent cotton and soft pastel hues. New surface techniques made with raffia, jute, and straw are also being introduced.
Terrisol Corp.
New York (212) 684-1006
Terrisol's new Hibiscus collection is made of 100 percent cotton and cotton canvas and includes place mats, napkins, runners and tablecloths.
Trendex Home Designs
New York (949) 552-5699
Trendex has expanded its assortment of floral heat-transfer accessories for coordinated lifestyle collections that include 100 percent printed cotton tablecloths, chair pads and reversible place mats as well as vinyl tablecloths and mats finished with coordinated resin napkin ring sets. In addition, the new Trendex Lifestyle collections are: Ceramica and Tila, a yellow and blue group that is reminiscent of Italian tiles and/or French Country looks; and Lilacs, beautiful branches of delicate lilacs with soft green accents. For its Oneida/Sakura brands Trendex is introducing new vinyl tablecloths and place mats in three patterns: In Flight, Citron and Summer Love. It is also introducing its new Seagrass collection, which includes Rangoon, oval mats in seven bright colors for indoor/outdoor use; Mandalay, oblong blotter mats; and Burma, oblong mats. Trendex is also adding two new colors to its Seasons and Sheer Leaves collections — Rose and Surf. Under that same heading, Trendex is also introducing the Amabel pattern, which is a stand-alone and dinnerware coordinate collection that includes a reversible place mat as well as an all-over plaid and roses tablecloth with accessories; and the Ombre pattern in four colorways — pastel, sea foam, royal and surf, available in both 100 cotton and vinyl tablecloths and accessories. The new Wallace collection, inspired by the sterling silver patterns by the same name, is an elegant collection of linens suited for fine dining.
Tweel Home Fashions
Harrison, NJ (973) 481-6300
Tweel recently signed a licensing partnership with pastel artist Pam Lure to create coordinated collections of table linens, kitchen textiles and decorative pillows, all of which will be introduced at market. It will target specialty stores. Price points include $5.99 for a place mat and $9.99 for an oven mitt. Other new introductions include new patterns from licensor Cheri Blum, the new Chefs design and a Pansies floral collection.
Windham Weavers
New York (212) 779-1242
Windham Weavers' new Rose Petal collection, a poly-cotton woven with embellishments, includes a place mat, runner, napkin and rug. Other introduction includes a new tapestry collection of rugs, place mats, runners and kitchen slice rugs.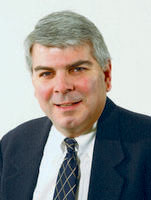 Thomas Russell
|
Associate Editor, FurnitureToday
trussell@furnituretoday.com
Related Content By Author
Subscribe to
Home Textiles Today eDaily
Receive the news you need to know about the trends in the industry delivered right to your inbox.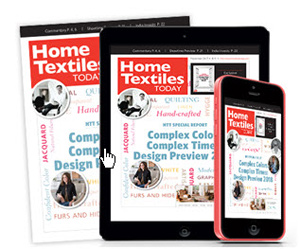 See the November 2017 issue of Home Textiles Today. In this issue, we look at Complex Colors, Complex Times--Trend forecasters and interior designers weigh in on 2018 palettes and motifs. Other articles include: Data: Exclusive HTT soft window research; Innovation: Material Changes conference preview; Country report: India invests in the future and Fabrics: Showtime preview. See details!