What's New at Market
BEDDING
AMERICAN TRADING COMPANY — American Trading is showing new comforters from China in assorted designs as well as bedspreads in dark colors with embroidery, such as Provincial. Printed sheets range from 160 to 200 count.
CHF INDUSTRIES
— In its Peri line, CHF Industries is introducing Cabana, an aqua and cinnabar cotton yarn dye pattern accented with faux leather. Also new is Retro Floral, a traditional print of a fun updated retro design. Retro Floral is a poly cotton blend offered in purple and orange.
LEITNER — In bedding Leitner is introducing Ottomane, which is offered in cotton linen and pure linen in 10 colors. The pattern features a new interpretation of a vivid Turkish design with Oriental symbols in differing sizes and shades. Also new is Marokko with simple arabesques woven into fine cotton featuring Oriental ornaments. A third new pattern is Glencheck in pure linen, which is offered in five shades. This pattern is also available in linen-wool blends as well. These products are distributed by SDH Enterprises.
L'ERBA — Tranquility is the new duvet and sham set from L'Erba. It embraces purity to create a sense of harmony and balance. The duvet is constructed of pintucked silk organza with cotton sateen backing and silk charmeuese trim. The euro sham is constructed of silk charmeuese.
P&A MARKETING — The company is debuting a new print collection of better quality, higher thread count bed-in-a-bags. They will be featuring styles reflecting a global, multi-cultural influence. The new Sheddon bed in a bag set has 250-count sheets. Sheet sets are self hemmed; fitted sheets have deep pockets to fit up to a 15-inch mattress. The comforter is overstuffed and the bed ruffle has a pleated skirt and poly/cotton woven platform. These bed-in-a-bag sets have dramatic, horizontal stripes. Geometric motif is enhanced with shades of clay, rust, sage and cobalt.
PARIMATEX LLC — Fresh new looks in room-in-a-bag styles. The aura of springtime in a sun-filled greenhouse is the inspiration for the Amani room-in-a-bag. Included in this collection is an oversized comforter with 300 grams of fill, coordinating bed skirt, pillow shams, deep-pocket sheet set that fits mattresses up to 22 inches in depth and two decorative pillows. The 16-inch pillow and six-inch neckroll all coordinate with the comforter set. Curtain panels and a valance can then be added to complete the newly decorated room. The room-in-a-bag is available in many styles and colors to accommodate teens through adults and is offered in twin, full, queen and king.
QUILTS BY DONNA — Quilts By Donna is offering Barn Raising Pinecone, The Log Cabin pattern, a traditional favorite composed of squares from strips of fabric in light and dark shades. The warm wheat fabric is arranged opposite deep shades of black, brown, olive and burgundy to form radiating diamonds known as the barn raising pattern. The bands of wheat are graced with delicately embroidered pine cones on their branches. The edge is finished with olive prairie points. Each piece is hand quilted in the seam in the traditional manner. The reverse is done in a tiny dark gold and brown print and bears Donna's embroidered signature and date. This pattern is generously sized for additional luxury. Multi-colored Softie pastel blankets with bears featuring signature quilting are also being introduced. Each displays a hand-stitched animal design with fringed trim.
RIVIERA/VAN BEERS — Riviera/Van Beers is introducing Oasis, a blue and green Asian-inspired watercolor pattern that is licensed by Springs Industires. Also new is Manor, a flannel bedding design licensed by Portuguese manufacturer Almeida that features small-scale paisleys and floral vines in neutral tones.
UNIQUE SOLUTIONS — Unique Solutions has created OppoSheets Dual Comfort/Dual Fabric Hybrid cotton/flannel sheet sets. OppoSheets sets provide comfort to two bed partners who have different body temperatures by sandwiching one sleeper between cotton sheets and the other between flannel sheets. A reversible middle seam on the top and bottom sheet join both fabrics to create one sheet set. A 10-inch cotton top hem on the top sheet and two cotton pillowcases make the set aesthetically appear as one fabric. The sheets can be used year round for maximum comfort. It is currently available in white or ecru. The 300-count sheets are made of cotton sateen and 4.3 ounces of cotton flannel. They are available in queen and king sizes.
ZAMBAITI USA — Zambaiti USA is offering a complete new collection of Italian jaquard woven bed linens in high-end constructions from 300- to 1,000-count in 10 different designs in classic and trendy colors both pieced and yarn-dyed. Four sizes are available in sheets sets, duvet sets, shams and bedskirts.
BATH
AKSAY TEXTILE LTD. — Since 1994, Aksay has specialized in producing terry, waffle and double-face bath items like bathrobes, towels, washing gloves, sauna wraps, beach bag, beach gowns, slippers, headbands, wristbands, waffle bed spreads, napkins, kitchen towels and much more. The newest towel is the Organza, available in three bath sizes in white or ecru. The company also produces jacquards (both yarn dyed or plain), embellished products with embroidery, application or printing, and handmade items such as tablecloths.
AMERICAN TRADING COMPANY — American Trading has three-piece towel sets in solids and prints as well as patterns with embroidery. There are also geometric designs offered in shower curtains and bath mats.
C & F ENTERPRISES INC. — As part of a coordinate collection that includes bedding, window coverings and hooked rugs, the company is showing matching guest towels for its Williamsburg Wakefield collection. They feature intricate embroidery in a Jacobean print.
CHF INDUSTRIES — CHF Industries is showing Fantasia from its Lynn Chase Designs collection, which features ceramic accessories with orchids plus decal. The shower curtain is constructed of cotton sateen and features resin hooks.
DÉCOR BY BEADER'S TOUCH — Décor By Beader's Touch is offering shower curtains in sheer organdie fabrics with embroidery and pin-tuck treatments designed to add newness to the bathroom.
DOMAY SALES INC. — The company is showing its promotionally priced Vue collection, which comprises translucent shower curtains and matching hooks, non-skid tub mat and soap holder. Sets are available for curtains and hooks.
DONISA/VOHANN — The company's Regency collection is a contemporary Asian design featuring a bold metallic gold bamboo motif on the 100 percent cotton rug, shower curtain and bath towels and the resin accessories.
DUCK RIVER TEXTILE — Duck River is introducing its Venetian collection of bath accessories, which is designed in the tradition of the 18th century. Each item is hand crafted and hand painted in a classic design and is available in ivory/gold or white/chrome. Also new is Duck River's Royal Garden, one of its collections of fabric shower curtains that coordinates with other bath accessories. It is available in gold and green.
FAMOUS HOME FASHIONS — The company is showing two new bath coordinate collections. Shelby includes a 100 percent cotton yarn-dyed patchwork shower curtains. It comes in juicy colors. Patio includes tinted and highly polished resin accessories in summer colors — orange, lime green, pink, purple, yellow, blue and white.
GINSEY INDUSTRIES — Ginsey Industries is introducing its inflatable Gel Bath Pillow and Eye Mask. The mask can be chilled to reduce puffiness or warmed to relax muscles and relieve stress. Also new is the Home Spa Bath Pillow & Seat. This therapeutic design gently contours to the neck, shoulders and back. Its cushioned foam provides therapeutic support for the legs and back. The seat and back panels can be adjusted to fit the user's preference and body.
KAPLANTEXT BY DALE KAPLAN — Kaplantext is introducing the My Favorite Fashionista shower curtain in 100 percent cotton. This limited edition design features images of 1970s fashion illustrations that appeared in pattern books.
LEITNER — In towels, Leitner is offering Camelot Flatweave, a 50 percent cotton, 50 percent linen towel; Rappallo, another linen-cotton blend; and Terry Lido, an 83 percent cotton, 17-percent linen towel that's available in eight pastel colors. A glencheck pattern in also new in terry cloth offerings. The product is distributed by SDH Enterprises.
PARK B. SMITH LTD. — The company is showing new printed shower curtains made of 100 percent cotton in a plain weave construction. Designs include Pop, available in a mango or blueberry colorway. The shower curtains measure 72-by-72.
In bath rugs, new designs include the 100 percent tufted cotton Pharaoh rug. It comes in a field/lagoon/white color combination and measures 24-by-40.
RIVIERA/VAN BEERS — Riviera/Van Beers is introducing its Deep Blue Sea shower curtain, which is licensed by Springs Industries, featuring a medley of underwater sea life in solid silhouettes. Also new is a vibrant coral beach towel with multi-colored striped and retro daisies called Pop Pop that is licensed by Welspun.
SHRI RENUGA SOFT — This company is showing its patented Nano Cotton towel, a soft and absorbent 100 percent virgin cotton towel that is fluffy. The towel is made through the nano technology process from the initial cotton growing to the finished product and costs slightly more than combed cotton products.
SOREMA BATH FASHION — New collections from Springbath, one of the company's upscale brands, include Premium Silk, a line that is blended with cotton to create an all-natural bath rug that is soft, strong, absorbent, lustrous and luxurious. This design is available in five colors: anthracite, indigo, carnet, emerald and natural. It is comprised of 80 percent cotton, 10 percent silk and 10 percent micromodal, and comes in 24-by-39 inches or 20-by-31 inches. There is also the Unique Linen bath mat group that is comprised of 90 percent cotton and 10 percent linen in a palette of natural hues. This design comes in 24-by-39 inches. In the Pure Cotton group are two new designs Exotic, a sculpted criss-cross look, and Continental, a flat white look with a hint of color in a banded border. Different colors and sizes are available.
In vibrant colors, Springbath is offering the following bath mat collections. The Beach Color collection comes in white, Bermuda, sunshine, apple and cantaloupe. The Spring Color collection comes in gray, blue sky, dandelion, seafoam and bamboo. The City Color collection offers black, navy, burgundy, eucalyptus and brown, while the Field collection comes in anthracite, Pacific blue, strawberry, beige dawn and Savannah.
SPLASH HOME — Splash Home is introducing '60s Dots, a retro flavored playful bath ensemble that includes coordinating embroidered towels, a tufted round bath rug, a vinyl shower curtain, hooks and acrylic accessories. The looks come in licorice, indigo and apple.
KITCHEN/TABLETOP
AZHIKKAL WEAVERS — The company is showing a new placemat collection, which features hemmed edges, and new tea towel collections in spring colors and stripe, checkered and mixed designs.
GOLDEN HOLIDAYS — The new Fiesta runners are made in a polyester and nylon blend and come in two sizes and styles. The sizes are 72-by-13 and 90-by-13, and the two styles are a beaded tassel look in red, orange, white and sunflower, and a metallic palette, which comes in silver, gold, gold and burgundy, gold and mocha, and gold and green.
KLEAR-VU CORP. — The company continues to expand its chair pad and seat cushion offerings, this time with a new Fad design, a textured woven style in four colorways — watercress, azure, berry and multi.
The new micro-suede Counterpoint collection features the company's Spill Guard technology and comes in the fern, vintage and natural colorways.
MELROSE HOME COLLECTIONS — Melrose Home Collections is introducing the Kate tablecloth, a traditional Jacobean pattern in chenille jacquard with coordinating stripe pieced with a mauve taffeta jacquard in three colorways.
OILCLOTH INTERNATIONAL INC. — Two new Oilcloth handmade items are set to debut.
The company's Oilcloth bowl, a design that is inspired by the fiber arts tradition of quilting, is functional and decorative. It comes in Tuscan yellow, lime green and red apple.
Also new is a chair pad the company calls its Hollywood Bowl portable seat cushion, available in eight popular Oilcloth International's prints on four reversible cushion styles. Each features a string handle for carrying.
POMEGRANATE INC. — The company has combined its traditional Provence pattern with its signature pink colorway to create its new Pink Provence collection of table linens and kitchen textiles. It comprises heavyweight, 100 percent cotton canvas aprons with adjustable next straps, 100 percent cotton canvas placemats, napkins and four sizes of tablecloths, which are hand-block printed in an orange, pink and green floral design.
REVERE MILLS — The company is showing a new two-piece kitchen towel collection. It includes one towel featuring embroidery and a colored end-dobby, and another towel that is solid colored. Several designs are available.
SIW THAI SILK INC. — Two new collections are being presented — Sonoma Sky and Terra Moon, both of which are handmade of hand-woven silk in Thailand by villagers. They each comprise table runners, placemats, napkins and media boxes.
SULTAN'S LINENS INC. — A complete collection of coordinating kitchen textiles and table linens in 14 patterns is being shown.
Also new to the kitchen towels category is a collection of 100 percent cotton appliqué styles in 12 designs.
TUSCAN HILLS, LLC — Tuscan Hills introduces Busatti Linens of Italy, a company that has remained faithful to traditional weaving and manufacturing techniques. Its products use only the finest cotton, linen and wool and employ antique carding machines and shuttle looms. Each piece is hand finished and embellished with details such as hemstitches, embroideries and laces.
Busatti's kitchen and tabletop products are diverse and varied in style and color. From bright and bold to discrete and traditional, the Anghiari collection includes kitchen towels, aprons, napkins, placemats, table runners, tablecloths and accent pieces made from cotton and linen blends.
WINDHAM WEAVERS — The new Istanbul runner collection measures 13-by-72 and is made in a tapestry chenille construction. The runners coordinate with decorative pillows.
AREA RUGS
C&F ENTERPRISES INC. — The new Peony hooked wool rug features a latex cotton backing. It coordinates with a larger collection that includes bedding, window coverings, shower curtain and guest towels.
CONCORD GLOBAL TRADING — The Paradise collection's rugs have an 11mm-pile height and are made in a 12 frame and 350 reed construction. A new eight-frame, 350 reed collection called Ankara spans traditional, transitional and modern designs.
FIBER PRO INC. — The company is showing its Global collection of boldly colored stripe patterns and corresponding solids, available in cut and uncut textures. The face of each rug is 100 percent polypropylene and the backing is washable and skid-resistant.
FUN RUGS BY GENERAL INDUSTRIES — The new Sum, Sum, Summa Time collection, which includes summer-themed high-low constructed designs like Surf & Sail, comes in five colorways — blue, gold, red, purple, green, and pink. These rugs are made of 100 percent New Zealand wool and have a 100 percent cotton canvas backing.
KAS RUGS — The company is expanding several of its existing lines, including rugs made with Abaca fiber, woven Pandana, leather chindi, bamboo, jute, sea grass and corra grass.
XIOCHI — The company is presenting a vibrantly colored striped and plaid collection of 100 percent cotton kitchen accent rugs. The collection comes in six designs, including Fruit Salad, Iolana Stripe, Santiago Stripe, Natalia Stripe and Monterey Plaid.
DEC PILLOWS
CODY HOME — Cody Home introduces a luxurious fur pillow that blends elegance with a contemporary aesthetic in a leopard stencil print with a plush ultra-suede frame and backing. This pillow comes in a 24-inch square, but it also available in custom sizes.
EVANDALE — Evandale introduces Frnaklin, a perforated faux suede neckroll that is available in red, olive, sable, black, spice, sand, Pacific, herb and adobe. Franklin is part of the company's Sofi bead collection, which features microbead filling for a unique feel.
FOUR CORNERS — Inspired by the French, Four Corners introduces its Femme and Homme decorative pillows and boudoirs, which are delicately embroidered on yarn-dyed linen in classic colors with hemstitch details.
FULLMOON HOME FASHIONS — Fullmoon Home Fashions introduces its Ceremonial Kaftan pillow, which displays a traditional dress worn by Ottoman sultans adorned with gems and woven with gold and silver threads.
IL FIORE COLLECTION — The company's latest line includes the Fall Leaves collection of individually hand-printed and hand-painted decorative pillows. They are trimmed in gold silk and a lush brush fringe.
KEVIN O'BRIEN STUDIO — Kevin O'Brien Studio introduces its newest pillows that have been coordinated into harmonious color families and include some patterns printed on linen, others burned out on velvet.
PHOENIX INTERNATIONAL — Phoenix International introduces its Fern pillows, which feature heavy embroidery of a modern fern motif on a silk-like fabric that comes in tangerine, aqua and apple.
PILLOWS, PADS, BLANKETS & THROWS
ALPHA CORP. — Alpha shows off a new range of hand-crafted decorative throws in novelty yarns and cushion covers. Leading off the line is Snug, a hand-knitted three-pound throw with matching cushion colors. Casablanca is a hand-woven stripe with a structured weave effect in nine colors. Mosaic is a hand-crocheted acrylic throw in chocolate, moss, green, teal and cranberry. Karakul is a lightweight hand-woven, two-tone boucle. Feather Throws are hand-woven using brushed mohair blended yarns in traditional designs and contemporary colors.
EAGLE PRODUCTS TEXTIL GMBH — Eagle Products is introducing a 100 percent knitted lambswool Faro throw in a modern multi stripe design with elegant fringes in four colorways. Also new is Bornholm, a vibrant year-round lambswool throw in two colorways: pastel or summer. A third introduction is Florida, a lightweight summer throw in lambswool with a herringbone binding and fringe that comes in two pastel colorways: red or blue.
LANDS DOWNUNDER INTERNATIONAL — This versatile supplier of throws launches a broad new line that includes a Kid Mohair, using a rare, super-fine natural fiber spun from the first shearing of baby goats. Throws are brushed four times in a unique process imparting a luminous finish. Also new are five mohair plaids; a plisse throw from Italy with embossed detailing in a blend of cotton and acrylic; and a colorful Hippy Throw in a bright stripe in acrylic.
MELANGE HOME — Melange is introducing a new collection of throws and blankets, such as Dot in yellow, which is reminiscent of dot candy colors, and Chunky Acrylic in bluish green, featuring an oversized weave. In addition, the company is introducing six other throws including: down and microfiber-filled solids and printed reversible throws; six other acrylic and/or rayon decorative throws; three solid or tone-on-tone throws, which mix and match with bedding; and down and microfiber-filled solid and printed reversible blankets.
MELROSE HOME COLLECTIONS — Melrose Home Collections is introducing Navajo, a Southwestern chenille jacquard throw with woven textured coordinate and suede accents. This pattern has been paired with casual textures to make it versatile and comfortable. Also new are Suede slipcovers in 20 shades of microsuede for a clean casual look.
NATCO HOME — The company is showing a collection of throws as part of the coordinates in its Astor Place collection — a tailored menswear-inspired stripe design in a soft wool-like texture. The collection also includes decorative pillows, placemats and runners.
SLEEPY HOLLOW — Sleepy Hollow is introducing a hybrid design that combines the comfort of a regular sleep pillow with the support of an orthopedic pillow. It is available in standard, queen and king sizes.
TOWN AND COUNTRY LIVING — The company is showing its new Floral Laser-Cut collection, inspired by recent ready-to-wear trends in accessories. Made of faux suede and featuring a laser-cut flower pattern, the throws coordinate with decorative pillows and placemats.
TRAMAR INC. — Tramar introduces a unique micro-beaded throw in a blend of Spandex and Lycra nylon. Tramar will also be showing a nylon-flocked blanket from Asia to tap into a popular niche.
WINDOW COVERINGS
CORONA DÉCOR CO. — The Soho Collection comes in two styles. In a geometric design there is a tapestry valance and wall plaque in two patterns — squares in blue green and brown shades on a beige background, or dots in gold, chocolate and copper shades on a beige and blue background. The valance comes in a box style and is lined with a poly-cotton fabric. The other Soho style is a hand-woven solid silk window panel in an oyster shade. It is available in three sizes — 51-by-84, 51-by-94 and 51-by-108.
DUCK RIVER TEXTILE — Duck River is showing Bianca, a fine voile curtain on a satin jacquard adorned with hand-made ribbon flowers. Bianca is available in white, beige and soft gold.
OLANA GROUP — Designed by artist Louis Vega Trevino, a new contemporary collection in bamboo can be used as curtains, treatments or shades and comes in muted shades.
SCALA INTERNATIONAL — Scala is showing silk panels of various designs, jacquard woven panels, faux leather and suede looks, grommet-top cotton panels and crushed-velvet looks with beading.
SULTAN'S LINENS CO. — The company is showing 18 new designs in 60-by-84 window panels. They all match with scarves. Included in this line are new back-to-school styles.
INFANT & JUVENILE
AMERICAN TRADING COMPANY — American Trading offers a complete line of imported infant and juvenile items in Mickey Mouse patterns.
BANANAFISH INC. — The company is showing its National Velvet nursery bedding collection. This four-piece crib set, which also matches with several room accessories, is made with cotton and velvet in brown and pink colorways.
OLIVE KIDS — Olive Kids is introducing two new patterns in conjunction with Dan River. They are Princess and Wild Animals. They will be available in twin, full and toddler sizes. Princess is a collection of crowns, hearts and stars in pinks and soft accents. Wild Animals offers a menagerie of colorful animals on a grass background. Both patterns feature 100 percent cotton sheets with a poly/cotton blend comforter. Olive Kids will also introduce Dinosaurland in toddler bedding for the first time with all-cotton sheets and a cotton/poly comforter.
SATURDAY KNIGHT LTD. — The company is showing a juvenile bath coordinates collection titled Safari, which features whimsical designs of zebras, elephants, giraffes, monkeys, birds, lions and tigers on a white ground. The collection comprises a cotton appliqué shower curtain, resin accessories and shower curtain hooks, a plastic wastepaper basket and honeycomb dobby and appliqué bath towels.
ZAMBAITI USA — Zambaiti USA introduces its new worldwide exclusive license for the Anne Geddes Home collection. The program is a complete baby and juvenile bed linens line for cribs and bedding in 100 percent cotton that is printed with portraits of the famous babies. It is made in Italy. There are 10 different designs in the new collection.
Related Content By Author
Subscribe to
Home Textiles Today eDaily
Receive the news you need to know about the trends in the industry delivered right to your inbox.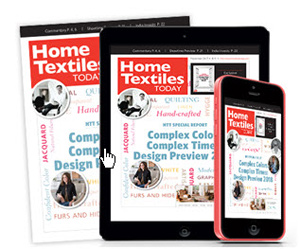 See the November 2017 issue of Home Textiles Today. In this issue, we look at Complex Colors, Complex Times--Trend forecasters and interior designers weigh in on 2018 palettes and motifs. Other articles include: Data: Exclusive HTT soft window research; Innovation: Material Changes conference preview; Country report: India invests in the future and Fabrics: Showtime preview. See details!