Where Have All The Merchants Gone?
Brent Felgner, August 5, 2006
New York —Despite the abundance of retailers visiting home textiles showrooms along Fifth and Sixth Avenues this week, to hear many industry executives and retail veterans tell it, there will be few merchants — real merchants — among them.
Don't misunderstand, there will be plenty of buyers. But true merchants?
In one sense, the merchant moniker is routinely used to describe every retailer, whether working in merchandising nor not, and more broadly, to describe the companies themselves. But it can also be a term of high respect, almost reverence, applied to the industry's best. Marvin Traub, Lester Gribbetz, Bob Stroud, and Eugene Kalkin come readily to mind, and there have been others.
These are the executives and buyers who have had the ability to perform nothing short of retail magic. They knew their customers, their stores, and their merchandise down to the sku. The real merchants got it —all of it..
Those tenured in home textiles can recall vendor meetings where these merchant-buyers would sit at a small table hunched over calculator and notepad, a loose-leaf opened to a planogram. The buyer barely glanced up from his calculations as the salesman tap-danced, spreading product on the table or floor, like riches before a king.
"It used to be that buyers were considered 'merchant kings,'" said Revman International president Rich Roman. "When I first experienced retailing in the early '70s, a buyer was there for a lifetime. The old saying was they forgot more than most people knew. They were the experts in their field, but they were also the chief cook and bottle washer."
Those days are over. Today, laptops have mostly supplanted the calculator and loose-leaf, and larger conference tables accommodate retail buying groups that might include any combination of buyers and assistant buyers, marketers, visual merchants, planning, budgeting and allocation specialists, product development managers and designers, and even re-order buyers.
Often running late for their appointments and with even shorter attention spans than their recent ancestors, they quickly force the vendor salesman's song and dance to the coda..
"Buying is not the art of merchandising anymore," lamented Joe Maur, sales vp for supplier Messina & Zucker, himself a 22-year retail veteran with Gimbels, J.M. Field and Caldor. He said creativity and style decisions must be balanced against the financial work. "There's got to be a happy medium. I just don't know where it is."
Orders in these meetings rarely change hands, and questions — if any — are often perfunctory. If the vendor salesman is fortunate, follow-up arrangements are made for storyboards and samples to be shipped post-market for the highly secretive "styleout," where the retailer's complete merchandise team might make a buy decision.
"The buyer was king 15 or 20 years ago. The buyer made the decisions — but today it's buying by committee," Veratex vp Dale Talbert said. "When I first came into this business, if you had a million-dollar account, that was a big deal — now you get million-dollar orders. They're not going to let one person make that decision, and I understand it. I don't like it, but I understand it. You can't go back."
Indeed, wander into some showrooms moments after a retail contingent has left and you might catch phrases like "bean counters," "no merchants anymore" or "no creativity" being exhaled as sales executives prep for their next appointments. Buyers, that thinking goes, no longer rise to the great merchants of the past and have become little more than cogs in a "Modern Times" kind of machine.
"That's not fair at all," said Charles Chinni, executive vp merchandising for JCPenney. "That would be like me saying there's no creativity among the vendors anymore; they're all a shadow and afraid to try anything new. That would be equally unfair.
"The challenge for vendors is the same as it is for buyers: How do they use the world and the tools available to them to become more competitive today and not live in the past?"
The sheer size and volumes of the retail industry today, of course, are central to the changes in buying structures and the people in those roles. Consolidations of the past 20-plus years have created super retail organizations making merchandising jobs bigger with fewer buyers running them. Technology has brought individual checkouts to the buyers' desks and inundated their departments with mountains of information about sku performance and shopper behaviors. The advent of planning and allocation modalities, which have changed virtually every business, found a particularly welcome home among retailers. And advances in logistics and supply chain management have become central to extracting cost, adding productivity and saving margins. Global sourcing, sharper marketing and visual merchandising have only added to the complexity even as they've delivered added benefits.
"The buyer today is more of a selector and the other people are implementors," Roman noted.
But the core of the job is simple: Sell the most merchandise with the smallest inventory as quickly as it can be done. And once that's done, do it again, better and faster. The tough part is actually doing it.
"I really believe there are still some merchants," offered Talbert. "But I think the system doesn't allow you to be a merchant like in the old days anymore."
Too big
Simply put: the job is just too big for one person anymore.
"You know, when I was a buyer I could visit every one of the Bamberger's stores in a week," Chinni recalled. "We had eight or 10 stores when I started. If I wanted to, I could set every floor for the weekend and I either got, or I didn't get, what I wanted to have happen. You couldn't do that today."
Indeed, Bambergers was early on absorbed into Macy's, which later became the core of Federated Department Stores.
The trend has been a natural evolution of the market and the way companies do business, according to Daniel Butler, vp merchandising, for the National Retail Federation, himself a Macy's alum.
When Cheryl Holland Bridges began in merchandising for the Sanger Harris division of Federated, she noted that there was a premium placed on creativity and product knowledge, as well as making the numbers. Working her way up from trainee and buyer to dmm and ultimately vp of product development, she said there was also a premium placed on unique products and strong vendor relationships.
"I think in the '90s there became more emphasis on working the numbers on the computer screens — more on working the numbers and less on understanding the customer in the stores. I think it's turning back the other way, and I'm very glad to see that," said Holland Bridges, now the director of the Center for Retailing Studies at Texas A&M University.
But performance and productivity standards have never been more important, particularly in a maturing base of still too many stores in some markets. Competitors are bigger and tougher than ever and internal demands for higher returns are unrelenting — all of which keeps buyers glued to their screens.
The move toward being more numbers-driven actually began in the 1980s with the early consolidations of department stores magnified even more by merchandise and operations innovations from the specialty store segment, according to Dr. Rodney Runyon, professor of retailing at the University of South Carolina.
It was then that merchandising decisions began migrating from "intuition and gut instinct" to a more rational model. Buyers had to know not only what would sell in their smaller regional markets but chainwide in markets unfamiliar to them.
Retail investment
But the new assortment strategies and merchandising perspectives were "driven by the expansion of the specialty store, which really drove the diversity of the retail industry and caused people to think differently about how they plan and purchase things, looking for a better way to do business," the NRF's Butler explained.
Retailers have invested a lot in planning and allocation because of the benefits they've seen by focusing on assortment-distribution versus assortment-selection.
"It's not just dealing with the volume of data that's available, it's understanding the data and what the customer in telling you through their purchases," Butler explained. "So, a well-thought-out merchandising strategy and a planning organization that understands that and what they do, can really help improve the bottom line profitability of that company."
But does that impact creativity and the willingness to take risks? Yes and no.
"Buyers used to be rewarded for their creativity by their companies, but today they're not necessarily rewarded — their creativity has often been tamped down," Runyon said.
Butler disagreed, at least in part: "Every buyer has the opportunity to get creative in their assortments with the dollars they have, but at the end of the day they have to beat their sales plan and meet their projections and open-to-buy. There are ways for people to be creative in their assortments but they have to do it with business savvy."
'Blaze of glory'
"My boss, the head of the company, used to tell me after we'd make a buy, 'You're either going to be a hero or you're going to go down in a blaze of glory,'" remembers one former buyer-turned-vendor. "I decided it was too early in my career for a blaze of glory."
That, and a sense of stifled creativity, ultimately pushed her to make the jump to product development on the supplier side.
For buyers there are constant countervailing pressures, not the least of which is identifying and getting on top of new trends early, and bailing before a trend's lifecycle expires.
"The last reorder can kill the gross margin," Holland Bridges noted. "The plus side is that the buyer doesn't have to look as far out as they once did, and the consumer also has more choices. You turn the merchandise faster and the consumer has fresher goods from which to buy something new."
But truth be known, buying has always been "bean counting." Holland Bridges said she tells her students that numbers crunching is 65% to 85% of the job: "It's this other 15% [creativity and style] that is vital."
"A buyer's performance is rated on sales, gross margin, inventory management, turnover — all of those things that impact the bottom line. At the same time, you can't make the numbers if you don't know the product, are unwilling to take a risk on something and don't develop strong vendor relationships."
Shifting risk
There's nothing scientific about selecting designs, Revman's Roman maintained. You've got to know your customer base, who they are demographically, and what styles they tend to gravitate to. What has changed is how the risk profiles have shifted along with the retail buying groups' structure — and how that has also influenced decision making, creativity and risk aversion.
"The investment has shifted," he said. "It used to be buyers would write big orders for launching the product. Where was the risk? More on the retailer's side. Now it's shifted to the manufacturing-wholesale side because we hold the inventory backup, and if it doesn't sell we have to figure out what to do with it."
Added Veratex's Talbert: "All merchandise buying is a gamble — nobody knows. Almost everyone you talk to today has hundreds of stores and that gamble is humungous. It's very, very high stakes."
Retail buying organizations have plenty of help today, but where are all the merchants? They're there, JCP's Chinni insisted. You just have to come at it from the right angle.
"They are truly merchants," he said. "Does it make you a better merchant if you are the buyer, planner, marketer, allocator and supply chain guy all rolled into one, like I was? That's debatable. Or if you are free to focus on the merchandise, the pricing, the assortment, the style, the fashion — does that make you a better merchant? That depends on the youngsters coming up and how they take advantage of the tools and use the framework in which they learn. In 10, 20, 30 years from now, there will be great merchants out there."
"The good old days are only as good as we're going to make them going forward."
Related Content By Author
Subscribe to
Home Textiles Today eDaily
Receive the news you need to know about the trends in the industry delivered right to your inbox.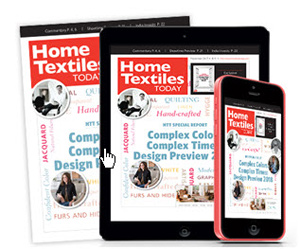 See the November 2017 issue of Home Textiles Today. In this issue, we look at Complex Colors, Complex Times--Trend forecasters and interior designers weigh in on 2018 palettes and motifs. Other articles include: Data: Exclusive HTT soft window research; Innovation: Material Changes conference preview; Country report: India invests in the future and Fabrics: Showtime preview. See details!