Hits & Misses
BCST Staff, November 1, 2004
Though less frantic than markets gone by, this fall's New York Home Textiles Market was a glowing success — at least that's what it sounds like when listening to suppliers, designers and manufacturers reflecting on their hits and misses.
The Arlee Group
Robert Panko, vice president, product development
HITS "A hit was our Picnic Throw, a water-repellent polyester throw with a fleece back. It rolls up with a handle that can be easily carried as a tote for beach, picnic or stadium blanket. Another hit was our Bead window panels, a group of plastic beaded panels for use in doorways or windows."
MISSES "Vanity, a heavy cotton and polyester blended 'linen' texture for window panels and pillows, was a miss."
Avanti Linens
Jeffrey Kaufman, president and chief operating officer
HITS "Black, White and Pink Polka Dot collection, a fun, whimsical collection was a unanimous hit. The South Beach collection of bright striped fabrics and embroideries on white was a strong pop and very fresh. The Spa collection of frosty colors, like lavender, aqua, lime and white (was strong), with the best reaction being to a pastel fabric stripe.
Urban Chic, a more contemporary and modern look than our traditional Avanti, it is less ornamented and almost every buyer liked it for themselves personally, which is not usually a comment we get.
The Fingertip and Hand towel collection of bright, fun, novelty designs on white towels (did well)."
MISSES "The Bridal collection — there was not a lot of interest in white and ivory laces."
Bardwil Linens
Nancy Kristoff, president, sales and marketing
HITS "The Dansk Antigua collection with the bright primary colors was very well received, as were the two indoor/outdoor water-resistant cloths, Sunny Day and Summer Stripe. This market was all about bright colors."
MISSES "Our miss was the sunflower pattern called Avalon. It lost to our indoor/outdoor cloths."
BAY LINENS
Dianne Morris, president
HITS "Some of the biggest hits were Ipanema, Jocelyn, Alexa, Surabaya, Barclay, Claire, Verona, Silkwood and Fleurie. The trends that retailers responded to most were mid-century inspired contemporary, sophisticated menswear, the new generation of tropical in fashion brights, black and ivory looks, and spa-inspired patterns."
MISSES "Pearl Treasure in shades of pearl with contrasting woven lusters from matte to glossy was too neutral on a chenille paisley ground. Antibes was also not as strong in classic Adriatic blue and white with overscale fanciful flowers and leaves as well as mini diamond and striped accents."
Biederlack of America
Peter McCabe, executive vice president
HITS "In a general sense, this was overall the most encouraging market in years. It was very positive. We even had people dropping paper, which is almost unheard of these days.
In blankets, we had a big hit with a mercerized cotton. It was extremely well received. The reaction to the specialty fibers was excellent. The reaction to the bamboo was extremely positive, and our Modal was well received. In throws, the raschel knit prints, both the NFL and the Hautman Brothers wildlife looks, were great. And we had an unexpectedly big hit with our new line of Aurora floor cushions coordinating with the Aurora throws."
MISSES "In blankets, the reaction to the silk/cotton blend was okay, but the product needs to be tweaked. The fleece got no reaction at all, there's just so much of it out there. In throws, some of the perennial designs need reworking, some plaids and animal designs."
Brentwood Originals
Loren Sweet, president
HITS "Hits were: the quilted doe skin suede pillows, throws and window treatments; the tweener collection of micro-fiber textures in bright colors; and the Highland Tweed and Solid in pillows and window treatments."
MISSES "Quilted faux leather pillows and quilted velvet pillows were misses."
Burlington Rug Corp.
Jeff Seagle, vice president, marketing
HITS "It was a return to basics for us. Solid colored and two-toned nylon patterned rugs were a big hit — in particular, our Avalon collection, which includes Herringbone, Kingsgate, Crossroads and Basket-weave.
As expected, the Nylon Country Block banded prints remained a very strong performer. With variations in color, construction, and new prints, the response to the product continues to grow and is poised to explode in the marketplace for both accent rugs and kitchen.
Printed rugs in our newly developed Royal Textures construction featuring patterned borders with field prints drew interest from all retailers. These rugs were well received due to the exceptional clarity in the prints and the vibrant colors. The popular choice in colors and prints were florals, earth-tones and soft blues."
MISSES "Over-tuft banded polyester prints were misses. Interest in ink jet prints appears to be slowly moving to promotional opportunities."
Charles D. Owen Mfg. division of Springs
Brian Munsey, licensing and marketing manager
HITS "Virtually all of the micro-fiber throws were hits, plus the Allergan product in both flocked and fleece categories."
MISSES "Our miss was the matelasse bedspreads."
CHF INDUSTRIES
Joan Karron, executive vice president
HITS In Peri window, Paper Mache, a crinkle look, was a hit, as were Hello Kitty decked in satin for her 30th birthday and the new Umbra, Hippie Chick and Kim Parker collections. Innovation in finding consumer needs paid off again for us through the finally-defined soft modern lifestyle that Umbra offers, interesting fabric breakthroughs in Peri, and the importance of fresh-faced prints as a fashion driver led by Kim Parker and Hippie Chic."
MISSES "Loft Style's Linen Garden in the peach colorway and Paisley Palace, which was too bright, were misses. Aimless, me-too patterns were understandably ignored."
Creative Bath
Rick Lipton, national sales manager
HITS "What were hits were sophisticated looks, novelty looks or combinations of the two. Our open line featured a terrific adult juvenile (bath collection) that was right on target with color and design trend in April Showers, which features whimsical multi-colored umbrellas on a yellow cotton duck shower curtain, resin novelty-shaped accessories and hooks, a great cotton chenille-looking rug and embellished towels.
Abboud was timely with its Holland resin accessories that looked so much like glass that everyone had to touch them and lift them up just to be sure. It made for a cool sophistication yet understated accessory. Echo was perfect with sophistication, classicism and novelty in the Circle Game coordinate. Cool, circular-shaped, geometric, abstract designs in browns and greens on an aqua ground on substantial weighted file cloth cotton for the shower curtain, fun accessories that feature a pierced hole in the lotion pump, striped jacquard yarn-dye towels and striped cotton rugs."
MISSES "Alas, no line is perfect. We introduced a sophisticated novelty look in Angel Reef — a new take on a well-represented novelty staple, fishes. No one got it, and nobody saw the fish, so no one bought it. Maybe next time."
DAKOTAH
Toby Weinstein, vice president-sales/marketing
HITS "Color was an overall hit this market along with textures for fashion core programs. In dec pillows, it would be the Green Tea tweed fabrication, Pebble Cloth casual fabric and Treasure textured channel chenille effect. In bedding, we added a new color in our matelasse tropical program.
In bold colors, we offered Malibu Brights with stripes reversing to retro florals in a turquoise or pink combo with floor cushions, neck rolls and pillow boxes. Panelope was also a hit in blue and mocha as a traditional or contemporary look with a raised floral vine motif.
In Echo, the Coco tweed group was No. 1 and right behind it were the Paisleys combined with ruffled and sequined velvets. In Abboud, retailers responded to the cut chenille paisleys and loop-fringed accents."
MISSES "In bedding, Batina was a miss. The combination of bright colors and fabric took the pattern too over the top. In dec pillows, the neutral group was the weakest because the interest was more on color."
DIVATEX
Shay Zamir, vice president-merchandising
HITS "The biggest hits were the print beds with bright colors, bold geometrics and outgoing designs that are retro-inspired, such as Groovy and Wavy, for example, which are available in ducks and high- to mid-count sateens, depending on the customer.
Our Tie bed collection constructed from pieces of silk ties, was another big hit. We did very well in compact yarn sheeting, both in jersey and woven."
MISSES "People didn't react too strongly to the bamboo blended sheeting, maybe because it is still very new."
Elrene Home Fashions
Mark Siegel, president and CEO
HITS "The Island Paradise collection proved to be strong. The overall positive response to this collection clearly indicates this look is still important and vital.
The Mardi Gras collection is a very fashion-forward collection, which was well received by our department store business.
The reaction to the Jonathan Adler collection continues to be overwhelmingly positive. Buyers are working to incorporate any aspect of this collection that they can, and there is something for everyone.
MISSES "There was little excitement for the American collection, but retailers are still placing these items in vinyl and fabric."
ESPALMA/lintex
Rae Ellen Blum, vice president, national sales manager
HITS "For the Lintex table linens division, the hits were: Green Hills, a cotton/poly hemstitched cloth in 10 colors that was greatly received and expanded to a wider audience because of its washability; Time Square, a 100 percent cotton cloth detailed with a raised look and open weaves made to look like Irish linen, available in six colors; and Brussels, a new damask that was very, very well received because it has all the properties of an embroidered cloth.
For the Espalma By Cobra bath and beach towel division, hits were: the new Moroccan collection of bath ensembles in three patterns and four colorways that was a 'Wow' (from the Moroccan collection)."
MISSES "New placemats that are quilted and come in rounds and other shapes. We experimented within cotton quilted prints, but it's not our customer.
For the Espalma By Cobra bath and beach towel division, the miss was our velour jacquard beach towels because we offered too many (to pick from) and it was overwhelming for anyone to make a decision with so many choices."
Evandale
Jenny Gruber, vice president of design
HITS "A few things people really responded to were the pillows in our Loft Style by Evandale collection, which included Saratoga, Leonardo, and perforated suedes. In addition to that people liked Dolce and our Sofi bead pillows. For window we had good reaction to Karissa — a bead top sheer — along with Saratoga, a pleated suede. Also popular were Emporia and Serenade, two jacquards. Zoe, our tweener look, also did well. In throws, retailers liked Felidae, which is a leopard fur throw, and our Mongolian fur."
MISSES "There was no response to Maddox — a puckered poly cotton. We thought it would get attention, but they just glossed over it. I'm not sure why."
Ex-Cell Home Fashions
David North, vice president, marketing development
HITS "For the bath coordinate division, the biggest hit was the Palace collection, a full coordinate collection of fabric shower curtains in color blocks, resin accessories towels and rugs.
For the table linens division, the hits were: Kemp & Beatley's new solid color hemstitch program in eight colors that was received very well as the new casual solid, a natural fiber placemat collection that is well priced and has unique looks, the Metro 'jelly' placemat and the napkin rings because of the great selection of uniquely styled designs and mediums to further expand our assortment; Tabletops Unlimited's Los Colores collection of chambray looks with stripe accents and the Africa Squares collection for its contemporary unique construction that compliments the brand's many dinnerware patterns."
MISSES "For the bath coordinate division, the miss was the Eden collection.
For the table linens division, the misses were formal introductions, which were early. We will reshow them for harvest/holiday."
Fashion Industries
Carolyn Winderbaum, vice president— design, table linens
HITS "Our number one hit was the Summer Fun collection featuring bright dots, stripes, plaids and florals. This was our corporate theme featured in all divisions. Number two was our Asian Garden collection with the patterns Wisteria and Kyoto as the winners. We also had great reaction to the Vintage Tropical and Tuscany collections."
MISSES "The Romantic Floral Collection received the least response. This group featured classic floral designs."
HOLLANDER HOME FASHIONS
Beth Mack, senior vice president-basic bedding
HITS "Superside Comfort Colors and Superside Plus were very well received due to the unique construction and color, plus it offered a great value. Down Touch-down alternative was the other big hit in synthetics, offering both microfiber and cluster-puff, paired with a 400-count cotton sateen quilted shell. From the down and feather side, blends were the big success story. Offering 85/15, 75/25 and 50/50 feather and down blend gives the retailer more to talk about, plus gives the consumer more of a 'How Do You Sleep' option. Cuddlebed Superside mattress topper had a tremendous introduction. It is the first trade up pad that gives a true pillow top mattress look, and it easily communicates a trade up fill story to the retail shopper.
MISSES "Due to the rising costs of down prices for 2005, Down Superside did not generate as much excitement as anticipated. Mattress pads made with microfleece fabric top fabric. I think the buyers were thinking that in reality, while the fabric feels great, the fabric is still 100 percent polyester, and it would be an issue with breathability and too warm to sleep on."
HOLLANDER HOME FASHIONS
Mason Carroll, senior vice president—fashion bedding
HITS "The entire Chic Retreat luxury hotel collection but especially Waves with silky tonal textures and wavy line motifs — a very popular style with every customer who came in. Waves is a dramatically different jacquard construction from what retailers are accustomed to seeing. In Fiesta Latina, we had the best reaction to the vibrant Caribe watercolor plaid and the spicy Salsa with tufted chenille and pin-tucking. Far East Fusion favorites were Biscayne, a dramatic black and tan story, and Bamboo, a pieced appliquéd and embroidered ensemble in aloe tones. In the casual and apparel-driven Comfort Quarters, customers liked Microstripe, a sporty, pieced collection featuring many color combinations."
MISSES "Our only real disappointment was Julep, a linen-look duvet cover that was just too subtle for most customers."
Home Fashions International
Denise Matlack, vice president, sales
HITS "We had two patterns that were Fil Coupe patterns. Those did well. They are Rutherford — a traditional frame — and Just Rocks — which was contemporary and fun. Also, Taffeta Vine — a quilted embroidered taffeta plaid — did well. We did better this market with more of the better goods, as opposed to promotional. That was a nice departure. Josephine did well, too. That's an embroidered quilted ultra suede we showed in butter color. People liked that for spring."
MISSES "Lyrical — a matelasse linen —was not picked up by anyone. There were no wows to it. I think we had so many patterns and so much going on that it fell a little flat. It was not the most exciting thing, and we had other things that were more exciting."
KEECO
Jeff Jacobs, executive vice president-sales and marketing
HITS "Our lifestyles approach was extremely well received, particularly Modern, Casual and Global, respectively Sahara Suede, Tea Garden and the Brussels bedspread.. We got a huge reaction to all the juvenile and tweener looks because what we're offering is an incredible value on top of bed with pieced and embellished techniques. We got a very positive reaction to the breadth of products offered in sheets."
MISSES "In our Traditional lifestyle, we introduced Blushing Rose in 100 percent silk with 3D silk appliqued rose buds that was too high priced for what it offered."
Lacey Mills
John Hale, vice president, sales
HITS "Our biggest hit was our Spa Soft collection. We have worked on a super-soft cotton for about six months and we have one of the softest cottons in the marketplace today. We released it in seven different styles ranging from a ribbed cotton with latex backing to a two-color handcrafted in a much longer pile height. We have four commitments on this product and have it out for review at about six more places. This is a great concept because it is about 20 to 30 percent cheaper than some of the Egyptian cotton and imported cotton products that are showing up in the upper-end category."
MISSES "The miss we had was an aggressively priced imported chenille. While we continue to get a good response from our 'better' imports, there are just so many people doing the low-margin direct imports that it is hard for a niche player like Lacey to compete. Where we are really an asset to our customer base is being able to bring them better goods that are more trend-driven and geared for their customer specifically."
LAWRENCE HOME FASHIONS
Gail Walfish, merchandise manager
HITS "Lawrence had a very strong market. Our big hits in our Maison de Vie Collection were: Evolution, a woven textured jacquard with great surface interest appeal in an earthy palette with 300 thread count sateen sheet sets. Horizon, a contemporary cotton sateen print that features clean graphics in slate blue and metallic silver. Prelude, a soft multi colored floral sateen design on a subtle buttery ground with a braided trim. Allure is a large floral print and Eclipse is a woven retro design in the newest color combinations of ice blue and taupe."
MISSES "Crystal, being a pure white woven contemporary jacquard, was a hard sell due to the fact that it is difficult to capture in photography."
Maples Industries
Arnie Stevens, vice president
HITS "Our olefin tweed rugs in contemporary design looks were a hit. We will manufacture these designs in four to five colors."
MISSES "We had developed several tropical prints. Some of the tropical designs in prints were not as well received as expected, due to Maples having a number of strong prints with tropical looks."
Mohawk Home
Bart Hill, general manager, textiles division
HITS "The hits included: the indoor/outdoor Patio rug, the Metropolitan Chic collection from Raymond Waites; the Raffia collection; and the Contemporary Stratford designs."
MISSES "The miss was the crimson/maize color combination."
Revere Mills
Dan Harris, vice president, marketing and product development
HITS "The hits include: the new Bali collection of a bath towel ensembles with a cotton/bamboo/silk blend; new 100 cotton tufted bath rugs from India; the new cotton/bamboo blend tufted bath rug; and several collections that were introduced to coordinate with Revere's bath towel collections."
MISSES "Fabrics in bath towels that were Egyptian specific were misses. Retailers are looking for new luxury blends as well as size and thickness. Look and feel is more important than whether it is Egyptian or Pima."
S. Lichtenberg
Carl Goldstein, senior vice president of sales
HITS "In the window area, the ones that did well were Global — an all-over yard dyed classic look. It has a rod pocket panel with matching valance and rings and retails for $19.99. Then Amber — a heavyweight woven jacquard panel with yard dyed flowers that retails for $14.99. It is 84 inches and has an inverted pleat ascot valance.
This was one of the best market we have had. There was tremendous reaction from retailers because what we've done is taken custom looks and brought them out at ready-made prices."
MISSES "In terms of what didn't do well, our Brocade toppers had very little reaction. Those are a woven jacquard heavy brocade weight fabric. Particularly, Java — an Asian-inspired leaf jacquard motif got no reaction. Also Cairo — a paisley jacquard — got no reaction. It may have been because we had too much selection. We must have shown 30 new numbers."
Thomasville Home Furnishings
Joyce Post, design director
HITS "Our traditionally printed florals in colorations of robin's egg blue, spring green, sherbet and aquas did well as did our menswear paisley in rust. Retailers loved the colors in Kahlua, our woven tropical look. Our Altessa contemporary swirl pattern in cranberry and Aztec gold was another hit."
MISSES "Lilly, which was a gigantic tigerlily print bed, was a miss because it was too big, bold and limited in appeal. Andorra was a giant floral pattern with a watercolor feel in mustard, honey and terra cotta. It didn't have as wide an appeal as more traditional florals."
Town and Country Living
David Beyda, chairman
HITS "Our hits are our print and heat transfer kitchen program. We did very well with micro fiber and faux suedes."
MISSES "A miss is a group of woven solids that we developed."
Related Content By Author
Subscribe to
Home Textiles Today eDaily
Receive the news you need to know about the trends in the industry delivered right to your inbox.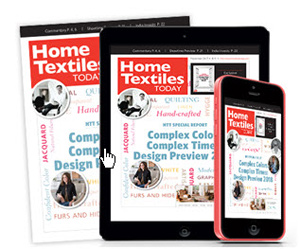 See the November 2017 issue of Home Textiles Today. In this issue, we look at Complex Colors, Complex Times--Trend forecasters and interior designers weigh in on 2018 palettes and motifs. Other articles include: Data: Exclusive HTT soft window research; Innovation: Material Changes conference preview; Country report: India invests in the future and Fabrics: Showtime preview. See details!