Market Intros
BEDDING
ARLEY
New York (212) 889-6144
     A featured item, the Valencia printed patch design from Arley incorporates assorted floral patterns - each box is framed by a ribbon leaf design. The coordinate is an all-over floral on an aqua ground with a neutral floral sheet.
BEST TEXTILES
New Delhi, India
(91-112) 6387421/22/28
     The stitched pattern on the Paper White comforter from Best Textiles reflects the shape and hue of the delicate flower's leaves, while surrounding you in soothing comfort.
BOMBAY DYEING
India (91-22) 67431654
     Opulent silky textures highlight the winding leafy paisley pattern on the comforter featured in Bombay Dyeing's rich bedding collection.
CHF
New York (212) 951-7902
     In its upstairs Peri collection, the Shadow Leaves comforter miniset from CHF is 100% cotton with wildflower embroidered detail.
CHRISTY U.S.
Grove City, Ohio (800) 261-6326
     Christy is adding two new floral collections to its luxury top-ofbed line. Honeysuckle is a pink and willow hued delicately embroidered pattern of trailing honeysuckle flowers. Made of 100% cotton percale, the collection also includes 200TC sheeting. There are four available sizes: twin, queen, king and California king.
     Also new is Fleur, a fresh and simple offering featuring a classic trail of embroidered flowers in soft tones of willow on a cream-colored background. With added pin-tuck detail, Fleur was designed with an English garden feel for the bedroom. It is made of 100% cotton percale and also includes 200TC sheeting. Available sizes are twin, queen, kind and California king.
ELLERY HOMESTYLES
New York (212) 448-4450
     Part of the newly launched VUE brand, Ellery Homestyles presents the Polynesia duvet with a contemporary botanical-inspired spring floral design. 100% cotton percale, 200 TC, available in full/ queen 86 inches by 96 inches.
In its exclusive Waverly collection, the company presents Starla Chambray, featuring the main Starla Chambray print paired with Chit Chat Chambray. The ensemble includes solid Ivory Euros with a blue twist cord accent, a solid blue stacked pleat pillow, and a woven grosgrain decorative pillow.
HOME SOURCE
INTERNATIONAL
Atlanta (404) 682-9820
     Among the Home Source introductions this market is a Supima T400 sateen fabric top of bed "hotel look" ensemble featuring duvet, shams with tuxedo pleating, and coordinating dec pillows.
     Supima T400 sheet sets comprise an all white sateen flat sheet, fitted sheet, and pillowcases with a satin stitch hem treatment that matches the 25 colors of the company's Micro- Cotton Luxury towel. Flat sheet oversized to fit high loft mattresses; fitted sheet has encased elastic all around with 16-inch deep pockets to fit high loft mattresses. The hem treatment of the pillowcases matches the stitching of the flat sheets in all 25 colors.
     An alternate offering is Egyptian cotton T200 sateen top of bed, including a flat pleated duvet cover and shams, plus pleated dec pillows with embroidery.
     Egyptian cotton T400 sateen sheet sets are offered in single pleated hem treatment in four colors. Flat sheet is oversized to fit high loft mattresses; fitted sheet has encased elastic all around with 16-inch deep pockets to fit high loft mattresses. Pillowcases assimilate to the single pleated hem treatment of the flat sheets.
JENNY GEORGE DESIGNS
New York (917) 554-3705
     Jenny George Designs presents Sansai, a new bedding collection. Sansai is a seven-piece comforter set featuring pleats and bamboo leaf motif in tones of sage.
PDK WORLDWIDE
New York (212) 889-6144
     Verano from PDK Worldwide blends medallion motifs in a rich jacquard woven blend of burgundy, gold and sage. Highlighted by envelope shams and embellished pillows, they combine the motif with solid color accents.
PORTICO
New York (212) 951-7260
     Portico is launching the Genius Collection of sustainable, luxuriously soft and breathable sheets and blankets this market. The natural and sustainable trademarked fiber Micro Tencel, which is extracted from the wood pulp of the eucalyptus tree, is blended with 100%-certified organic cotton. Together they create a product that is soft on skin and gentler on the earth.
PRADIP
India (91) 2717-251859
     Bedding compositions from Pradip feature constructions ranging from 120 to 900TC in both 100% cotton and cotton blends. These fabrics are converted in house to sheet sets, comforter sets, and bed in a bag.
PREMIER MILLS
India (91) 422-2221223
     The Pearl Finish developed by Premier Mills uses an innovative finishing process to make the surface smooth and even with no pilling, resulting in an excellent hand feel and drape.
RATERIA'S
New Delhi, India
(91) 11-4168-7402
     The company has several new items set for launch. The Isabel quilt is handmade, boasting 15,000 stitches, and was designed for all ages of customers. Voyage quilt is an all-appliqué for teens and kids. Darbar is Rateria's Baroque appliqué cover. And Teak Wood is a new patchwork quilted bedspread that represents the company's manufacturing strengths.
ROYAL HERITAGE HOME
New York (212) 292-3355
     The Clermont bed ensemble in black and white contrast, embellished with beautiful floral embroidery, is made entirely of 100% cotton; sateen sheets included are 220TC. The eight piece comforter set includes comforter, two standard shams, one bed skirt and a four-piece sheet set. Euro shams, drapery pair, valance and two decorative pillows are sold separately.
SAFAH INTERNATIONAL
New York (951) 231-0444
     The splashy Cherry Blossom bed ensemble from Safah is harmoniously balanced by dramatic elegance.
SUNHAM HOME FASHIONS
New York (212) 695-1218
     Sunham Home will be showing brand new bedding ensembles under three different lifestyle brands.
     Veranda is positioned as a traditional lifestyle look featuring innovative weave techniques, embroidery detailing, and luxury fabrications. Loft is a collection of contemporarystyled ensembles that range from minimal modern to transitional and casual lifestyles. And Topography is a globallyinspired and exotic grouping heavy on detail and color.
     Sunham's new sheeting collections as well as an assortment of new quilts designed for different lifestyle with quality needs are also being offered.
UNITED FEATHER & DOWN
Des Plaines, Ill. (847) 296-6500
     The Villa Di Borghese spa, travel and bedding collection presents new products under the Dolce Notte sleep collection. The Dolce Notte collection features luxury fabrics and Borghese's signature Botanical Down or Botanical Down Alternative Blends. Shown will be pillows and comforters with new colors and treatments, coordinating sheet sets, woven blankets and spa quality accessories.
WESTPOINT HOME
New York (212) 930-2561
     Calypso Bed, a new Izod bed design from WestPoint Home, is printed on cotton duck cloth. The paisley on the comforter face features a sea glass color palette, accented with a crisp ticking stripe and a slub texture.
BATH
AVANTI LINENS
Moonachie, N.J. (201) 644-7766
     In the embroidered and embellished bath towel ensemble category, Avanti has several introductions in store. Apple Blossom is a 100% cotton set featuring an embroidered apple blossom design in soft pinks and neutrals. Bellaire is an embellished towel featuring an embroidered botanical design in light purples and splashes of metallic. Northwest is a 100% cotton embellished lodge style featuring embroidered moose silhouettes on a suede band. Spyro Dance is 100% cotton and features modern geometric looks in neutral colors.
     In the bath coordinates category, there are four new collections. Paris Chic comprises a 100% polyester printed shower curtain featuring fashion icons embellished with feathers and jewels, and accessories with hand-painted 3-D icons. Seashore includes a 100% polyester printed shower curtain with embroidered seaside icons in soft blue tones that match with accessories depicting similar coastal motifs. The Tranquility 100% polyester printed shower curtain features photo-realistic images of leaves and branches on a backdrop of spa-related words. Its matching accessories resemble a limestone texture with photo real icons gracefully wrapping the shapes. Flourish also includes a 100% polyester printed shower curtain; it features large geometric patterns that resemble artistic tiles colored in a rustic fall palette. The accessories are made in a combination of mahogany wood-look and hand-painted tiles styles.
BHAVIK
Jaipur, India
(91-141) 2331231/51
     Bhavik offers a complete range of terry towels, fashion towels, quick dry, colorfast towels and bath robes in cotton as well as blends of exotic fibers. Other products include beach, kitchen, and institution towels.
CHRISTY U.S.
Grove City, Ohio (800) 261-6326
     This high-end bedding and bath company is looking to gain broad consumer appeal with its new ultra-soft Supreme collection of towels and matching tub mats. The 22-color line is made of Supima cotton for extra wear and durability, and is crafted in a single terry medium loop construction for the classic hand. These towels dry quickly - both on the towel bar and the body - and the long staple of premium cotton means less lint and better durability.
     The palette is divided into seven capsule color collections: Urban, Naturals, Botanical, Spa, Coastal, Boudoir, and Berries. Additionally, the line includes four towel sizes, a coordinating striped jacquard towel, coordinating tub mat and complementary bath rugs featuring "Drylon miracle" microfiber.
CHORTEX
Lancashire, U.K.
(44) 0120467070
     The Kudos towel range from Chortex is a collection of bath linens in a kaleidoscope of bright shades.
ELLERY HOMESTYLES
New York (212) 448-4450
     The Beaujolais shower curtain from Ellery Homestyles is part of the newly launched VUE brand, and will be a centerpiece of this market's presentation. A contemporary mix of geometric and textured prints, the curtain is available in grey multi. Sized 72 inches by 72 inches, 100% percale, 200 TC.
GINSEY HOME SOLUTIONS
Bellmawr, N.J. (856) 933-1300
     The new Superba step-out bath mat is designed to be "a peaceful" addition to any bathroom. Oval shaped, the 27-inch-by-19- inch mat incorporates dozens of rounded disks from the plant "schima superba." The disks are placed along the top of the mat and allow for a secure step with EVA backing.
HFI
New York (212) 689-3571
     Home Fashions International features the Lei shower curtain, available in rich chocolate-gold tones and a serene lavendercream colorway.
LOFTEX USA
New York (212) 302-1162
     The Loftex market introductions for this season represent the "essence of the towel" and "the return to the art of the towel" - which together center on fashion, detail and affordability. A headliner of the new line is the Supra Soft bath towel, which employs an advanced weaving technology that makes the product extra soft. These towels wear a textured end dobby treatment.
Other additions featuring new attributes include towels that don a 3-D embroidery technique that employs soft multi-dimensional embellishments; a textured stripe that mixes media - yarn-dye with texture; and Pastel Blossom, a fiber reactive featuring a yarndyed stripe reverse.
M&Z MARKETING GROUP
New York (212) 631-0900
     M&Z Marketing features an expansion of cotton bath rugs from six to 12 styles that include a three-style grouping with a solid color diagonal stripe center with a framed shaggy border, and a solid center motif with shaggy border.
     Other new styles include a yarn dye multicolor checker board motif with shaggy border in two sizes. Reversible cotton loop double race track design comes in two sizes, available as pom pom and chenille loop.
THE NORTHWEST COMPANY
New York (212) 725-6996
     New terry Jersey Shore 100% cotton beach towel from The Northwest Company features the MTV show's favorite acronym meaning "Gym, Tanning, Laundry." Available in assorted styles.
SUNHAM HOME FASHIONS
New York (212) 695-1218
     The company's bath and accent rug division is introducing six collections that employ new yarn systems and performancedriven constructions. The four featured trends under the program are: the neoclassical Structure; the casual Farmhouse Chic; the urban Graffiti; and the vibrant Brio.
TRIDENT GROUP
India (91-161) 5039999
     From Trident Group, a new range of products for the South- ern Living collection includes a color palette inspired by the Southern lifestyle.
     A new and exciting towel range features many new techniques such as variable pile height, texture-in-texture, embossed dobbies and weft inserts.
     A range of towels that is both practical and functional include the benzoil peroxide resistant towel where the colors do not fade even if the towel comes in contact with strong facial or acne creams, etc. Other innovations include the White Pro towel, a product that retains its whiteness levels after repeated washes.
KITCHEN/TABLETOP
AVANTI LINENS
Moonachie, N.J. (201) 644-7766
     A new line of aprons from Avanti includes: Kent Garden, which features a soft green and brown toile skirt with a coordinating stripe bib, embellished with embroidered rose and brown grosgrain ribbon; Cupcake, which dons a tonal pink stripe and complimentary dot pattern embellished with embroidered cupcakes and cherries; and Ashland, a paisley print with natural cluny lace detailing.
     New kitchen curtain styles are Botanic Garden, a Portmeirion branded, classic flora and fauna look interpreted on a window tiers and valance set; and Sweet Floral, another window tiers and valance set featuring a traditional floral pattern in soft hues.
     There are several new table linen collections set for launch. To marry to the new Portmeirion Botanic Garden soft window treatments is a group of matching placemats, embroidered napkins, table runner and engineered tablecloth. Blue Italian is a classic Spode blue toile pattern that is re-designed as an engineered tablecloth, placemat, embroidered napkin and table runner. Woodland is another Spode branded classic that, too, has been re-designed as an engineered tablecloth, placemat, embroidered napkin and table runner.
     Reese is a placemat line that features an engineered scroll/ vine embroidery design. The new Studio Block table runner features a traditional floral embroidery over a finely woven block plaid. Bird & Blossoms depicts original artwork of painted birds on cherry blossom branches. New Generation is a placemat designed with a modern contemporary geometric pattern painted in rustic autumnal hues. And Parisian Garden is a placemat group that depicts a painted garden and kitchen icons mixed with Parisian icons and a touch of old world elements.
DOMAY
Montreal (514) 383-8989
     Domay launches a range of solid vinyl tablecloths under its Hotel Luxe brand. This range is offered in elegant embossed solid white or cream, constructed from heavy gauge vinyl with thick flannel backing and comes in five sizes: 54-by-72, 60-by- 90, 60-by-108, 60-by120 and 70-inch round. It also features eco-friendly cardboard printed packaging with a hanger, easy for pegging and convenient for consumers to touch and feel the quality of the cloth.
     Domay introduces American artist Jennifer Garants' "Rooster Deux" design, on an offset printed oversized 13-inch-by-19- inch thick vinyl placemat. Also being launched are two designs from artist Daphne B., "Pasta di Venezia" and "d'Oliva," which are also offset printed on an oversized EVA backed placemat. Gourmet Pro is Domay's kitchen coordinating program with twotone and striped neoprene oven mitt pairs, matching pocket mitt pairs and microfiber ribbed kitchen towels and matching two-pack dish cloths in fashioned colors. Also new to the Gourmet Pro line are 100% cot- ton flour sacs, put up as threepacks in large size 29-inch-by- 35-inch.
HFI
New York (212) 689-3571
     The Flip Flops collection of printed placemats and table runners from HFI is available in spring and summer colors of pink, yellow, blue and green.
SREE AMMAN EXPORTS
India (91) 4324 235523
     Dish towels from Sree Amman Exports help clean up the kitchen with a country plaid pattern or woven floral print in multicolor gentle shades.
S.S. DWECK & SONS
Irvington, N.J. (973) 375-0900
     Colorful towel sets from S.S. Dweck & Sons brighten up the kitchen and are made with absorbent microfiber material that dries quickly.
AREA RUGS
CARPET-ART-DECO
Montreal, Quebec
(514) 989-5050
     The company is introducing the Crystal collection, made of a blend of two-ply heat-set polypropylene, tone-on-tone and flat space-dyed polyester yarns.
Also in store for market debut is the new Porto Fino collection, a berber-like, multicolor frisée style in a palette that marries earth tones with shades of gray.
ORIAN RUGS
Anderson, S.C. (864) 224-0271
     The company's market introductions are focused on expanding designs and colorways that are based on the success of its Carolina Wild, Shagadelic and Shakespeare collections.
     To the 35mm olefin Carolina Wild collection, Orian is introducing more than 20 new designs that range from traditional to contemporary and are available in saturated warm colors like red, coral, gold, and earthy browns combined with soft greens, varying shades of blue, and hints of purple.
     The Shagadelic collection is being updated with 18 new designs spanning transitional to contemporary looks in warm and cool color palettes, offered in up to 12 color combinations.
     And the company's flagship collection, the 1.5 million-point Shakespeare, is being expanded with an updated palette that mixes spa blues with earth-tone taupe shades.
RAYMOND WAITES DESIGN
New York (212) 447-8700
     The Ikat rug from Raymond Waites Design is spicy-rich in palette and graphically bold in scale. High reed density allows for fine definition and a dense and luxurious look. It is also made with a fine denier yarn, which allows for a soft hand.
     The rug is tightly woven for pencil point definition allowing for a lot of detail. The creel is a 10 color Vintage Lux creel with 640 points.
S.S. DWECK & SONS
Irvington, N.J. (973) 375-0900
     The featured line from S.S. Dweck & Sons uses bamboo to create durable rugs that are eco-friendly and water resistant. Made with an anti-slip backing.
TRADEWINDS IMPORTS
Westport, Conn. (203) 227-2234
     Tradewinds is going shaggy this market with several new shagconstruction accent-size rugs. Paper Shag is a 21-by-32 rug available in mint and blue colorways.
     Its alternative is the Multi- Paper Shag, which comes in a blue-white-and-mint color combination, and is also available in a 21-by-34 size.
DEC PILLOWS
CALDEIRA USA
New York (212) 532-2292
     Several new collections ar0e in the queue for market.
     Mixed Media encompasses a variety of looks: Metallic Velvet Layered Leaves, Velvet Ticking Stripe and Velvet Textured Targets. The Retro Metro urban-lifestyle grouping includes Retro Dots jacquard, Metallic faux leather, and Starburst embroidery.
     Simplicity marries the all-over Bouquet embroidery pillow with Flowerburst embroidery and double pleated faux silk.
HOME TEX INTERNATIONAL
New Delhi, India (91-11)
26813647
     Home Tex International presents bold colors, various shapes and patterns that range from wild to homespun with their new collection of decorative pillows.
LORETTA LEE LIMITED
New York (617) 285-7456
     Loretta Lee Limited presents a new range of decorative pillows with a touch of exotic beauty, suitable for a number of furnishing statements.
PARK B. SMITH LTD.
New York (212) 889-1818
     The company has broadened its assortment of products made to appeal to pet lovers; the line now includes dog beds, cat beds, pet rugs, pet pillows, pet placemats, and pet aprons.
REVMAN INTERNATIONAL
New York (212) 278-0312
     From Revman International, the Laura Ashley line of mini floral print decorative pillows offers a palette of fresh colors and embroidered details.
TRADEWINDS IMPORTS
Westport, Conn. (203) 227-2234
     Among market introductions this season, the new Oceanside decorative pillow is a 20-inch square that comes in a Mauiblue colorway. And O'Keefe is a multi-colored style that measures 18-by-18.
TRIANGLE HOME FASHIONS
Cranbury, N.J. (609) 409-0345
     Triangle Home Fashions introduces its Yarn Fusion pillows, part of a collection of unique pillows created using new crafting techniques and capabilities. The Nature Pop line takes inspiration from the natural world, kicking it up a notch with bright colors and stylized imagery.
PILLOWS, PADS,
BLANKETS & THROWS DOWNLITE
Cincinnati (513) 229-6343
     The Good Housekeeping collection is comprised of great quality, performance driven products that deliver lifestyle solutions along with organizational and easy care tips. The assortment contains of a variety of lifestyle product solutions that include: Sleep Well, Fresh Release products; Sleep Smart, Stain Release products and Sleep Healthy, Allergy Smart products. Available in comforters, pillows, blankets and mattress pads - in both natural and synthetic fills. The collection also includes fresh reusable packaging and informative tips.
     The Eddie Bauer Collection is a new line of outdoor travel accessories available in comforters, pillows, blankets and mattress pads - in both natural and synthetic fills.
ALLIED HOME/JENNIFER NICOLE LEE
Vernon, Calif. (323) 581-5677
     Level 1 ComfyBed: 220TC 100% cotton sateen Fiberbed; full-way stretch-to-fit skirt fits up to 21- inch mattress; 11-inch box endto- end baffle box construction; 100% synthetic cluster and microfiber fill blend for comfort and softness.
     Level 2 ComfyBed: 300TC 100% cotton dobby, stain resistant Fiberbed; mesh side gussets to expedite the transfer of heat and moisture; full-way stretch-to-fit skirt fits up to 21- inch mattress; 10-inch box endto- end baffle box construction; fine 100% synthetic cluster and microfiber fill blend for comfort and softness.
     Level 3 ComfyBed: 485TC 100% cotton sateen; anti-microbial and stain resistant Fiberbed; mesh side, top and bottom gussets to expedite the transfer of heat and moisture; full-way stretch-to-fit skirt fits up to 21- inch mattress; 9-inch box endto- end baffle box construction; premium 100% synthetic cluster and microfiber fill blend for comfort and softness.
MICROTEX
New York (212) 685-2108
     The featured chunky cable knit throw from Microtex is made of 100% acrylic/ring spun material. Available in cream, taupe, and pink.
NARAYAN OVERSEAS
India (91-120) 2420826/2420430
     Bedspreads, quilts and woolen throws from Narayan Overseas combine art and tradition featuring quilts with zesty touches of rust and burnout fabrics. Starkly contrasting top-of-bed black and white blooms and soothing earth-colored bedspreads round out the collection.
PEKING HANDICRAFT
New York (212) 683-3820
     The Millie "Hankerchief" quilt is inspired by handkerchiefs from the 1950s. Each of the four different prints are reminiscent of the prints used in the pre- Kleenex era, when the brightly printed floral "hankie" was an essential accessory. Pansies, carnations and faux lace borders were all important design elements and Millie has updated the color story with vibrant corals, pinks and greens.
PROTECT-A-BED
Northbrook, Ill. (866) 297-8836
     Protect-A-Bed launches Luxury Sleep Story, a new technology designed for sensitive skin. Set includes one Tencel knitted, waterproof fitted sheet and one woven Tencel flat sheet.
ROYAL HERITAGE HOME
New York (212) 679-2353
     Royal Heritage Home's Bed Guard covers are made from a special knit fabric that is labtested and certified to be bed bug proof (defeats dust mites, too). The company also uses a heavy duty zipper that stops bed bugs from escaping an infested bed or stops a new mattress from ever being infested. 100% polyester is laminated to a urethane membrane. The weave of the fabric, which is a circular knit polyester, has a satin-like feel to it and is very smooth and cool to the touch.
SINOMAX
New York (877) 726-3888
     Sinomax introduces PüreFoam Memory Foam, a specially crafted formulation available in a variety of densities. The Sinomax foam has several signature elements that eliminate foam's chemical odors, includes an infusion of negative ions and also incorporates sustainable polyol sources made from soybeans.
SLEEP STUDIO
New York (212) 679-6679
     After more than three years of research and development, Sleep Studio launches its patented and trademarked Blueflex material. Blueflex is a hybrid of the company's proprietary ViscoFresh memory foam with tiny blue gel beads to create greater comfort, variable support characteristics and an optimum sleeping temperature. Furthermore, the gel beads suspended in the high-tech ViscoFresh provide a unique level of personalized support.
UNITED FEATHER & DOWN
Des Plaines, Ill. (847) 296-6500
     The Sleep for Success! bedding collection from United Feather & Down draws upon years of sleep research for functional and comfortable sleep products. Also introduced will be an expanded collection of comforters, blankets and mattress pads under the Sleep for Success! label, crafted with moisture wicking fabrics and fills to provide the perfect sleep temperature. The new SilverFill for Allergy Relief by Dr. James B. Maas bedding collection features United Feather & Down's trademarked SilverFill, providing comfort and allergy relief from the inside out. Also shown will be the trademarked Dr. Maas Stress Ease Comfort Reader lumbar support pillow and a Stress Ease convertible travel buddy pillow.
WINDOW COVERINGS
CHF
New York (212) 951-7902
     CHF offers the Garcia window panel in blue and gold with faux silk back tab panel that has foam backing for energy saving benefits.
DÉCORS DE MAISON VERSAILLES HOME FASHIONS INC. / TISSUS ROSEDALE
DRAPERIES
Ville d'Anjou, Quebec
(514) 351-8402
     The new Bamboo Brights collection coordinates bamboo window panels, placemats and floor mats. Available in nine neutral and vibrant colorways, the program includes bamboo grommet panels and valances: 72-inch-by-12-inch kitchen valances, 42-inch-by-24-inch tier panels, 42-inch-by-36-inch tier panels; 42-inch-by-63-inch window panels; and 54-inch-by-84- inch door panels.
ELLERY HOMESTYLES
New York (212) 448-4459
     Ellery Homestyles presents its Shantung Collection composed of a textural jacquard styled in a variety of designs to create traditional, contemporary or transitional looks. The collection embodies a variety of motifs whether it is through styling with coordinating jacquards, color banding, pleating, flocking or embroidery. The breadth of Shantung styles span Ellery Homestyles' window assortment to include its Eclipse brand with energy-saving, noise-reducing blackout curtains.
LORRAINE HOME FASHIONS
New York (212) 684-0858
     The company is introducing several new panels and tiers to its growing soft window collection. Whitfield Floral is a tailored 100% polyester heavy-weight, tone-on-tone jacquard panel woven in an all-over leaf motif, using dull and shiny yarns for depth and interest and featuring a printed all-over scrolling floral motif. English Garden is made in the same construction on a leaf-motif all-over pattern.
     The Brenda and Brenda Sheer collection includes an embroidered faux silk panel with vertical bands of floral and leaf vine embroidered designs with a matching tailored valance. It is made of 100% polyester. Cynthia and Cynthia Sheer is an embroidered faux silk panel line featuring an all-over floral embroidery that coordinates with an all-over embroidered snow voile sheer panel.
     Boulevard is a 100% polyester sheer woven textured stripe grommet-top panel available in ivory, black, chocolate, taupe, soft rose, sea haze and blue. Elements is 100% polyester embroidered linen-look semi sheer panel and tailored valance with wood bead trim, offered in a natural linen color.
     Delicious is a fruit-and-leaf autumnal look printed on a voile sheer tier curtain with a matching swag and valance. Roxanne is a 100% polyester floral embroidery on a faux silk border that is pieced with snow voile and embellished with ribbon. It comes in a tier, swag and valance set.
MILLER CURTAIN
San Antonio, Texas
(210) 483-1000
     Miller Curtain is introducing Bangles, a Moroccan-inspired embroidered panel made of 100% polyester for a silk-like look. Both lined and interlined, the panel measures 50-by-84.
INFANT & JUVENILE ARLEY
New York (212) 889-6144
     Jayden from Arley is a bright printed/pieced quilt combining a colorful floral pattern with dots and coordinating solids. Fun pillows and accessories complete the program.
ELLERY HOMESTYLES
New York (212) 448-4450
     Ellery Homestyles is presenting a plush juvenile printed throw collection. These whimsical designs and bold colors provide an all-season comfort and are the perfect addition to the home.
M&Z MARKETING GROUP
New York (212) 631-0900
     The new super soft and ultra plush micro-fleece baby blankets from M&Z Marketing Group are available in both appliqué and embroidered patterns. Slumber- Soft reversible waterproof pads can be used for cradles, cribs, carriages, bassinets and lap pads.
SATURDAY KNIGHT LTD.
Cleveland (531) 641-1400
     Straight out of a fairy tale comes the Prince Charming collection for kids by Saturday Knight. Depicting a frog motif, the components include a printed polyester peachskin shower curtain with an oversized frog appliqué, 3-D resin accessories with special features like a color-changing light-up heart on the lotion pump, springing dragonflies on the soap dish and Dixie cup holder, a printed cotton polka dot towel with a heat-transfer band, and a tufted cotton flower-shaped rug.
Related Content By Author
Subscribe to
Home Textiles Today eDaily
Receive the news you need to know about the trends in the industry delivered right to your inbox.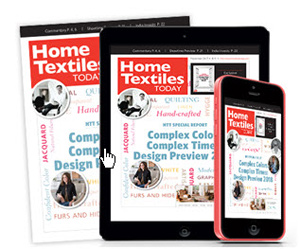 See the November 2017 issue of Home Textiles Today. In this issue, we look at Complex Colors, Complex Times--Trend forecasters and interior designers weigh in on 2018 palettes and motifs. Other articles include: Data: Exclusive HTT soft window research; Innovation: Material Changes conference preview; Country report: India invests in the future and Fabrics: Showtime preview. See details!