Market Intros
Bedding

AMERICAN TEXTILE COMPANY
Duquesne, Pa. (412) 948-1074
Introductions this market include the Sea Essentials pillow case and the Tourmaline Weave pillow cover, both by Rest Right.
Sea Essentials offers the benefits of naturally occurring seaweed; it contains hydrating marine algae and liposomes which work together to aid in the transfer of vitamins and minerals to enhance the moisture balance of the skin during sleep.
The 200 thread count; white pillow case is machine washable; standard pillow case construction; standard 20-by-30, $9.99; queen 20-by-34, $11.99; king 20-by-40, $12.99.
The micro-tourmaline gemstone in the Tourmaline Weave fabric generates negative ions and warmth for a healthy and rejuvenating night's sleep.
In 233 thread count, standard white pillow cover construction with printed dots to accentuate the presence of the active ion charge. Standard 20-by-26, $8.99; jumbo 20-by-28, $9.99; queen 20-by-30, $9.99; king 20-by-36, $10.99.
CROSCILL
New York (212) 689-7222
This market, introductions include Charmaine and Trieste.
Charmaine is a slate colored jacquard pattern showcasing an oversized organic flower motif coupled with gold and bronze woven jacquard stripe. The decorative pillows feature color matched beaded trim; a coordinating coverlet offers a stripe on one side and a circular peacock motif on the other. All gold and bronze accents on this bed feature a unique light reflecting quality. Coordinated sheets are available.
Trieste is a printed, silk rich foulard design with beautiful leafy scroll motif features velvet piped accents. The Euro shams feature a silk slub look; square pillow adds contemporary flare with brass jewelry like adornments. Solid sheet sets feature a fishnet like detail on hem of flat sheet and pillow cases.
DIVATEX HOME FASHIONS
New York (646) 981-6624
The Divatex Basket Weave pattern is woven yarn dyed jacquard, which comes in exquisite colors, ranging from tonal to yarn dye woven stripe in navy/taupe. Bedding is available in an array of earth tone colors for the fall such as terracotta and chocolate.
HALLMART COLLECTIBLES
Sun Valley, Calif. (888) 991-7888
The Bordeaux bedding collection focuses on multi-piece sets that provide the customer with outstanding value. This set features detailed embroidery and piecing with fashion forward coloring and design. The Canterbury bedding collection features high-end looks at value pricing. The details of the set focus around the stunning jacquard with brick and sage hues on a black ground. The other fabrics in the set beautifully complement this design and are enhanced by trimmings, piecing and an exquisite attention to detail.
KAS BY ELLERY HOMESTYLES
New York (212) 448-4454
As the exclusive licensee for KAS Australia, Ellery Homestyles will present the Denzel Bedding Collection. KAS Australia is continually developing new ranges that reflect global trends in home fashions. Its look is minimal and subtle with a luxurious and contemporary style.
Intricately woven jacquard has a tribal and animal feel that adds texture and an international charm. The clean lines and modest neutral tones have a sleek appearance and are ultra sophisticated and modern. Available colors: stone; full/queen size 86-by-90; king 104-by-90; patterns are contemporary jacquard with a tribal/animal feel, embellished with woven jacquard; fabric content is 100% cotton jacquard
PENDLETON WOOLEN MILLS
Portland, Ore. (425) 487-0682
Pendleton will show several collections of bedding ensembles this market: Broadway Plaid, Casa Bohemia, Lone Tree, Adobe Canyon and Zapotec.
The newest, boldest look is Broadway Plaid. Whip stitch binding; 100% wool; dry clean; made in USA. Features Euro sham and houndstooth pillows. Available in twin, queen and king.
The Zapotec collection is especially true to Pendleton's roots: the designs are inspired by the 2,000-year-old weaving history of the Zapotec Indians of Oaxaca, Mexico. Their tradition is to weave colorful cloth in wool using natural dyes. Our blanket captures the classic geometric designs and elegant simplicity inherent in Zapotec weaving. Unnapped, sueded trim, 82% pure virgin wool/18% cotton. Made in USA. Queen, king and standard Shams available.
RAYMOND WAITES DESIGN
New York (212) 447-8700
Raymond Waites Design will debut a full range of fall 2009 bedding ensembles, with the realization that the home is our comfort zone, especially now during these trying times. "We want to offer consumers fashion accents to give your home a bit of a lift. This market is all about creating a sense of luxury, reflecting on both the classical decorative elements while maintaining the timely lavish aesthetic that is Raymond Waites," according to the company. A variety of sophisticated techniques are used to create elegant bedding ensembles. The featured bed, Bradford, captures a glamorous and chic appeal. The jacquard paisley top of bed, is set in an elegant soft taupe and slate blue and is accented by a rich midnight blue-grey silk charmeuse. The European shams and accessories are adorned with a decorative soutache design that make this ensemble the epitome of understated elegance.
REVMAN INTERNATIONAL
New York (212) 278-0312
Revman will be featuring a complete second collection with Steve Madden during market week., offering new concepts for fall 2009 in on-trend colors and fresh patterns. The range includes six themes: Sydney, Carmen, Caylie, Makyla, Brodie and Tori.
They span looks from retro-bohemian, to graphic mod prints of the '60s and '70s, to natural shadow patterns, to plaid. In addition to decorative pillows made from the bedding fabrics of each theme, a signature Peace, Love, Shoe graphic pillow will be offered in a color to coordinate with each bed.
In other exclusive lines, Revman this market will show the latest designs for its plenty Home by Tracy Reese, Laura Ashley, Perry Ellis America, Michael Kors, and Tommy Bahama collections in bed and bath.
Also, Revman's own Manor Hill bedding and bath collections; Sanctuary by l'erba luxury bedding and bath; and Columbia bedding and accessories will have new additions.
In the juvenile arena, Revman will show its debut line of Incog-Neato leak-proof pads with a fashion flair.
SFERRA
Edison, N.J. (732) 225-6290
From Sferra, the Edmond style shows off its deep delights with bold thistles and swirling leaves, offsetting the gently scrolling woven paisley design. Bursts of spice colors provide drama on the smooth, medium-weight Egyptian cotton sateen ground, where blues and greens also vie for attention.
The duvets are backed in a taupe cotton percale, and both the duvets and shams are finished with a classically understated simple hem treatment by the masters in Italy. Giotto sateen sheets in sea mist add light and texture, and the Ella Matelasse in almond finishes off the entire look.


Bath
BARDWIL LINENSNew York (212) 944-1870
The Lenox Holiday collection comprises an ensemble of bath, hand and fingertip towels that are printed on 100% combed sheared cotton terry. The design features green and gold holly leaves and bright red berries, which stand out against a subtle ivory ground color. The towels match with a bath accessories collection as well as a cotton/polyester shower curtain printed on a holly leaf woven jacquard and enameled green holly leaf shower curtain hooks.
BALTIC LINEN CO.New York (212) 545-5848
Baltic is the new bath licensee for the Echo Design Group, and is launching for the brand eight bath coordinate collections, each of which will include a shower curtain, bath accessories, bath towel ensembles and bath rugs.
Accessory styles are to include metallic accents and sculpted wood, among others, and colors will span bold hues to earth tones
Patterns include colorful paisleys, graphic florals and stripes.
CROSCILLNew York (212) 689-7222
Croscill's bath coordinate offerings continue to grow with several new additions.
Pearl Flower takes crushed quartz chips and mixes them into contemporary resin forms for a translucent ethereal effect. Mother of pearl was used to make the floral motifs. The accessory pieces include a lotion bottle, a tumbler, soap dish, toothbrush holder, cotton jar, tissue cover and wastebasket.
Marrakesh resin accessories feature intricate filigree cutwork patterns and architectural fluting, which are finished in a metallic bronze treatment.The collection includes a lotion bottle, tumbler, toothbrush holder, soap dish, cotton jar, tray, tissue cover, wastebasket, fingertip towel stand, standing mirror and shower hooks.
DOHLER USANew York (212) 213-1271
Mosaic beach towels from Dohler USA are sized 40-by-70, made of fiber reactive printed 100% ringspun cotton.
HOME FASHIONS INTERNATIONALNew York (212) 689-3579
Athena from Home Fashions International bath collection features a transitional leaf vine design. The construction of this graceful jacquard accentuates the smooth movements of the vine with textural effects.
KASSATEXNew York (212) 686-5533
Kassatex extends its "k" to its new sustainable collection with the name "Eko Luxe" The fabric content of this bath ensemble and matching bath sheet and tub mat is 60% organic cotton and 40% rayon from bamboo.
Colors also derive from nature: white, canvas, truffle, shale blue, bonsai green, terracotta, chamomile and mineral.
PARK B. SMITHNew York (212) 889-1818
The new white collection of shower curtains are 100% recycled natural fibers: Eco Astor shower curtain has tab top with buttons (no hooks needed); Eco Varrick sports a decorative hand made oblong button between button holes; Eco Waffle is an upscale spa pattern in recycled fibers.
PENDLETON WOOLEN MILLSPortland, Ore. (425) 487-0682
Design elements from Pendleton's Adobe Canyon bedding collection bring understated Southwest chic to Adobe Canyon towels. Sunset stripes and geometric borders trim bath and hand towels; washcloth features a single diamond-and-cactus motif. 100% cotton sheared velour with 100% polyester trim. Made in the United States, the three-piece set includes bath towel, hand towel and washcloth.
Thirsty cotton velour towels coordinating with Lone Tree bedding are branded with Old West style. Embroidered cattle brands make their designer mark to mountain cabin or urban loft. Zigzag-stitched ribbon insets are offset with braided trim. 100% cotton sheared velour with 100% polyester trim. Made in the United States, the three-piece set includes bath towel, hand towel and washcloth.
SATURDAY KNIGHT LTD.Cincinnati (513) 641-1400
Novelty remains a design focus for Saturday Knight. Siesta Key is an example, with its palm and animal print pattern, created by artist Beth Yarborough.
The modern geometric Pinpoint collection is a polka dot pattern interpreted on double wall ceramic accessories with circular cutouts.
Also new in the novelty category are Mod Dot, a licensed group from Jenny and Jeff; and Saturday Knight's own Intersection and Urban Squares collections.
SARAMAX HOMENew York (212) 842-4115
The beach towel, tote and pillow set with a pattern of gold fish is both cute and convenient. The set includes a beach towel sewn into a tote. The attached tote transforms into a pillowcase for the included 11-inch-by-39-inch inflatable pillow. Beach towel measures 30-by-60. The set comes in a variety of licensed and private label designs.
SOREMAPortugal +351227323395
Sorema introduces a new mohair bath rug. Mohair has always been considered an exclusive fabric. Although mohair may provide the softest touch, it is also stout, absorbent and has high durability — hence, mohair offers a luxury bath rug that lasts.
TEXTRADENew York (646) 291-6802
The company's new Victory bath mat features chunky, space-dyed, textured loops. It is available in five colors.
Also new is the Juno bath mat, which is made in a loop construction that incorporates mingled metallic yarns.
TOWELLERSNew York (973) 706-6657
Towellers introduces Boucle towels. The line is soft and absorbent and color matched to customers' preference.
Kitchen/Tabletop

ANCHOR HOME PRODUCTS
Wyckoff, N.J. (201) 493-8585
Artist Julie Ueland was tapped this market to create the pine pattern, Evergreen, and the moose design, Back Country — both for the company's new Lodge kitchen textiles collection.
Components include kitchen towels, potholders, oven mitts, placemats and aprons.
THE ARLEE GROUP
New York (212) 689-0020
Arlee is introducing 12 new fabrications to its chair pad assortment. Styles include box edge, foam and skirted, all with non-skid backing. Each fabric is offered in four to six colorways.
Also new is a reversible chair pad that uses prints that flip over to solids or coordinating prints.
All of these chair pads coordinate with soft window treatments and decorative pillows.
BARDWIL LINENS
New York (212) 944-1870
The growing, high-end Lenox-branded table linens program continues to expand this market with additions like the Holiday Nouveau Cut-Out collection.
Components are tablecloths, placemats and napkins — all of them featuring a burn-out and embroidered design enhanced with scalloped edges.
This grouping ties back to Lenox's tabletop Holiday dinnerware line.
Another licensed highlight is the new Vera collection, featuring the vintage patterns by the late artist and textiles designer Vera Neumann. Patterns include "Vera, Candy" and "Vera, Candy Dish," among others.
Bardwil is also building its Kitchen Dry Goods assortment with new pieces such as canvas embroidered looks with reversible patterns.
MESSINA AND ZUCKER
New York (212) 889-3750
Messina and Zucker expand their printed kitchen slice rugs with matching 20-by-40 sink/utility runners. New styles will be shown in fruit patterns, sunflowers and floral designs, roosters, novelty prints and lodge themes.
POPULAR BATH PRODUCTS
Brooklyn, N.Y. (718)369-1449
Pineapple is a new traditional pattern being added to the company's kitchen textiles offerings. The components include window curtains with a matching valance, swags, kitchen towels, an oven mitt, a potholder and placemats.
TEXTRADE
New York (646) 291-6802
The company's recently forged licensing partnership with Swarovski is resulting in a collection of table linens that "add bling to the table," with these crystal embedded placemats and table runners.
THRO
Islip, N.Y. (631) 218-2152
Eco-friendly jute placemats and runners in bright zebra colors are key to the animal themes introduced by Thro this market. Wood round charger plates in a new giraffe design are fun yet sophisticated; napkin rings and coasters also available. Many new runners are available for spring: 13-by-72 or 13-by-90 in begonia, spirals, Seattle, Aberdeen.


Area Rugs

FARIBAULT MILLS
Faribault, Minn. (562) 430-5792
Faribault Mills uses the perfectly good wool that is left over when making a blanket and creates the first environmentally friendly wool scatter rug.
INTERNATIONAL TEXTILE MANUFACTURING
Cumberland, R.I. (401) 312-0353
The company is introducing a 100% virgin wool rug collection. It features a stripe pattern, and is available in several colorways.
Also new is a 100% cotton tie-dyed fabric braid in eight bright colors.
MESSINA AND ZUCKER
New York (212) 889-3750
Messina and Zucker introduces a wide range of rugs this market, including: "economic stimulus package" of special incentives on rugs and runners, available in solids, stripe and geometric styles; printed accent and room size rugs, solid color berber rugs with coordinating stripes, tweeds, etc.; kitchen slice rugs with matching sink/utility runners; new fashion bath rugs; non-slip rug pads in accent, runner and room size.
MOHAWK HOME
Sugar Valley, Ga. (800) 843-4473
Mohawk Home is introducing several new 100% wool rugs made in India from its Woolrich-branded collection. Each design in this licensed program is based on nature, with outdoor lifestyle themes that include botanicals and earth tones.
The Blackwell rug is one example. It features stripes of varying widths in rich tones of spruce, copper, adobe and gold.
ORIAN RUGS
Anderson, S.C. (864) 224-0271
Orian is launching two collections, both of them machine-made of 100% polypropylene.
The first is Illusions, which combines flokati constructions with trendy shag looks for added comfort underfoot. Using state-of-the art technology, Illusions combines yarns of different qualities and textures for a two-in-one pile. Carving enhances the look of the designs, which stem from nature — pebbles, wood carvings and animal skins, for example. The palette for Illusions includes black, brown and cream.
The other collection is Silk Expressions. Mimicking pure silk, the collection employs fine filament poly-silk — one of Orian's newest innovations. The result is a soft-hand that combines delicate thread with antique patterns and shine while resisting fading and high-traffic wear.


DEC Pillows

THE ARLEE GROUP
New York (212) 689-0020
The Holiday 2009 collection is extensive in pattern and fabrication, encompassing woven, tapestry, faux silk and novelty looks for Christmas as well as the harvest seasons.
Also a part of this program is a line of gift-able inspirational pillows in tapestry and embroidery styles.
For every day, Arlee is showing 18 new solid color offerings in faux suede, faux silk, faux leather, twill and woven constructions created in a new palette of fern, rosewood and others.
In chair pads, there are 12 new fabrics made in a variety of styles, including box edge, foam and skirted, all with non-skid backing. Each style comes in four to six colorways.
And a reversible chair pad is being introduced in prints that flip over to solids or coordinating prints.
CALDEIRA USA
New York (212) 532-2285
Caldeira is launching three new collections spanning all of the company's product categories — decorative pillows, throws, soft window and table runners.
The collections are: Rain Forest, Modern Traditions, and Retro Chic.
Fabrications include silk, linen, cotton, faux silk, faux fur, polyester and high-end Belgian velvets. Colors offered are rainforest-inspired greens and browns and blues paired with spice tones. Another palette employs powder pastels and neutrals.
DECOR BY BEADER'S TOUCH
New York (212) 391-0020
A new decorative pillow collection called Festooning features a contemporary stripe pattern. These lines are made of felt cloth and which are looped and attached, creating a soft and lofty touch.
The construction is 100% wool felt fabric; the available sizes are 20-inch square and 12-inch-by-22-inch rectangle, and the colorways are four: black, red, chocolate, and gray.
DIVATEX
New York (646) 981-6624
Divatex this market presents chunky pillow covers, featuring classic designs and hand knit from acrylic and wool yarns, making the covers lofty with a cozy look and feel. "Old is new again" is the motif. They come in two colorways: ivory and gray.
HOME FASHIONS INTERNATIONAL
New York (212) 689-3579
Pillows from Home Fashions International feature velvet tangiers with exotic horn buttons, sequin animal skin and secret silk.
Pet beds are enhanced this market with whimsical paw print embroidery on suede.
NEWPORT/LAYTON HOME FASHIONS
Portland, Ore. (503) 247-5233
Indian Summer, one piece of the new Lodge collection, offers a felted wool look. Each pillow in the collection is feather filled and finished with a 20-inch knife edge and a hidden zipper.
RAYMOND WAITES DESIGN
New York (212) 447-8700
Raymond Waites Design's new line of decorative pillows allows you to easily spice up a room and your spirits with a pop of elegance. Exquisite silks offered in an array of colors, delicate embroideries and rich jewel colors are what make this line exceptional. Indulge in small tastes of the both refined luxury and elaborate exotic aesthetics all within reach.
Embroidered silks in an array of colors in both square 16-by-16, 18-by-18, and rectangular 14-by-24, 12-by-18. Solid velvets 18-by-18. Intricate woven jacquards in both neutral and jewel tones; classic poly quilts 20-by-20.
TEXTRADE
New York (646) 291-6802
The newly inked licensing partnership with Swarovski results in a collection that "brings bling to decorative pillows," the company said. The Crystal Glam collection in the line shows off an all-over sparkle and shine look on a variety of different base cloths — such as cotton, rayon, velvet and others.


Pillows, Pads, Blankets & Throws

AMERICAN TEXTILE COMPANY
Duquesne, Pa. (412) 948-1074
American Textile offers the Neck Correct pillow — a unique construction to encourage head, neck and shoulder alignment, which enables a neutral sleeping position throughout the night. In 300 thread count cotton cover with woven dobby design and decorative satin cording, and 100% hypoallergenic polyester fiber fill for ultimate comfort and support.
Features a dobby dot pattern and satin cording trim on all sides. Sizes available are standard, jumbo, queen and king. Suggested retail price for standard is $14.99.
Also key this market: Eco-fi pillow, with a long lasting, durable 220 thread count cover made with earth friendly, soft Eco-fi fabric — made from the recycling of used plastic bottles, 100% hypoallergenic. Pillow is corded on all 4 sides; sizes available are standard, jumbo, queen and king. Earth friendly: reduces waste in landfills! Suggested retail price for standard is $9.99.
DOWNLITE
Mason, Ohio (513) 229-3696
Downlite has focused a collection of Simply Eco product that is both cost effective and environmentally friendly. Both product and packaging take eco solutions to the next generation. Downlite is also introducing its exclusive ecoCluster fiber in this collection.
In the Hassle Free Comfort Bedding collection, relaxation is delivered without added work and worry, in the RestAssured motif. Variety of products include long lasting, easy care Nanotex stain release and repellent fabrications as well as Allergy Barrier Protection for Ultra Sensitive Sleepers. Available in comforters, pillows, mattress pads and blankets all at a great value.
ELLERY HOMESTYLES
New York (212) 448-4454
Crocodile embossed rabbit fur available in chocolate, beige, slate, gray, ivory, black, mocha, and light blue, sized 50-by-60. Fabric content is 100% polyester. Ellery Homestyles is continually introducing new and innovative decorative fur and seasonal throws, while maintaining luxury and affordability. The decorative throw featured in this photo will bring a wildly cool and modern twist to your living space. A crocodile embossed print abounds on super soft and plush rabbit fur with a unique texture and is backed with cozy fleece. The crocodile embossed throw is available in a rich assortment of colors with coordinating decorative pillows to complete the exotic look.
HOLLANDER HOME FASHIONS
Boca Raton, Fla. (561) 997-6900
Hollander has expanded and enhanced its Laura Ashley collections in the Laura Ashley Natural Elements and The Anniversary Collection by Laura Ashley; the company is also adding to its own Hollander Comfort Quarters, Natural Elements, and Hollander Fun Basics lines.
With its second offering under Anniversary Collection by Laura Ashley, the focus patterns are Erin and Tatton, taken from Laura Ashley's best selling wallpaper patterns.
Erin uses a 400 thread count cloth that features the floral jacquard on pillow shells and down and down alternative comforters. The floral design elements are interpreted through embroidery motifs on Hollander's Superside gusset of the pillow.
Tatton is a 500 thread jacquard, featuring a down comforter filled with Hungarian goose down. For those preferring the down alternative route, a comforter is also offered in Tatton.
Laura Ashley Natural Elements expands with quilted pillow shells, in both bed pillows and body pillows. Contrast stitching and cording offer more fashion interest and embellishment to these eco friendly and sustainable products. New silk and organic blends, in elaborate jacquard designs, will round out the upper end. In addition to natural filled pillows, the synthetic filled pillows feature Dacron Ecopuff, an Invista fiber that is made from 100% recycled flake fiber through a unique process that produces super clean, white recycled fiber.
JS FIBER
New York (212) 447-8700
JS Fiber introduces the patented Fossfill pillow, the "closest thing to a natural-feeling synthetic." Fossfill's independent fibers allow air to flow through it, keeping it fluffy and preventing flattening.
Fossfill offers the comfort of down yet fluffs up like new again and again, 100% hypoallergenic and machine washable with no lumps or clumps. Fossfill pillows also have anti-bacterial FossGuard protection which helps protect against dust mites, bacteria, mold and mildew.
PACIFIC COAST FEATHER COMPANY
Seattle (888) 297-1778
Pacific Coast introduces new StayFluff all down pillow and StayFluff DownAround pillow to their pillow portfolio. StayFluff design lives up to its Stays Fluffy Longer tagline, maintaining resilience for a more comfortable night's sleep.
Also new: the Stratus Down-On-Top feather bed, designed to be exceptionally fluffy, achieved using patent pending Stratus box pleats that dramatically enlarge each down-filled chamber on the top layer. Stratus box pleats add extra fabric along all four sides of each sewn-through box creating more room for the down to loft while eliminating shifting. The top layer of down sits above a supportive bottom layer of soft, springy feathers.
New Pacific Coast Easy Care Handles are attached to the sides of this feather bed make re-fluffing a snap.
PENDLETON WOOLEN MILLS
Portland, Ore. (425) 487-0682
The Pendleton 100% pure virgin wool Easy Care blanket has a lush hand plus a special treatment that makes it easy to machine was and dry at home. New this season are three strong plaids: burgundy plaid, neutral plaid, plaid, spearmint plaid. All have coordinating whip stitch binding for beauty and durability. Made in USA. Available in twin, queen and king.
New to the line is the Eco-Wise wool blanket, offering wonderfully soft and light hand in a 100% pure virgin wool fabric that reduces our footprints on the earth. Woven in the Northwest mill, a facility that has won environmental awards for its sustainable, earth-friendly technology. Made in USA. Available in twin, queen and king.
SOFT-TEX MANUFACTURING
Waterford, N.Y. (617) 869-8949
Soft-Tex is proud to introduce two new bedding brands. One has many memory foam applications, including toppers, pillows and accessories; all designed with an innovative approach. The other brand highlights our domestic manufacturing capabilities, direct to customer. All items represent basic fiber and natural fill applications.


Window Coverings

ACHIM
New York (212) 686-6652
Carrington from Achim features an all over rose trellis variegated embroidery design on a faux silk cloth, along with matching valance that has coordinated bouillon trim. Panel has a regular rod pocket and no header so it can be hung with either decorative rod or using clip rings. Dimensions offered are 40-by-63, 40-by-84 valance. Colors are beige, chocolate, cinnabar, gold, silver blue.
ANCHOR HOME PRODUCTS
Wyckoff, N.J. (201) 493-8585
The company's proprietary Versa-Tie collection is being expanded with several new styles, including Apple Orchard.
This patented double valance collection features boldly colored apples on a red country plaid background. It is also available in window tiers as well as matching kitchen textiles and table linens.
THE ARLEE GROUP
New York (212) 689-0020
Arlee's soft window treatment division, Lee's Curtain Co., is presenting a line of drapes that are environmentally friendly for their thermal, black-out and, this, energy-saving attributes.
The collection comprises more than 50 skus, and fabrications include solid, textured, sateen, faux suede, dobby and jacquard.
In the sheer category, Lee's is introducing flocked, burned-out and printed faux silk looks in plaids and stripes as well as three new colors in the Emerson grouping.
And finally, Lee's is also showing 12 new fabrics in various chair pad styles that are made to coordinate directly with various soft window treatment collections.
CHF INDUSTRIES
New York (800) CHF-7090
Blueberry tiers, a key intro this market, offer a country-quaint appliqué with gingham ribbon. Also available with cherries and lemons. For kitchen or dining room, it's a natural.
DIVATEX
New York (646) 981-6624
The Wavy Pintuck Collection from Divatex uses a poly/viscose fabric that makes these curtains drape luxuriously without compromising a modern look. The grommet top adds a striking, urban statement as well. Comes in ivory, natural, spice, olive and royal blue colorways.
ELLERY HOMESTYLES
New York (212) 448-4459
Ellery Homestyles' Eclipse brand now offers its Thermalayer category, featuring fashionable designs with embellishment and embroidery coupled with its innovative technology of a lightweight Thermaweave blackout liner. Meander Thermalayer is an all-over embroidered panel in beautifully soft neutral colors.
GREENLAND HOME FASHIONS
Chino, Calif. (800) 677-8140
The Milla five-piece window set features contemporary and romantic florals and paisleys in a pastel color palette of soothing lilac and soft pink, in 200 thread count 100% cotton. Lined with coordinating solid color fabric for better light insulation, each window set includes a valance, two panels and pair of tie-backs. Valance: 84-by-21, panel: 42-by-84.
SOFTLINE HOME FASHIONS
Gardena, Calif. (800) 701-4220
Softline this market introduces the Cavalli collection, available as rod pocket panels, fabrics by the bolt, and as decorative pillows.
The 100% polyester collection, across six colorways, includes three patterns: Cavalli Batik, Cavalli Circle, and Cavalli Stripe.
The color palette features sage, chocolate/French blue, soft gold, chocolate, pewter, and sienna.
TEXTRADE
New York (646) 291-6802
Meant to offer a casual look in window treatments, the company's new cotton contrast pick-stitch soft window panels are available in six colors.
On the dressier side is Gwen, a raised-satin woven jacquard with a matte ground and raised damask motif.
UNIVERSAL HOME FASHIONS
New York (212) 481-7112
Dynasty is a new tailored panel made in a sheer-clipped jacquard that is woven with bright yarns. It comes in five colors, each piece accented with a fringed tuck valance.


Infant & Juvenile

AMERICAN HOMES AND TEXTILES
Metuchen, N.J. (908) 433-1551
American Homes and Textiles introduces its new Slumber Pak. The three-piece set is perfect for young girls'/boys' sleepovers or those long trips by car, plane or train. The unique, two-compartment carry case features Velcro closures, a carry handle and back pack type straps for two easy carry options.
Inside, one compartment contains a mini travel pillow while the other one contains a mini quilt in the same print pattern. The carry case can also double as a convenient storage container for pajamas or change of clothes. Comes in a variety of juvenile oriented print styles and is $19.99.
CHF INDUSTRIES
New York (800) CHF-7090
The Alex Home bath brand is designed exclusively by CHF, working with the Alex Toys company known for creating products that encourage self expression and creativity in children.
Moody Monsters, a coordinated bedding and bath line, is the first CHF offering in Alex Home, all designed for interactive play. The bedding includes a quilt, sheet set, throws, plush shaped pillows, and storage. Characters include
Silly Sally and Confused Carl are offered in beach towels. The Scared Sam slumber bag in polar fleece features an attached monster head pillow with an applique and embroidered face..
The Moody Monsters bath collection keys around the printed PEVA shower curtain, fiber reactive beach towel, resin night light, cotton tuft rugs and novelty wash cloth collection. Novelty tuft bath rugs are made from 100% cotton.
ELLERY HOMESTYLES
New York (212) 448-4459
Building on the Eclipse energy-saving brand, Eclipse Kids curtains are available in both Thermaback and Thermaweave options, in a range of fun, fashionable colors and styles. A featured look is the Dana Stripe Thermaback children's window treatment line, available in light purple, bubble gum, indigo, grass green. Sizes: 42-by-63 panels; 42-by-84 panels; 42-by-64 balloon shade; 42-by-18 pouf valance.
Accented by grosgrain ribbon bows, pouf valance and balloon shade. Eclipse provides kids with a good night's sleep.
LINTEX LINENS
New York (212) 679-8046
The new Little Chefs collection is a two-piece cooking set that includes a matching 18-inch-by-22-inch pocket apron and a 6 and-a-half-inch-by-4-inch oven mitt for kids ages 3 to 7.
Available colors are red, chocolate, blue, sage, gold, tan and hot pink.
Made to coordinate with Lintex's Krayon collection for mature chefs, Little Chefs is made of 100% cotton.
LOFTEX
New York (212) 302-1162
Seen and be "scene" on the beach this summer with Loftex's exciting new beach towel called Sun Seen. This is a new product in beach that utilizes special dye formulations so that when exposed to UV rays new colors appear — the beach towel looks one way inside and then changes colors outside! A novelty that will be sure to delight many. Safe and non toxic.
THE NORTHWEST COMPANY
New York (212) 725-6996
The Northwest Company introduces new sports comforter sets in the full regalia of favorite sports teams. The full/twin sets include a 72-by-86 panel printed comforter with two printed shams. The fabric is 55% cotton/45% polyester. Available in NFL, NCAA, MLB, NBA and NHL.
Also this market: the company is offering a throw. The panel printed micro-raschel front is backed with a super plush, super soft sherpa back. It will be available in two sizes, 50-by-60 and 40-by-50, in all of its licenses.
PDK WORLDWIDE
New York (212) 889-6144
From PDK Worldwide, Garden Party for Juvies comes in pink and red with a green butterfly and trellis motif combination, part of an expanded line for kids.
PENDLETON
Portland, Ore. (425) 487-0682
A rendition of the core Lone Tree pattern, Cody Muchacho is made just for the rocking horse crowd. The Cody jacquard crib blanket rounds up a herd of cattle hands and cowpokes in a whimsical lariat border. Scarlet or aqua brings a colorful and imaginative back-at-the-ranch style to nursery or playroom.
RASHTI & RASHTI
New York (212) 594-3733
Baby Starters two-ply luxury 30-by-40 blanket with printed satin lining and trim is a feature of this market's introductions. Available in pink, blue and white as part of a specialty line of blankets.
ZAMBAITI
Spartanburg, S.C. (864) 576-1958
From the Thinkashmir collection, Zambaiti introduces the 100% cashmere Natalia baby blanket. The warmth and the coziness of this company's best cashmere blanket, with a witty appliqué for the decoration of babies' rooms. Finished with a fine jacquard woven ribbon, in one size, 36-by-45. Made in Italy.

Related Content By Author
Subscribe to
Home Textiles Today eDaily
Receive the news you need to know about the trends in the industry delivered right to your inbox.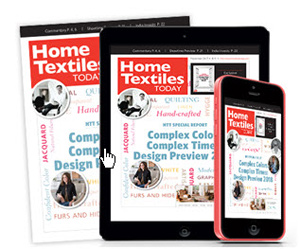 See the November 2017 issue of Home Textiles Today. In this issue, we look at Complex Colors, Complex Times--Trend forecasters and interior designers weigh in on 2018 palettes and motifs. Other articles include: Data: Exclusive HTT soft window research; Innovation: Material Changes conference preview; Country report: India invests in the future and Fabrics: Showtime preview. See details!