Market Intros
BEDDING
100% Pure/Custom Comfort
Santa Ana, Calif. (714) 542-1600
The company is showing eight new collections for top of bed sham and boudoir, including Bermuda and Bermuda Stripe, a bright contemporary tropical floral coordinating to stripe theme. Available as mauve/berry and sand, in 240 thread count. All 100% cotton sateen. Duvet covers, shams, decorative pillows, dust ruffles. Queen duvet covers wholesale for $60.00. Made in the USA of imported fabrics and machine washable.
American Trading Company
New York City (212) 685-0081
American Trading is introducing new solid and print sheet sets just arrived from the Far East. Modern designs in multi colors with pillow shams, also in geometric styles. The company is also showing comforters.
American Textile
Duquesne, Pa. (412) 948-1025
Introducing Skin Healthy Sheets, a new product offering designed to appeal to sleepers who suffer from common skin conditions. The new sheets and pillowcases, marketed under the Rest Right name, use patented DermaTherapy technology to produce a smoother, cleaner, drier sleeping surface.
Anichini
Oakland, Calif. (510) 339-2431
Anichini is featuring Peacock, a 100% silk taffeta embroidered bedding with a peacock feather design. Available in citrine, midnight blue, platinum, turquoise. Peacock is available in quilts, pillow shams, decorative pillows, drapery panels and fabric by the yard at 102" wide.
Arley Corp.
New York (212) 686-0908
Arley introduces Regent, a large scale over damask design with a striped coordinate and tossed medallion sheet and a jacquard printed on a blend fabric.
Ashley Lin Home
New York (212) 679-0478
Ashley Lin Home's Hotel collection is offered in six colorways, including gold, silver, red and royal blue.
Ashley McBride
New York (212) 779-2976
Ashley McBride introduces Doge Italian embroidered bedding featuring 600 thread count sheet sets with duvet covers, with mattress size embroidery and embroidered shams with full turnback pillowcases.
Aussino USA
New York (212) 213-8838
Aussino introduces its Metropolitan bed ensemble, a 100% cotton reversible jacquard in a contemporary modern design.
B at Home
New York (212) 685-1875
B at Home introduces Tara, a contemporary relaxed geometric bedding ensemble, and a faux silk pieced bedding ensemble for fall 2006 in dramatic jewel tones. Also, Trieste, a jacquard vermicelli-textured comforter set that's also available in bed in a bag.
Room in a bag comes in 12-piece, 16-piece and 24-piece sets; available in 10 colors.
Jewelry Box is introduced as faux crinkled dupioni silk pieced quilts and comforter sets in pastel brights and jewel tones, with complete bedding and curtain-pillow ensembles available.
Bay Linens
New York (212) 725-2002
Bay Linens introduces Hyannis, a charming floral recalling clipper ship days, in crisp colors on ivory cotton set off by seersucker plaid. Ranchester is inspired by the American West of legend and cowboys, but interpreted for the luxurious ranch house. The large scale plaid is soft to the touch and accented by multi-textured patterns and horn buttons. The colors are canyon reds, ochre, earth and sage.
Hyannis is inspired by the color and exuberance of a Cap Cod garden in full summer sunshine glory. The multi-color floral emphasizing red, green and gold is printed on an ivory jacquard ground. The crisp, bright seersucker plaid accents are a classic New England accent.
Bellatano Luxury Linens and Textiles
Aliso Viejo, Calif. (949) 916-2788
The Montecito Collection has large embroidered scallops on the outline of the matelasse bedcover and shams, as well as the sheet set and duvet cover. This is a most unusual embroidery technique that is rarely used today, as it is labor intensive, but quite beautiful when finished.
The cotton matelasse bedcover and shams are 100% cotton piquet and the sheet set and duvet cover are 600 thread count Sateen, all made in Italy by Bellatano. Colors are: latte on white, latte on ivory, and sage on ivory.
CGG Home Fashions
New York (212) 213-1944
The company is introducing a 440-thread count single-pick Supima sheet set and a 1,000-thread count single ply luxury sheet set. Josephine is a coordinated 14-piece luxury comforter set in jacquard with window treatment available.
Chevron is a new addition to the matelasse Coastal collection coordinating to 500-thread count sheet collection in Citron, Chocolate, Sandstone, Cashmere Blue and White.
Louvre is a jacquard duvet cover, embroidered quilt cover with variegated color embroidered four-line sheet with jacquard accents.
Jazz Trio is a 400-thread count reversible quilted coverlet to coordinate with existing collection of luxury 400-thread count sheets in 13 colors.
The Chandler Collection
Bell, Calif. (323) 266-8993
Chandler Collection is introducing four new patterns: Josephine Lilac, Lotus Blue/Green, Olivia Garden Floral and Spring Stripe. Consisting of 100% cotton percale, 200 thread count sheets with quilts, duvets and shams. All items are machine washable.
CHF Industries
New York (212) 951-8110
CHF Industries introduces Thrift Shop, an embellished bed-in-a-bag with a Bohemian-inspired mix and matched pattern with current and romantic color trends for the young adult customer, in 60/40 cotton/poly.
Charleston is a traditional jacquard done in the popular color peacock, with elegant trims. On the face, it's a jacquard with trim, and on the reverse a plain weave.
Columbine Cody
Burlington, Iowa (319) 752-7000
The company is featuring Classic Chenille center design bedspread, available in white or natural vintage chenille construction. Mambo Jungle is a sateen with quad matelasse 100% Egyptian cotton sateen sheeting shown with its quad matelasse coverlet made from Supima yarns in deep jewel tone colors. Arce Supima Matelasse is a classic diamond matelasse constructed in 100% Supima cotton for luxury bedding.
Commonwealth Home Fashions
New York (212) 889-4356
Two new bedding patterns — Siam and Four-Carat — offer a sumptuous range of decorating options. In Siam, for instance, the Asian theme is interpreted in a blend of contemporary and traditional point of view.
The Siam ensemble is an all-poly yarn dye pin tuck, offered in three colorways: sandstone, blue-green and multi. A broad tiled look is enlivened by diagonal piping, punctuated by a braided trim on the quilted comforter.
Coordinated elements include shams and dec pillows, window curtains, toppers and shower curtains.
Croscill
New York (212) 951-7490
Croscill has a large number of introductions, including its Baroness top of bed ensemble made of 100% polyester and featuring tone on tone florals with ornate trims and corded edges.
Cuddledown
Portland, Me. (207) 761-0201
This season Cuddledown introduces Alessandria Jacobean, a fresh, summery 100% combed cotton percale from Italy. The traditional Jacobean design is interpreted in a pale palette and coordinates with the company's best selling 500-thread count Italian percale sheeting program in a selection of six pastel solids. The ensemble includes sheets, comforter cover, pillowcases and shams.
Divatex Home Fashions
New York (212) 252-0810
Cotton Canvas top of bed is a soft, durable cotton canvas that mixes with wool felt for a contrast of textures and colors and a clean, casual, elegant look. It is available in solid white with contrasting camel felt trim, or natural canvas with lavender felt trim. A strong and simple a design on its own, it also coordinates beautifully with jacquard throws and accessories. The company is also showing printed canvas duvets and accessories.
Faux Suede Cutwork top of bed offers contemporary laser cut designs in florals and geometrics, on luxurious quality faux suede. Duvets, shams, and accessories are also available in chocolate brown with light blue or pink; red with orange, and other fun color combinations to brighten up any room. It coordinates with solids and prints; also as a decorative pillow, curtain, and throw line.
Hand-appliquéd, cutwork quilts are intricate designs cut out, then hand appliquéd over a contrasting color, or another layer of fabric to form unique quilts and pillow covers. It is available as solid piece dyed, black and white versions, and multi color patches. These are 100% cotton, hand made quilts.
Velvets is a luxurious line of velvet quilts and duvets in cottons and rayons, including chocolate brown cotton version with paisley quilting pattern in contrasting ivory stitching. Available as duvets, quilts, shams and dec pillows, and made to coordinate with printed cotton sheeting. Other velvet programs include prints, embroideries, patchwork, and velvet combined with organza.
Donna Sharp Quilts
Shepherdsville, Ky.
(502) 543-4055
Ashlyn is fresh from the designer's palette. New lighter weight Ashlyn whole cloths lend expressive bursts of color, alone or in layers. Constructed of a 100% cotton shell, 100% cotton fill, it is machine washable. The available colors are blossom, teal and plum.
Savannah is the first in the line of new DSQ products and quietly boasts scrolling embroidered designs along with intricate all over quilting that create a subtle raised palette of grace and sophistication. Scalloped edging finishes with coordinating color and matching quilted coordinates. It is a 100% cotton shell, 100% cotton fill and machine Washable. Available colors are willow, cornflower, maize, ruby and snow.
30's Wedding Ring features rings pieced from carefully selected tiny print fabrics from peachy pinks, pale greens and soft blues on a soft white background creating a comfortable inviting feeling. In the center of each ring are eight hand-quilted hearts. The scalloped and pointed edge adds to its detailed beauty. It reverses to a subtle peach print. 100% cotton shell, 100% cotton fill and is machine washable. Bedding coordinates are also available.
DownTown Company
Wayne, N.J. (973) 305-8030
DownTown is introducing the Paula Bedding collection, including matelasse coverlets, shams and bed skirts, solid color sheets, pillow slips and bed skirts and jacquard swirl design duvets and shams in coordinating colors so that you may mix and match. Colorways available are butter, moss, pale aqua and white. It is 100% Egyptian cotton and made in Portugal exclusively for DownTown Company.
The Carrington bedding ensemble features a jacquard design duvet cover and pillow shams offered with coordinating striped sheet sets. It is 100% Egyptian cotton and made in Portugal exclusively for DownTown Company.
The Marquise bedding ensemble includes sheet sets, duvet cover and shams in a classic traditional jacquard design made of 100% organic cotton sateen. Matching matelasse coverlet and shams are also offered in 100% organic cotton. Made in Portugal exclusively for DownTown Company.
Duck River Textile Inc.
New York (212) 679-2980
Introducing the Napoleon comforter set, which comes as a seven-piece set. The color combination is two toned with light and regular gold. Materials used for the comforter set are mostly polyester with a mix of cotton. The set consists of seven parts, which are: comforter, bed skirt, two pillow shams, two throw pillows and a neck roll pillow.
DWI Holdings
New York (212) 845-4145
The Royal Sateen product line for this market features luxurious yarn-dyed jacquards paired with intricately embroidered decorative pillows. Scallop Jacquard is a beautiful yarn-dyed jacquard vine pattern accentuated by an elaborate embroidered floral decorative pillow and paired with faille stripe euro shams in a rich gold shade. An additional decorative pillow enhances this bed ensemble with its cascading scalloped appliqué.
Crystal is a combination of a very elegant 510-thread count sateen and a unique geometric diamond pattern that gives a subtle contemporary feel to this bed. The sheets are solid, bordered with an aqua diamond pattern and an added detailed hemstitch. This pale blue soothing spa color is also found in a luxurious pin fold decorative pillow. A white rep-weave neck roll pillow is also featured.
Modern rose is a softly shaded and stylized rose motif framed with an equally delicate stripe. The sheet's hem features an embroidered geometric motif in a contrasting color. This bed is highlighted by embroidered dot and rose pillows, in rich blush colorations.
Julienne is jacquard floral vine bedding with 510-thread count jacquard sheets and embroidered hems has an expanded color line which now includes a Thyme colorway. This subtle green color ensemble is complemented by hand-embroidered accessories.
Emdee International
New York (212) 216-9430
Emdee is introducing Assisi floral bedding created using one of its exclusive Italian fabrics, a poly linen, combined with dupioni silk and featuring a velvet flock printed all over floral design, available in three colorways.
Fiori Design Group
New York (212) 532-8777
Fiori is introducing its Emperor design with a color cuff done on a 330-thread count Sateen.
Hedaya Home Fashions
New York (212) 889-1111
The Garden Memories Quilt is 100% cotton, pre-washed and reverses to an overall floral print. The soft blues, pinks, and greens, complement each other to create a romantic floral arrangement on the quilt. Together they create the feeling of an enchanting garden. Available in twin full/ queen, king, sham ,and decorative pillow.
Hollander Home Fashions
Boca Raton, Fla. (561) 997-6900
Look for major changes to the look and feel of the Laura Ashley line.
Desert Oasis is a warm and inviting Southwest-inspired theme that is colored in rich and deep sun-drenched earthy tones. Mesa is a stylized landscape with a handcrafted woven feeling colored in horizontal striations of clay, aubergine, marigold, olive and citron mingled textures. Magnolia, a luxuriously woven story in silky micro-denier high twist yarns, creates shimmering delicate blossoms in a fresh and lavish coral glaze combination. Autumn Breeze displays overlapping ferns and basket-weave textures inspired by nature in butterscotch, nutmeg and caramel on a rich chocolate ground.
Natural Selections is a natural cotton story with a modern twist. Corsica is shown as a duvet cover in antique gold that is embellished with an embroidered inset miter on a sheer ground. Brushed Damask is a cotton sateen oversized damask in soft and warm putty tonal textures on an ecru backdrop.
Heavenly Cottage combines a fresh country rose pattern with pique weaves and pin-tucks.
The Timeless Chic trend reflects a streamlined and modern approach to traditional master bedroom designs with romantic undertones. Luxurious and elegant fabrics define this opulent yet clean look. Rosebud is a mitered satin round weave with delicate blossoms in sunshine yellow. Romanesque displays oversized gold scrolls on a natural ground. Francia features an engineered woven panel design with accents of French blue and gold.
Golden Age brings to life new interpretations of the dramatic and opulent colorations from days gone by. Lavish gold, orange spice, deep berry and plum color the ensembles in this group. This eclectic mix of patterning is all brought together by its drama and depth of color.
Tiffany is a double layer woven sheer jacquard in berry with golden accents and Candice makes use of oversized piecing in striations of gold in an elegant woven damask.
Urban Renewal is a collection of sleek and contemporary designs with metro chic appeal. Hollander is expanding its color palette of ensemble, Sand Drift, to include a fresh new blue and muted mauve colorways. Shimmer combines sleek-touch variegated stripes in today's newest reflective color feeling in tones of silver.
Comfort Quarters' newest introductions include casual novelty fabrications in simple pieced constructions with unique quilting techniques and new combinations. Checkers, Scribble and Dotted Quilt are fun looks with an apparel influence and an easy to live with feeling.
Romantic Revival is a lavish yet pared-down romantic story. Opulent woven fabrics and strategic embellishments make up this romantic theme. Pearl River shimmers in a rose lilac combination while Willow creates a serene scene in warm neutrals with tailored mitering and delicate leafy vines.
Kimlor Mills
Orangeburg, S.C. (800) 762-0007
Kimlor Mills is introducing Cabin Retreat, recalling the serenity of a clear, fresh forest evening combined with natural colorways and geometrics.
Lawrence Home Fashions
Montreal (514) 343-3740
Lawrence's new introductions for this market are on the organic theme with use of natural textures and colors intertwined. The new Sky collection is earthbound.
With the new introductions of Gaia, Solitude, Sunset and Pebble, all coordinating sheets are 300-thread count 100% cotton sateen.
The Suite Couture collection is very neutral and elegant with velvet accents. The pattern names include Indulgence, Opulence and Romance. Coordinating sheets in this category are 250-thread count 100% cotton with embroidered cuffs.
Lawrence Home Fashions will also be introducing some new contemporary patterns in its Maison de Vie collection, which are Dark Crystal, Hexagon, Element and Storm.
MELROSE HOME COLLECTIONS
Los Angeles, Calif.
(213) 748-7444
Melrose Home Collections' Aprilla bed ensemble combines trendy shades of blue and chocolate in silk dupioni, accented with soft antique silver and silk flanges for a contemporary statement.
Its new 1,000 thread count sheet set is woven into a rich, silky texture for a soft, smooth touch.
MESSINA & ZUCKER
New York (212) 889-3750
Messina & Zucker is introducing fashion bedding, including 18- to 20-piece printed complete bedroom-to-go sets. These sets will include comforter, bed ruffle, shams, sheets, dec pillows and window treatments all in one convenient package. Four styles will be introduced to retail under $100.
Also featured are 6- to 20-piece printed jacquard and yarn dyed jacquard comforter sets and complete bedroom-to-go sets with dec pillows, shams, Euro shams, and sheet sets up to 300-thread count.
Microfiber and micro-fleece comforters, blankets and throws are also being introduced with 400-thread count two-tone quilt sets and matching duvet sets.
Fashion duvet covers and duvet sets in 250-400 thread counts are available with matching sheet sets.
Sheet sets in general begin with a 200-thread count, 12-color solid program all the way up to 1,000 thread count luxury sheet sets. Luxury thread count sheet sets in 300-1,000 thread counts in various treatments such as solids, woven stripes, all over jacquards, jacquard hems and other fashion hem treatments also being added to the expanding sheet classification, as are micro fleece sheet sets, satin sheet sets, flannel sheet sets. Among the styles are Barrington Tan, Chesterfield and Kensington, all in 200-thread count.
MOHAWK HOME
Sugar Valley, Ga. (800) 843-4473
The company will be reiterating its five core lifestyle themes this market with additional designs and styles. These are: Crafted Casual, Tailored Classic, Fusion, Loft and Retreat.
Each lifestyle coordinates top-of-bed pieces, throws and decorative pillows.
P & A Marketing
Atlantic Highlands, N.J.
(732) 872-8172
The company's key focus continues to be on higher end, surface interest, master bedroom fashions as demonstrated by the style Dynasty, a heavily embellished jacquard comforter set featuring an oversized and overfilled, center-panel jacquard comforter with mitered, woven satin double border (both pleated and flat) and triple corded edges.
Dnyasty is offered in mahogany and gold colorways, in queen and king size sets including filled flange, double mitered corded shams and satin bed ruffle. Matching three-piece decorative pillow sets and five-piece window sets are also available to complete the ensemble.
Additional new offerings are available in jacquards, woven satins, chenilles, tapestries and faux suede comforter sets; cotton/poly printed comforter sets; sheet sets (from 180 count percale to 600 count sateen); blankets (from cotton thermal, to fleece, to micro pile); throws and decorative pillows.
Pacific Coast Feather Co.
Seattle (206) 336-2257
The company is introducing eleven new colors for Sealy's Best Fit sheets. Four new colors have been added to two existing palettes of pastels and jewel tones.
Keying into the ongoing trend of saturated colors, the company is also introducing an exciting new color palette — the Tropical collection— consisting of seven colors.
Parimatex Dayton, N.J. (609) 655-3320
Antique Tea Rose is the newest addition to the Shabby Chic Vintage Collection. This T200 100% cotton sateen bed in a bag has been inspired by timeless treasures enriched with soft floral bouquets.
PHI
South San Francisco, Calif.
(650) 871-3788
The company is focusing on three major lifestyles: traditional, casual and modern. Within each it has addressed specific trends utilizing unique manufacturing capabilities and design resources.
In traditional bedding introductions, Palomares is one of the most elegant beds. It is styled in a rich peacock-hued devore. It features Silk Allure and velvet accessories, as well as beading and metallic accents.
Also in traditional, Yvette is very feminine with all-over floral embroidery on a silk-like base cloth. Special pleating and pin-tucks add to the luxurious mood. Sophie is a beautiful printed floral on brushed sateen with striped accessories and embellished accessories.
Casual looks include Lalique, an updated floral illustrated in soft, naturally inspired colors.
On the modern side, East Hampton is a Bohemian-inspired offering with paisley embroidery and fabric piecing.
PHI is also introducing more free-standing quilts and coverlets, as well as some better printed quilts. It will continue to build on its promotionally priced quilts as it layers on these better items.
Raymond Waites Design
New York (212) 447-8700
Raymond Waites introduces Dowager Empress, inspired by the artistry of the Turkish Empire, with bold jacquards and exotic paisleys, featuring pigments of red, scarlet and burgundy to add a sense of royal splendor.
The decorative pillows are finished with exotic beading and silk trims. Top of bed is made of poly/rayon blend jacquard and the reverse is printed 220-count cotton sateen.
Royal Heritage Home/Poly Commodity
Great Neck, N.Y. (516) 829-3606
The company is featuring winter flannel reversible comforters that combine comfort and style. Also being introduced: soft, 100% cotton flannel comforters in fashionable prints that reverse to solid colors for two looks in one. Comforters are easy care: machine wash and dry. Alister Paisley reverses to Alister Stripe.
Renaissance America/Kittan Textile
New York (212) 951-7260
Introductions include the Kamilia Bed ensemble, which features 500-thread count sateen 100% Egyptian cotton, single yarn construction and jacquard woven with a diamond pattern. The hem is an extra-wide jacquard weave.
Top of bed includes a duvet cover made of washable 100% pure linen embroidered with 12-needle chain-stitch. Pillow shams are made of 100% pure linen decorated with a ruffled fine lace.
The Yoko Bed ensemble contains 320-thread count Egyptian cotton/bamboo blend sheets with single yarn construction and solid color body. The hem is a jacquard weave. Top of the bed includes a fine textured jacquard weave sateen with floral embroidery.
REVELLE HOME FASHIONS INC.
Toronto, Ont. (416) 703-4533
The Savoy collection is a box quilted program made of 100% cotton sateen, 280 TC. Components include sheets, coverlets, shams and accessories. All are available in six solid colors — optical white, ivory, pearl grey, mocha, sangria red and chocolate brown. The goods are woven and quilted in Italy and manufactured by Revelle.
Rose Tree
New York (212) 481-6426
Introductions include Salon, a French inspired soft Asian design with shades of seafoam and taupes printed on a heavy basket-weave fabric. It is accented with silk accessories.
Also new: St. Regis, a large-scale damask pattern with select motifs that are designed with variegated colors of chenille in earth tones.
And introducing Arboretum, a magnificent transitional floral with bouquets of hydrangeas in white, red, and pink.
Sew Rite Manufacturing
Ontario, Canada (905) 850-6131
Featuring Valerie, a strong botanical feel is reflected in the embroidery and prints, with more realistic motifs in shades of lime-spiked green, olive and shadowy grey dappled across crisp, white cotton percale.
Also new: Capri. Moving from soft vintage hues, through to fresh blues and aquas, to citrus brights, Capri is a new emphasis in color on crisp, cotton percale. Add texture and layers with the coordinating range of coverlets, throws and cushions.
Both designs are available as comforters, duvet covers, printed shams, embroidered shams, sheet sets, coverlets and decorative cushions.
Sferra Fine Linens
Edison, N.J. (732) 225-6290
Sferra is introducing the Cottage collection, all about bringing relaxed intimacy and warmth to hearth and home — mixing and matching and individualizing the style. The focus of the collection centers on two luminous jacquards, Chantal and Darcy, with elaborate decorative motifs.
The striped 100% cotton 650-thread count Italian woven jacquard is offering top-of-bed duvet and shams in the premier palette of aloe, blush, butter and sea mist. Sophisticated and subtle, Darcy is offered in sheets, cases, duvets and shams. The all cotton 560-count Italian woven damask pattern plays lilting counterpoint to the elaborate Chantal stripe.
Also debuting are the new feather-soft basics, Manor and Logan, micromodal solid and striped sheetings that capture the relaxed luxury of cottage living.
Lesleigh's hand-embroidered 406-thread count percale sheets and pillowcases in white-on-white are heirlooms of Sferra's tradition.
S.S. Dweck & Sons
Irvington, N.J. (973) 375-0900
The company is adding satin sheets and comforters featuring eyelets, sateen and high threat counts. S.S.Dweck and their new design team have expanded their seven-piece animal design comforter sets, with detailed chenilles, complex jacquards and many more.
Thomasville Home Furnishings
New York (212) 686-7577
Thomasville is featuring coordinating bedding ensembles including softly defined geometrics.
Waverly by Ellery Homestyles
New York (212) 648-5364
Waverly introduces Ballad Bouquet, a new bedding ensemble featuring fabrics from the Romantic Overtures collection. A vintage look that is both casual and traditional, the designs in this collection are rugged with subtle feminine touches. Earthy yet soft, the diffused colors and time-honored motifs will satisfy both masculine and feminine decorating styles.
Livable floral motifs mix with more tailored damasks, stripes and textured solids. The fine detail and ornate blend of the coordinating woven fabrics adds dimension and an heirloom quality. The bed is tailored and traditional, yet the fashionable color palette of sepia (tea stain and rose tones) gives this bed a contemporary edge. The mix of design, texture and softness makes these fabrics genuinely romantic. The top of the bed is Ballad Bouquet reversing to Rose Sonata. It has a mingled cord trim. The tailored bedskirt is Stripe Ensemble. The Euro sham is brown velvet with a double mitered border in green velvet with 2-inch flange. The standard sham in Ballad Bouquet has a 2-inch flange with borders on each side and a contrasting border welt.
Decorative pillows include a neckroll, 20-inch diamond inset and boudoir with tassel trim.
For this bed the larger elements are simple, and tailored with the piecing on the shams and accessories, and tassel fringe for added interest. Coordinating window treatments include panels in Ballad Bouquet and a Chatham valance that combines two scalloped valances (one in Ballad Bouquet, one in brown velvet) with button tack mid scallop.
W-C DESIGNS
Anaheim, Calif. (800) 457-1515
To its designer line with Sigrid Olsen, W-C is introducing the Indigo Isle collection, a 100% cotton pique printed duvet cover featuring a mitered border. There is attention to detail, with a twill tape inset on the bed skirt and shams. The ensemble is fully accessorized with textured pillows and Euro shams.
Under its program with the Waterford brand, the company is showing a sophisticated woven jacquard damask design, Tullah, in gold, wine and bronze. An elegantly designed companion woven jacquard motif complements the back of the comforter and shams so they are truly reversible. Accessory pillows and trims complete this ensemble.
The W-C Home Fashions line is being enhanced with the new Holden, an apparel-driven design for the Balboa Bay brand collection. The ensemble has a strong menswear haberdashery feel in chocolate and spice tones. The comforter and shams are pieced, featuring leather and tortoise shell button trims.
Yves Delorme
Charlottesville, Va.
(434) 979-3911
Yves Delorme spotlights Cristal, a glamorous design in a sateen weave that features an all-over scroll design highlighted with Lurex thread and a sparkling effect and Swarovsky crystal buttons on the duvet.
Zambaiti USA
Spartanburg, S.C.
(864) 564-1958
The company introduces Pavilion, a 500-count jacquard woven in 100% cotton in two colors, gold and flax, offered in a sheet set and duvet set in queen and kings
Zorlu USA
New York (212) 689-4622
Zorlu USA's Dolce Spa Blue is a duvet with standard shams, featuring a floral and geometric design printed on 310 Sateen.
BATH
American Trading Co.
New York (212) 685-0081
The company is featuring antique designs from the Far East for shower curtains and embroidered three-piece towels sets with designs.
ARLEE HOME FASHIONS
New York (212) 689-0020
The company is adding waffle weave, faux silk, embossed suede and several different embroidered looks to its free-standing shower curtain offerings.
Ashley McBride International
New York (212) 779-2976
Ashley McBride introduces Giorgione towels in its Venice bath collection, featuring 100% Egyptian cotton embroidered towels with the emblem of Venice in guest, bath and bath sheet, with matching bath mat bordered in sateen.
BACOVA GUILD LTD.
High Point, N.C. (336) 878-5584
There are four new coordinate collections being added to the bath division.
Rose Trellis by artist Albena Hristova includes a heat transfer print on woven jacquard shower curtain and carved hand-painted resin accessories. Ivy Trail, also by Hristova, features a classic ivy pattern in warm shades on a shower curtain that has an attached valence, and is a heat transfer print on a woven jacquard. The accessories are hand-painted ceramic with glaze and the bath towels are embroidered terry.
Northwoods Lodge by artist Dan Morris comprises a heat transfer print on textured polyester shower curtain, hand painted resin accessories and embroidered terry towels. Lodge Silhouette, also by Morris, features animal silhouettes on a heat transfer print and textured polyester shower curtain, hand painted resin accessories that resemble wood, terry towels featuring a heat transfer print design and a printed nylon bath rug.
Also new for Bacova's bath division are several bath rug offerings. Frosted Border is a 100% "Comforel" nylon which is a handcrafted table top design with a plush center and a chenille nylon oval border; and Textured Tuft, also a 100% "Comforel" nylon in a solid color plush.
BALTIC LINEN CO.
New York (212) 545-0949
In bath towels, Baltic is introducing a new trademarked yarn from Turkey that will be represented in three sculptural patterns — Metro, SoHo and Resort. All are 30"-x-56". They employ a special spinning technique and combine different cottons for a highly absorbent yet durable product that features a silky luster.
In its second season of showing bath coordinates, Baltic is introducing 11 new collections. There are three new additions in novelty, including the ceramic "Dog's Life" accessory group that matches with a cotton rug, cotton duck shower curtain and embellished towels. There are four sophisticated fashion trend groups, including Chloe, which coordinates with a Baltic comforter ensemble; and Balboa, which is a raised ceramic accessory group featuring a dot design that coordinates with embellished towels, embroidered rugs and a printed shower curtain on poly/duck fabric.
There are also four traditional groups that are inspired by geometrical and architectural lines. Deco is a ceramic accessory group that ties to a cotton duck shower curtain with top and bottom borders, Medallion is a global look featuring golden highlights and jewel effects on the accessories plus a poly-taffeta shower curtain.
BARDWIL LINENS
New York (212) 944-1870
The company is introducing a new addition to its Lenox towel division's Eternal Bath Towel collection, which it calls the Lenox Elements bath towel. It's a modern twist on a jacquard to complement Lenox Eternal. Designed with everyday appeal in mind, Elements is an all-over jacquard rib towel accented with double rows of a Greek key motif, and it reverses to terry. It is made of emperor's cotton and features a Lenox hang tag and sewn-in label.
It is available in seven colors.
BLONDER HOME ACCENTS
Cleveland, Ohio (800) 321-4070
The company is showing 12 bath accessory designs. One of its featured artists is Jo Moulton, whose chic vintage artwork in earth tones is depicted in the Memory Lane collection. Memory Lane features enamelware pitchers on a decorative shelf with a tied lavender bouquet and white hydrangea flowers in a weathered black tin basket. A light sage green background offsets the black of the tin basket and the white of the enamelware and makes the lavender pop.
The Chandler Collection
Bell, Calif. (323) 266-8993
The Chandler Collection introduces its Olivia Garden Floral reversible shower curtain of 100% cotton.
CHF Industries
New York (212) 951-8110
CHF is introducing its Nolita bath line, black on white, featuring ceramic accessories with a graphic damask motif also printed a cotton sateen shower curtain, woven jacquard towels, tufted cotton rug with resin shower hooks.
Chortex
Lancashire, UK
(44) 1204 6730 70
Chortex introduces new colors to its Osman 600gsm Egyptian cotton towel that are smoky blue, willow green and coral tones.
COBRA/ESPALMA
New York (212) 213-1850
Anchoring the introductions is the Sensational bath rug program, a honeycomb rib 100% cotton style available in linen, white or cream and measuring 21 inches by 34 inches.
Coordinating to this rug are four bath towel collections:
Sensational towel, a 100% cotton honeycomb rib in linen, white or cream; Palm Trees, a 100% cotton embroidered collection in white; Avenida, a 100% cotton towel featuring a polyester cuff and stripe, available in a moss-and-sand colorway; and the existing Ecstasy, a 100% cotton towel which has been expanded with three new colors — petal pink, oxygen blue and seedling green.
Coelima
New York (212) 563-5635
Coelima introduces a luxurious line of 100% cotton towels including super carded, combed Supima and zero twist yarns, along with blends including natural linen, Modal, bamboo Tencel and cashmere.
Coelima USA has also entered into an agreement with Neiper (Neiva & Pereiras, S.A.), a leading manufacturer of towels in Portugal, to merchandise and sell into the U.S. and Canadian markets. Products to be sold include two-ply, 100% cotton in super carded, combed, Supima, Egyptian and zero twist yarns. Blends include: natural linen, modal, bamboo, Tencel and cashmere.
CREATIVE BATH PRODUCTS
New York (212) 889-2666
The company recently extended its licensing partnership with designer brand Joseph Abboud to add bath towels and rugs to the program. The towels and rugs coordinate to new collections of shower curtains and bath accessories. The towels and rugs comprise only fashion looks — no solid colors.
Additionally, Creative Bath is introducing 29 bath coordinate collections, including Glass Blocks, an acrylic group — available in clear and jewel tones — made to look like glass.
Other collections center on design trends of global, transitional and contemporary looks.
Dan River
Danville, Va. (434) 799-7000
Dan River moves toward deep tones and rich textures in some of its new bath collections.
Dohler USA
New York (212) 213-1271
Dohler USA is featuring yarn-dyed bamboo and cotton towels in four colorways. Among its introductions are dyed bamboo/cotton beach towels in sizes 34 inches by 64 inches and 40 inches by 70 inches.
The company is also introducing Spa, in waffle/terry 100% ringspun cotton towels in bath sheets, bath towels, hand towels, wash cloths and bath mats.
Additionally, Spa sculpted 100% ringspun cotton loop terry towels are being featured, available in bath sheets, bath towels, hand towels, washcloths and bath mats.
Duck River Textile
New York (212) 679-2980
Duck River is featuring Paradise Palm ensemble shower curtain, towel set and accessories, 14 pieces in all, in a multi-toned green colorway.
FAMOUS HOME FASHIONS
Montreal, Quebec
(800) 465-4566
The company is introducing the Mandalay collection by designer Mette Ditmer. It is a solid colored group in matt ceramic or resin and features contemporary lines and colors — chocolate, charcoal, aqua and white. The group comprises accessories, shower curtain, towels and a rug.
Mediterranean is a new vinyl shower curtain offered in cool ocean blues and fresh greens and it coordinates with accessories, towels and a rug.
HILASAL USA
Pembroke Pines, Fla.
(954) 442-5002
The company is showing several new beach towels. Among them: Beautiful Day, a 55-inch -by-70-inch, 100% cotton fiber reactive printed towel, from the Seaside and Ocean Fantasy collection; and Angel, a 30-inch-by-60-inch, 100% cotton fiber reactive printed towel.
In bath towels, the company is focusing on solid color offerings. The headliner is Soft Spun Classic towel ensemble, made of an Egyptian cotton-and-bamboo blend, available in 17 colors. These towels are extra absorbent and have a soft hand.
Home Source International
Atlanta (404) 355-0114
Home Source International is introducing 100% organic towels made from cotton grown and manufactured in a chemical-free environment with no fertilizers or pesticides. All of this is certified by Skaal — an agency in the Netherlands that annually verifies the authenticity of organic processes.
JAY FRANCO & SONS
New York (212) 679-3022
The Novelty bath ensemble program comes in five patterns — angel fish, beach hut, rubber ducks, frogs and mermaids. These 100% cotton towels are all embroidered and feature appliqué treatments, and are available in various solid ground colors.
JMA America
White Plains, N.Y.
(914) 949-3780
JMA debuts its Spa Sense collection featuring waffle and terry 100% cotton jacquards in rich unique texture in four colorways, white, natural, linen and onyx. Available in towels, robes and slippers. The jacquard combined two techniques: waffle and terry in 100% cotton. The towels are 550 gsm and offer unique texture height.
KARSTEN AMERICA
New York (212) 684-1006
The Brazilian company is showing new beach towel and bath items.
The Bamboo beach towel is a fiber reactive style that has been embellished with sequined embroidery. It measures 40"-x-70".
In bath, the company is showing its 100% cotton face bath mat called Spa Fix. It has a no-skid back and measures 22 inches by 34 inches.
KASSATEX INC.
New York (212) 686-5533
The Megasoft towel collection is being debuted. Made of 100% cotton, it employs a special Japanese yarn that allows for a softer feel, better plush look and lighter weight for easy drying.
Available colors are bone, celadon, chino, espresso, rosewood, sky blue, white and yellow stone.
LAMONT
Burlington, Iowa (319) 753-5131
The company is introducing its Zanadu collection of maize accessories with cotton liners. The twisted maize — in a cinnamon honey color — is the basis of each item and the liners add pop color in turquoise or burnt orange stripes.
This group was made to easily coordinate with the Smyrna bath accessories collection, made in ivory ceramic and painted with nautical embellishments.
Loftex USA
New York (212) 302-1162
Loftex introduces its earth-friendly Cotton Au Naturel collection of towels left untreated during the weaving process — no chemical dyes or finishes.
Messina & Zucker
New York (212) 889-3750
The company is introducing a home design collection of chrome and glass accessories. The new line will include a three-tier boutique, four-tier étagère, three-shelf round boutique table, two-corner shelf table with glass shelves.
MOHAWK HOME
Sugar Valley, Ga. (800) 843-4473
Mohawk is showing the largest collection — totaling 40 different styles — of domestically made and imported rugs it has ever introduced at a single market. There is a line of Luxury Fiber bath rugs that includes: a cotton-and-bamboo blend; an Egyptian cotton; a cotton-and-modal blend; a Supima cotton; a micro-denier acrylic; and a cotton-and-linen blend.
Nylon offerings feature a softer bath rug in a plush construction.
The company is also expanding its popular level-cut-loop bath rug line with two new patterns.
And finally, it is presenting a new design direction in gun-tufted cotton bath rugs.
REVERE MILLS
New York (212) 725-7583
Revere is debuting eight new bath towel ensemble collections. One example is Shantung, which is made in Turkey of 100% cotton in a special slub-weave construction. It comes in 10 colors. The bath towel measures 30 inches by-56 inches.
Sanko Towel of Turkey
Gaziantep, Turkey
(90) 342 211-5666
Sanko Towel introduces its Heather look featuring a new fiber dyeing technique.
SATURDAY KNIGHT LTD.
Cincinnati (513) 641-1400
The company is showing what it calls its "trend-right damask," which updates a classic pattern by enlarging its scale and offering it in two color combinations — black-and-white and chocolate-and-white.
It includes a cotton duck shower curtain, a terry towel with a heat-transfer band, ceramic accessories and a gun-tufted rug.
S.S. Dweck & Sons, Inc.
Irvington, N.J. (973) 375-0900
For back to campus, S.S. Dweck has packaged a six piece towel set — two bath, two hand and two wash — in a reusable tote with a draw string. The colors are vibrant and crisp.
The company is also introducing a double draw box border towel ensemble, in new colors scarlet red, English rose, popcorn yellow, wheat, spinach & Riviera blue.
Towellers
Karachi, Pakistan
(92) 21 631-1700
Towellers introduces a new line of soft luxurious towels in an updated palette.
Trident
New York (212) 684-6342
Trident is introducing its Textured Waves towel, engraved and embossed on the body of the dobby woven self-textured towel. The towel is an amalgam of combining magic of cotton, world-class technology and inspiring textures.
The company is also introducing the Cotton Bamboo zero twist towel, thick and luxurious and made from a blend of bamboo and cotton to achieve a great feel and superior absorbency. The towels are naturally antibacterial. The bamboo fiber is more absorbent than cotton, hence blending improves the absorbency and makes the towel more breathable and cool.
The twistless finer cotton loops have a soft and luxurious feel to the skin and have outstanding water absorption.
KITCHEN/TABLETOP
ANCHOR HOME PRODUCTS
Wyckoff, N.J. (201) 493-8585
Anchor's licensed program with Better Homes & Gardens includes several introductions, such as the Charlestowne collection, which comprises two patterns — the paisley Mobile and the striped Savannah coordinate designs in three color combinations.
Components include reversible placemats, napkins, tablecloth, chair pads, kitchen accessories and window treatments in the company's trademarked Versa-Ties style.
Anchor is also showing two additional Pfaltzgraff patterns: Evening Sun and Napoli, and it is revisiting the classic Tea Rose pattern for kitchen ensembles, appliance covers, chair pads and kitchen tier curtains.
ARLEE HOME FASHIONS
New York (212) 689-0020
The company's Table Trends table linens division is showing a colorful range of woven wood and bamboo placemats. It is also adding several new faux silk styles to its Silk Road program.
All new products tie back to chair pads.
BARDWIL INDUSTRIES
New York (212) 944-1870
To its licensed program with Dansk, Bardwil is adding the Kayla table linen collection, which coordinates with the tabletop brand's Kayla Stoneware collection. Bardwil's offerings comprise mix-and-match placemats, napkins and runners, as well as a kitchen group that includes a waist apron, pot holder and oven mitt in the Latitude pattern and a four-piece kitchen towel set.
To its growing kitchen textiles assortment, the company is adding: the 18"-x-28" Somerset towel, which is an updated sculpted terry design with a honeycomb border accent available in 10 colors; and the Contempo towel, also 18"-x-28", a tonal terry design with a contrasting braided twill border and velour accent, which reverses to a contrast color on the back.
BLONDER HOME ACCENTS
Cleveland (800) 321-4070
The company is showing six kitchen accessory designs. One of the featured artists whose designs are part of the mix is Jo Moulton, known for her chic vintage style. Cottage Charm, by Moulton, uses a weathered red, a yellow-toned sage green and a coffee-stained brown on a black background with subtle hints of white, pink and purple in the flowers of the herbs. A crackled beige texture helps balance the dark tones and the detailed filigree accents give this country design a more upscale feel.
COBRA/ESPALMA
New York (212) 213-1850
The company is growing its kitchen textiles line with the addition of the Kristal towel collection, which is a 100% cotton group that features a hanging loop and comes in 11 colors. It is made in a dobby weaving gingham construction that allows for quick drying. The towels are highly absorbent and are lint free.
In table linens, there are several new collections. Falling Leaves is a sheer appliqué tablecloth made of 100% polyester. Pumpkin Patch is a 100% cotton woven jacquard. Fall Splendor is a 100% cotton alternating woven jacquard with dobby squares. And Checked Rooster is a 100% cotton woven jacquard.
EDITIONS CLOUET
Is-sur-Tille, France
+33 3 80 95 33 00
The company is showing a tin box collection featuring Paris' Eiffel Tower and its Expo Universelle, as well as new collection of dishtowels made of 100% cotton. The towels fall under the Nostalgia collection and feature a cream background and two available designs.
ELRENE HOME FASHIONS
New York (212) 889-6376
To its licensed program with Echo Home, Elrene is adding the Batik Bloom Blossom, which includes a vinyl placemat, a 100% polyester satin reversible placemat and a 100% cotton tablecloth.
To its designer line with artist Jonathan Adler, the company is adding the Francis collection and the Basketweave collection.
And the company is expanding its kitchen textiles offerings with several designs, including Coffee Shop, a 100% cotton latte-themed group.
HERITAGE LACE INC.
Pella, Iowa (641) 628-4949
The company is showing a pieced fabrics and floral embroidery kitchen textiles and table linens collection that is casual and colorful, available in coral and sky blue.
Made of an easy-care polyester-viscose-cotton blend, the components include an apron, pot holder and tea towel as well as a 12-inch round doily; a 14-inch-by-20-inch placemat; runners available in two sizes, 16 inches by 36 inches and 15 inches by 54 inches; and two table toppers.
POMEGRANATE INC.
Lexington, Ky. (859) 293-0988
Turtles and Pink Flamingos are two of six new whimsical embroidered placemats and napkins sets. They are made of 100% cotton and available in sets of eight — four placemats and four napkins.
TAVOLINA FINA
New York (212) 594-6620
The company is showing sterling silver table accessories, including napkin rings, wine charms, cork toppers, hors d'oeuvres picks, mini forks and demitasse spoons. They come in four motifs — sea life, pasta, nuts & berries, and whimsical.
TWEEL HOME FURNISHINGS
Newark, N.J. (973) 286-1800
Several new kitchen textiles coordinate collections are being shown. Tuscan Poppies is a scenic heat transfer printed design on a cotton-polyester blended fabric.
Floral Red features a red flower design on a cotton-polyester blended fabric.
AREA RUGS
American Trading Co.
New York (212) 685-0081
Introducing modern takes on Belgium Rugs in five sizes, multicolor designs, 100% poly with heavy backing in modern scatter rug themes.
BACOVA GUILD
High Point, N.C. (336) 878-5584
Bacova is adding a pet line to its indoor/outdoor Engravings mat assortment. They feature printed designs with a three-dimensional pattern that suggests an engraved or sculpted surface.
The company's accent rug introductions focus on a coordinated color and style direction called Color Solutions. This concept is constructed around four core themes containing 10 colors each: Global, Traditions, Urban and Uptown.
Included in this program are solid colored, printed and patterned rug collections that coordinate across all of Bacova's rug product lines, including its Dimensions and Illumina solid colored nylon rugs, Chromajet printed Studio Design collections, the screen printed Classic Berber products, the heat transfer printed Elegant Dimensions rugs and several table-top tufted cotton offerings.
BALTA U.S.
Dalton, Ga. (888) 225-8287
Balta is showing two collections showcasing its popular chocolate palette — American Rhythm and Ambiente.
American Rhythm pairs chocolate with teal blue and taupe; Ambiente combines dark mocha with spice colors.
These rugs, made in Belgium of premium polypropylene, come in 12 patterns ranging from transitional to traditional as well as several sizes.
CONCORD GLOBAL TRADING
New York (212) 686-6686
Concord Global is introducing five new designs in eight colors to its heat-set polypropylene and million-point collections.
An example of a new million-point offering is a reproduction of an authentic Aubusson design, translated in soft beige and gold with touches of red.
These rugs are all made in Turkey.
DYNAMIC RUGS
Frederick, Md. (240) 405-1360
Seven collections are being debuted.
Piazza is an outdoor group; Funky is a woven synthetic shag made in Belgium; Tiranga is a wool hand-tufted shag from India; Serenity is a hand-loomed wool collection from India; Eclipse is a million-point contemporary collection from Belgium; Bahia is a 1.2-million-point 12-color contemporary rug from Belgium; and Radiance is a 1.5-million-point eight-color traditional collection.
The company is also showing its Your Choice series of 100% wool hand-tufted rugs from India, in three varieties: Nolita, a contemporary; Aria, a transitional; and Charisma, a traditional.
KAS ORIENTAL RUGS
Somerset, N.J. (732) 545-1900
Kas is celebrating its 25th anniversary with several introductions.
In scatter sizes, there is a hardwood rug in different finishes, and a washable kitchen rug collection available in different design themes.
There are also several additions to the natural fiber assortment, including banana fiber, jute, sisal and water hyacinth.
New hand-tufted rugs include the Patina and Sparta designs. The Peshawar-designed Patina is constructed of a hard-twist premium quality wool and is made in India. Sparta is made of a 100% high density wool in China.
Melrose Home Collections
Los Angeles (213) 748-7444
Melrose Home comes to market with its Poodle Rug, a plush and comfortable polyester micro fiber with nonskid latex backing.
Messina & Zucker
New York (212) 889-3750
Messina & Zucker features Calipso and Harmony Stripe with motifs in a textured diamond pattern center design and scroll textured solid color scroll pattern. The Harmony Stripe collection is available in three colorways, brown, blue and neutral.
Lively Calipso solids in six sizes and six fashion tropical colors: key lime, pineapple, melon, mango, azure, Jamaican waters.
MOHAWK HOME
Sugar Valley, Ga. (800) 843-4473
New woven, tufted and printed rugs are being shown.
In the woven category, introductions include: Chelsea, which employs high-pile textured yarns with luminescent highlights and comes in soft neutrals, greens, copper and charcoals; Imperial, a space-dyed nylon group featuring deep colors like burgundy, leather, caramel and eggplant; and Kaleidoscope, which comes in more than three shades, among them chocolate, tangerine, teal, pine green, blue, saddle brown and sangria.
New tufted rugs include: 15 additional colors for Urban Retreat; four colors and two patterns in Raffia; six patterns and two colors in Metropolitan; two tufted; and several outdoor rugs.
Mohawk is adding more printed rug offerings to its line than it has in any prior market. This includes two quality bases and color palettes and more than 50 design patterns.
MOMENI INC.
New York (212) 532-9577
Momeni will be introducing many new collections, as well as adding designs to existing ones.
New additions have been made to the popular Persian Garden collection of power-loomed space-dyed rugs made of 100% New Zealand wool. Other additions include updates to the hand-tufted Aspen, Lama, New Wave and Maison collections as well as the hand-knotted Java, Dorado, Mamluk and Chambord.
There will also be new rugs added to the trademarked Antique Roadshow Estate collection and the Fusion acrylic table-tufted group.
New collections include: Manchester, a high-density cut-and-loop made of 100% over-twisted wool in traditional designs with a muted color palette; Gramercy, a collection of open-backed hand-loomed rugs; and Trek, a hand-tufted 100% wool group made in a high-low texture construction.
Momeni is also launching a Gabbeh group called Desert Gabbeh, which features an up-to-date twist on a classic.
TRANS-OCEAN
White Plains, N.Y. (914) 949-5656
The company is expanding its Liora by Liora Manné collection with several introductions.
The Tie Dye pattern in three colorways is being added to Tribeca, a Tibetan-style hand-knotted 100% wool pile. Aria is a new collection of hand-tufted 100% wool pile rugs made in China.
Seven designs have been added to Petra, a hand-tufted 100% wool pile group from India.
The Surf pattern is being added to Ombre, and hand-tufted 100% wool pile group from India.
Impressions, a 100% polypropylene pile, Wilton-woven group from Belgium, has three new designs.
Portofino, a 100% polypropylene pile, Wilton-woven group from France, has two new patterns.
Another new collection is Veranda, comprised of 100% polypropylene pile rugs that are Wilton-woven in France.
Finally, four all-new designs have been added to the Terrace line, a 100% polypropylene pile group that is Wilton-woven in France.
DEC PILLOWS
Alliance Style Group
Carrollton, Texas (972) 416-7500
The company is showing its Metro collection of decorative pillows and quilts in a variety of styles and colorways.
American Trading Co.
New York (212) 685-0081
American trading is introducing embroidered throw pillows in antique designs. Also modern styles in 100% cotton in various sizes. Doilies and scarves in various sizes are also available.
Anichini
Tunbridge, Vt. (800)-553-5309
Anichini introduces Peacock, a 100% taffeta embroidered with a peacock feather design in citrine, available in decorative pillows and quilts along with shams, drapery panels and fabric by the yard.
ARLEE HOME FASHIONS
New York (212) 689-0020
Building on the success of the Silk Road faux silk program it launched last fall, Arlee is adding pieced and embroidered styles, specifically pleated, pieced medallion and Ming embroidered, among several others.
The company is also showing pillows in 10 other fabrications, in six to eight colors and two to three shapes.
There are also new upscale foam chair pads in three fabrications and eight colors.
And in the pet bed category, Arlee is making several additions to the line, including new fabrics and shapes as well as sweaters, socks, raincoats and other pet clothing.
B at Home
New York (212) 685-1875
B at Home is featuring sequined dec pillows for holiday and everyday.
CHF Industries
New York (212) 951-8110
CHF is showing Ric-Rac a coordinating decorative pillow to its Thrift Shop bedding ensemble.
CORONA DÉCOR
Seattle (206) 763-1600
The company is showing several new upscale tapestry fringed decorative pillows that use French fabric but are finished in the U.S.
Included are: Tapestry Flora, an 80% cotton and 20% wool tapestry with multi-tassel fringe; Poppies and Daisies, which features onion ball fringe and comes in a striped background and solid background; and Tapestry Dogs, also featuring onion ball fringe and depicting different breeds, such as Scotties, beagles and boxers.
Divatex
New York (212) 252-0810
Divatex is introducing faux suede cutwork decorative pillows that cross-coordinate directly with its top-of-bed collections or simply stand alone.
Lawrence Home Fashions
Montreal (514) 343-3740
Lawrence Home Fashions has been refining its decorative pillows for bed ensembles to a point where they could stand alone.
Embellishments and details have been designed to the optimum stylistic blend, from sequins, beads, embroideries, unique embellishments and corded trims, in the Foscari and other collections.
MELROSE HOME
Los Angeles (213) 748-7444
Melrose is featuring Woodward, a silk-pieced throw cushion in natural tones; Couture; and Classical, a floral design printed on taffeta in fashion colors.
Messina And Zucker
New York (212) 889-3750
Introducing futon covers with matching decorative pillows in bold prints and solids. New patterns include: Fushion, an oriental pattern in three colors; Dye Dye, a 1960's multicolor splash motif; Palm Beach, a tropical motif; and Denim, a casual denim look.
MOHAWK HOME
Sugar Valley, Ga. (800) 843-4473
The company will be reiterating its five core lifestyle themes this market with additional designs and styles. These are: Crafted Casual, Tailored Classic, Fusion, Loft and Retreat.,Each lifestyle coordinates decorative pillows, throws and top-of-bed pieces.
NEWPORT/LAYTON
Portland, Ore. (503) 283-4864
The new Madrid collection, available in the olive and plum colorways, comprises pillows made of 70% cotton and 30% polyester with a 100% polyester backing.
They mimic jewel-toned velvet and feature appliquéd braid and tassel fringe.
Sure Fit
New York (212) 869-6633
Sure Fit is featuring its Knightsbridge collection, including a pieced Istanbul paisley with chenille stripe as well as a woven hounds tooth and Kyoto woven floral.
The Sapporo collection features Sapporo, with tassels on each end, Emily in ruffles and Sakura in a silk box design. The company is also introducing the Knotting Hill collection, consisting of Ottavio, a chevron chenille, Herringbone, a boucle with leather cording, and Chunky, a whistler chenille.
TOWN AND COUNTRY LIVING
New York (212) 889-7911
Three new groups comprise the company's new pillow introductions. The Sachet collection offers fragrance via organic methods. These pillows feature floral patterns — Organic Floral in linen and Silhouette Floral in black. Their flanges are filled with lavender potpourri.
The Summer Fun appliqué group comes in three looks — Pinwheel, a faux suede with outline stitching and die-cut felt flowers; Big Flower, an all-felt ground with a large die-cut flower appliqué; and Veronica, an all-felt English pink ground with a die-cut flower appliqué.
A Little Romance is the third group, and it is available in four styles — Seville damask in a nostalgia rose color and made with a reverse contrast welt; Seville damask in green milieu, also with a reversible contrast welt; and Oxford Rose, an all-over flower pattern on an iridescent ground with self flange, available in blue mist and dusty rose.
TWEEL HOME FURNSIHINGS
Newark, N.J. (973) 286-1800
The new Sea Life collection of pillows are micro-suede and depict four icons: conch shell, starfish, sand dollar, scallop shell.
The background features a collage of postcards.
PILLOWS, PADS, BLANKETS & THROWS
Alliance Style Group
Carrollton, Texas (972) 416-7500
Alliance debuts the Metropolitan Group, a line of throws, pillows, comforters and shams featuring polyester mini-fur on one side and micro-suede on the other to tell a contrasting textures story. A linear quilting pattern tops the throws, comforters shams and many of the pillows. It's in muted fall colors, including ivory, rattan, silver moon, mocha, flint and cloud blue.
ARLEE HOME FASHIONS
New York (212) 679-0020
Arlee's Sutton Place throw division is showing 20 sets that include one throw and two coordinating decorative pillows each.
The company is also showing 20 free-standing throws in a diverse range of fabrics.
Berkshire Blanket Co.
Ware, Mass. (413) 967-5964
Leveraging its considerable strength in blankets and throws, Berkshire is breaking new ground at this week's market as it diversifies its line-up with first-ever collections of sheets and comforters.
Biederlack of America
Cumberland, Md.
(301) 759-3633
Beefing up its rapidly expanding bed blanket business, Biederlack launches Shimmer, a warp-knit micro-fiber polyester with a heathered-look in both a blanket and companion throw. It's available in a wide variety of striking color combinations, including denim/white, lime green/white and tangerine/yellow.
Also a wide variety of looks are offered in its core throw business. As part of the steady diversification of its product line, Biederlack moves further into the beach blanket business with a broad range of new looks.
Dormisette
New York (212) 563-6305
Dormisette introduces Ibena's Solare Plata blanket, a blend of 60% cotton and 40% manmade fibers in a plush, high-loft striped effect. Susan Unger Designs shows off Color Paths, a layered silk with organza overlay.
HOLLANDER HOME FASHIONS
Boca Raton, Fla. (561) 997-6900
Hollander is introducing Polarguard Home down alternative products. Long trusted in outdoor gear, Polarguard now moves indoors with products that have superior loft that starts out plump and stays plump. It's available in comforters and pillows with a suggested retail price of $19.99 for pillows and $129.99 for comforters.
The company is also featuring Comfort Wrap pillows made from slick, staple polyester fiber on the outside creating a smooth sleep surface while allowing for added support. Down alternative puffball fibers on the inner pocket give all the adjustability of a down alternative fiber, while keeping the fill in the center for added loft.
These pillows are being introduced with both Peachy fabric and a 500-thread count, 100% cotton sateen fabric. Suggested retail ranges from $9.99-$14.99.
European Square Pillows are also being shown featuring new patterns and colors, and adding a 250-thread count, 100% cotton jacquard Pablo's Rose pattern, as well as a 260-thread count, ecru color mini windowpane pattern. All Hollander Euro Squares are filled with down alternative, polyester puffball fiber for maximum loft and resilience. Suggested retail is $14.99.
Hollander is also expanding its Live Comfortably and Have Fun category that features bright colors paired with soft, plush fabrics to create the ideal cuddleroll, mini and body pillow. Some of the new fabrics offered are: Rayon Velvet, Enzyme washed Peachy and Denim. Suggested retail ranges from $9.99-19.99.
Kennebunk Home
Suncook, N.H. (401) 935-5423
This pioneer producer of fashion throws in hand-woven looks introduces Stratus, an unusually supple throw in a blend of 60% acrylic, 30% wool and 10% mohair sporting a hand-knotted fringe. It's available in sea mist, sky, soleil, starburst and sunset.
Lanai is a cotton-rich window-pane in a rayon chenille with a hand-knotted fringe. It's 50 by 72 and comes in tropical shades of cloud, coconut, coral, orchid, Pacific blue, palm tree and pink sand.
Six new colors update the Canyon boucle throw and two new colors are added to Montauk. New pillows coordinate with throws, including Wayfarer, a multi-color rayon chenille in a basket weave and edged with moss fringe and Acadia and Portsmouth, acrylic woven boucles.
Manual Woodworkers
Hendersonville, N.C.
(828) 692-7333
This pioneer producer of cotton jacquard and tapestry throws plays to its strength with a wide variety of new looks in throws aimed largely at the gift trade. Putting fresh emphasis this market on accessory lines, including the Coral Collection of decorative pillows, runners and placemats embellished with beaded tassel fringe in a fanciful design using both sides of the pillow.
Marlo Lorenz
New York (212) 213-8915
Marlo launches the Legends collection of exotic, eye-catching throws with a leopard skin named for Racquel Welch and a crocodile embossed leather pillow inspired by Jane Fonda.
MOHAWK HOME
Sugar Valley, Ga. (800) 843-4473
The company will be reiterating its five core lifestyle themes this market with additional designs and styles. These are: Crafted Casual, Tailored Classic, Fusion, Loft and Retreat.
Each lifestyle coordinates throws, decorative pillows and top-of-bed pieces.
PACIFIC COAST FEATHER CO.
Seattle (206) 336-2257
The Lunesse collection is a new addition to the Pacific Coast brand's line of pillows and comforters. This design marries the highest quality white goose down clusters with ultra lightweight 100% cotton Batiste fabric for a heavenly sleep experience. The lightweight 370-thread count Lunesse fabric is 30% lighter than similar thread count fabrics on the market. The lightness of the fabric allows the 650 fill power down to float inside to provide exceptional warmth.
The 90% white goose down clusters provide exceptional quality and loftability versus the 75% cluster standard in marketplace. The Lunesse collection includes a true baffle box comforter design with patented Enhanced Comfort Lock boarder and a traditional pillow. Constructed of 370 thread count barrier weave downproof fabric. The pillow is machine washable in standard, queen, king sizes.
The Sealy program is also debuting its new cool Memory Foam Pillow, adding to its extensive line of ProFormance memory foam products. This noticeably cooler memory foam pillow delivers on the promise of comfortable sleep, while not compromising the quality and feel of the high density foam.
Pacific Coast is also expanding its Cannon basic bedding with two new fabric lines and colors. The Velvet Terry line features a soft and durable feel that is available in pillows and mattress pads. The Dot Plush line provides a luxuriously plush fabric that is available in colored, down alternative filled comforters.
Four colors are being added, bringing the palette to 15 colors. The basic bedding products include pillows, comforters, blankets, mattress pads and feather/fiber beds which are available in a variety of natural, synthetic, and foam fill.
Pendleton Woolen Mills
Portland, Ore. (503) 535-5789
This venerable producer of woolen blankets in Native American looks and classic apparel goes contemporary with a Terrazzo blanket, a sleek, dramatic geometric in a blend of 82% virgin wool with an 18% cotton warp. It's available in three colorways, tan, rust and green.
The colorful Chimayo throw is inspired by the Hispanic weavers of Chimayo, just north of Santa Fe, New Mexico. Here Navajo and Spanish motifs are interwoven in a lightweight wool adaptable for traditional Native American dance or for decorative use. Detailed jacquard designs are in varying stripes and are finished with a four-inch twisted, self-fringe at either end.
WINDOW COVERINGS
ARLEE HOME FASHIONS
New York (212) 689-0020
The company's Lee's Curtain Co. division is showing six new top-treatment fabrications, all of which feature embellishments and are set to retail for $9.99 to $12.99. Panel introductions include new weaves, embellished sheers and jacquard looks.
COMMONWEALTH HOME FASHIONS
New York (212) 889-4356
Energy-saving construction is high on the list of attributes in Commonwealth's presentation this market. Heavier weights, insulated and textured programs will combine with unique top treatments to bolster consumers' spirits against cold drafts and high energy prices.
Fashion direction ranges across a variety of themes, most with mix-and-match coordinate options. For example, the Devon sheer check matches up perfectly with the Dylan semi-sheer check, just as the flocked medallion taffeta Sumatra smoothly complements the plain taffeta Silence.
Other motifs: Media, an insulated microsuede, DaVinci, a burnout velvet, and Charleston, a heavyweight woven poly/cotton check in four colorways.
HERITAGE LACE INC.
Pella, Iowa (641) 628-4949
Two collections are being shown.
Chelsea is a sheer pinstripe curtain with a traditional look, softened by simple-yet-intricate macramé lace trim. The valance and two tiers are crafted of white polyester lace, and all components measure 48 inches wide. The valance has a 14-inch drop and the two tiers have a 24-inch and 30-inch length.
The Lighthouse roller shades features a motif with images of five actual seaside sentinels popular among lighthouse enthusiasts. The shades are white polyester, available in widths of 27 inches to 35 inches, and can fit windows that are as tall as 72 inches.
QUAKER LACE DIVISION/LORRAINE HOME FASHIONS
Deerfield Beach, Fla.
(256) 837-6944
Quaker Lace is showing a soft new damask patterned lace called Fontaine, available in ivory and tea-stain.
Under parent company Lorraine Home, the company is unveiling several textural window treatments and menswear-inspired panels, such as Maxie, a distressed corduroy with button detailing, and Courtney, a wool-like plaid tab panel with buckle detailing.
The tier curtain selection has been broadened to include Bosc, a retro pear pattern on a cotton duck fabric with a crisp striped trim, as well as a vintage fruit pattern called French Market.
An unusual paisley poly-silk blend ensemble, embroidered with paisley motifs called Casbah, is also being shown along with flocked voile leaf motifs on the Foret tab panels in moss and tan.
Also being shown are new Halloween and Christmas novelty themed patterns.
S. LICHTENBERG
New York (212) 689-4510
For the April market, S. Lichtenberg will focus on three trend themes: Baroque, Well Suited and Folklore.
Rich jewel tones as seen on the red carpet are prevalent in the Baroque trend. Color, texture and luster combine to create the featured silk-like sheer embellished with embroidery, crushing effects and opaque beaded trim.
Also highlighted in this trend is the company's new over scaled paisley semi sheer that will be sure to capture attention with its special glimmer and depth.
In Well Suited, casual, tailored and streamlined describe the fabrications featured. A linen-look semi-sheer stripe with wooden bead accents, puckered solid fabric with silver metal grommets, and an architectural-flocked sailcloth present an update to the clean, minimalist look.
Folklore comprises fabrications that invoke independence, romance and global inspiration.
In a plethora of rich color combinations, S. Lichtenberg has designed a sequin-embellished crushed velvet, an overscaled damask embossed velvet, a patchwork "wool" panel and a new jacquard construction with a crochet simulation.
TWEEL HOME FURNISHINGS
Newark, N.J. (973) 286-1800
Kitchen curtains are the focus of product introductions in the soft window category by Tweel.
Vintage Rooster is a 100% polyester print on a neutral beige base, the top half featuring stripes and the bottom half depicting a solid ground with a rooster, fruit and butterfly in the center. This café curtain set includes a valance and two tiers. Wine, another kitchen pattern, is a printed 100% poly featuring grapes, wine labels and calligraphy writing about classical music.
INFANT & JUVENILE
Donna Sharp Quilts
Shepherdsville, Ky.
(502) 543-4055
Introducing Emily, an exclusive DSQ pattern featuring bursts of color in bright pink, green, blue and orange in a patch and appliqué pattern. Constructed of a 100% cotton shell and fill, it is machine washable. Full bedding coordinates, accessories, adult bedding and a handbag line also available in this pattern.
JAY FRANCO & SONS
New York (212) 679-3022
The company is adding programs to its licensed juvenile bedding program. These include: Marvel Comics' Amazing Spiderman, Marvel Comics' X-Men and Disney's Ariel, also known as The Little Mermaid.
Each collection comprises a complete bedding ensemble — sheets, comforter, shams and standard pillowcase. They are 100% printed cotton.
LAWRENCE HOME FASHIONS
Montreal, Que. (514) 343-3740
Lawrence Home Fashions has been developing programs unique tweeners for sometime and this market will be introducing some hip programs like Glitter, Kindred and Pizzazz.
Messina & Zucker
New York (212) 889-3750
Messina & Zucker introduces Play-Time juvenile quilt sets in soft pastels and matching Calipso Rugs. Also featuring Slumbersoft waterproof pads for cribs and carriages.
The Northwest Company
New York (212) 725-6996
Playing to its strength in licensed novelty throws, Berkshire ties in with a number of films to be launched later this year, including "Over the Hedge" from Dreamworks, the Disney/Pixar movie "Cars, "Superman" from Warner Brothers, "Pirates of the Caribbean Part II" from Disney, and Sony Picture's "Open Season."
Each of the movies will be supported with a full line of throws, including fleece at $8.50, micro-fiber raschel knit throws at $10, and Royal Plush raschel throws at $15. Also available in jacquards and tapestry woven throws, in many cases with coordinating decorative pillows.
Also new are NFL licensed Super Plush Pet products, including pet beds in three sizes, medium, large and extra large. Embroidered pet mats with a non-skid back are available in three sizes. Also a Pet Tote, with fleece on one side and vinyl on the other. Beds cost from $16 to $30, and mats are $9 to $20. The Pet Tote is $15.
Also launching: a group of 60-inch-by-80-inch micro raschel throws in a range of prints ranging from holiday to outdoor looks, from juvenile to animal scenes. New looks in best-selling licenses include Princesses, Tinkerbell and Mickey for Disney; and Spongebob Squarepants, Dora the Explorer and Backyardigans for Nickelodeon. Also new looks for Barbie and Hot Wheels.
Springs Industries
New York (212) 556-6000
Springs juvenile interprets Twelve Dancing Princesses, Mattel's latest entertainment production in the Barbie fantasy series. The design features Barbie as the most graceful of twelve sisters who love to dance but must battle an evil aunt who wants to take control of the kingdom. The collection uses the pinks and lavenders that little girls love. The collection includes bath towels, accessories and a shower curtain, plus twin and full size bedding.
Related Content By Author
Subscribe to
Home Textiles Today eDaily
Receive the news you need to know about the trends in the industry delivered right to your inbox.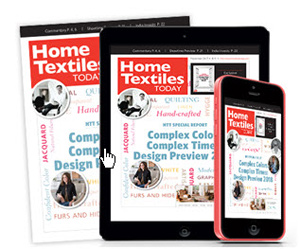 See the November 2017 issue of Home Textiles Today. In this issue, we look at Complex Colors, Complex Times--Trend forecasters and interior designers weigh in on 2018 palettes and motifs. Other articles include: Data: Exclusive HTT soft window research; Innovation: Material Changes conference preview; Country report: India invests in the future and Fabrics: Showtime preview. See details!