Color them beautiful — suppliers tally up the market's winners
Products with strong textures and color stories were among the big winners at the New York Home Textiles Market last month, according to suppliers.
Florals also made a strong showing. Piecework looks continue to draw a favorable response from retailers, as do jacquards.
Fabrications that offered a whiff of sensuality also performed well, vendors reported. Silk-like fabrications are on the uptick while moires and voiles continue to press forward. Faux fur, which seemed almost a novelty when it exploded into soft home four years ago, has shown itself to have some long legs. And chenille has become the industry's failsafe, workhorse fabric.
Anchor Home Products
Chet Cafasso, national sales manager
HITS: "Cookery, a positive/negative all-over pattern featuring kitchen utensils, did very well in red. It was overwhelming."
MISSES: "Falling Leaves, a scattered leaf pattern in dark green and mauve, didn't do as well because of the colorations. So we are looking at alternatives."
The Arlee Group
Robert Panko, vp, product development
HITS: "Samantha crushed voile with appliqué [window treatment] was very popular. Blue was the best color. [Also], the Palace [decorative pillow], a woven stripe in a more formal look with tassels, and Faux Fur [throw], especially the mink look. All tropical themes [in table linens] are still a winner. And Arbor Rose [shower curtain], an embroidery on tulle."
MISSES: "Victoria airbrushed appliqué [window treatment] — the colors were too bright; Saree [decorative pillows] is a traditional Indian silk look, but a little too limited for most of our customers; Solstice border [throw], a velvet patch, was too expensive; Jacquard Boxes [table linens] — this look just didn't move anyone; and Krista, a ribbon embroidery."
Arley Corp.
Rosemary Post, vp, sales
HITS: "Arabella, a floral and scroll centered panel print comforter, was a hit because it was engineered and at a great price point. Chateau, a chenille jacquard comforter with a large medallion, was well received because customers are requesting larger images in wovens. Fantasy Island, a tropical, island scenic bottom border print is a novelty bedspread and comforter, and we do well with novelties."
MISSES: "Paloma, a vertical damask stripe in navy and camel, didn't do well. And the scale of the large sunflower bouquet with poppies and hydrangeas on Sunflower probably deterred customers."
Ashford Court
Amy Bell, executive vp and design director
HITS: "Our Asian collection was extremely well received by all classes of trade and in all fabrications that were offered. Right behind the Asian collection is our Joe Millionaire Collection, which offers beautiful and elegant designs in rich reds, golds and greens with highly embellished and pieced pillows. Our Bahamas collection was also very well received, with some new Raffia designs and new trimmings on an already successful collection. A pleasant surprise for us was Michael Day's Madness collection, which was contemporary in design and coloration."
MISSES: "Our Floral Bouquet collection, due to its coloration."
The Bacova Guild
Charlie Bowers, president
HITS: "In accent rugs: Woven Dimensions in the Woodlands Design in both sizes, 21" x 34" and 31" x 48'. This is a multilevel woven design with varying textures. In floor mats: Floor Dimensions 'Mediterranean Mood,' made of recycled molded rubber that is flocked and transfer printed, as well as the cushion mat. 'Large Still Life,' made of urethane-backed polyester with a transfer design."
MISSES: "In accent rugs: solid-color woven jute products in Greek Key and Waffle constructions in sizes 21" x 34" and 31" x 48". In floor mats: Koko floormat in Desert Bloom made of vinyl-backed coir."
The Baltic Linen Co.
Jo Ann Wanamaker, vp, design, bath
Jane Berger, vp, design, bedding
HITS: Wanamaker: "Our new yarn dye with attached tassels from Turkey called Renaissance. The pattern was influenced by Persian vase motifs. It is offered in burgundy, sage or Persian blue, all on a camel-colored background."
Berger: "Medallion jacquard bedding in the aqua and ivory coloration; both pattern and color seem fresh and drawn from fashion."
MISSES: Wanamaker: "Too many embroideries featured all on white towels."
Berger: "Kona mix and match reversible jersey knit bedding in youthful colors."
Bardwil Linens
Linda Tan, assistant director of marketing
HITS: "Christmas, Jubilant and Royal Splendor. Red was a hot color this season featuring poinsettias, ribbons and greenery. Lenox Holly Embroidery, an ecru ground featuring greenery and embroidery on the center and border. Holiday Season, a red and green moiré plaid pattern.
MISSES: "Magical Christmas, a too-cute teddy bear patchwork frame print, and Festive Christmas, a Christmas tree border frame print. In Lenox, Lenox Holiday Tartan, a holiday frame print."
Bay Linens
Dianne Morris, president
HITS: "Richelieu was a rich embroidery on faux silk with fairly intense color and was available in a wide range of colors. Salerno, of lush chenille in persimmon and mocha, was an intricate paisley design accented with panne velvet, a more masculine look. Havana, a nostalgic retro tropical floral design, has cool and soothing colors with lots of fringe."
MISSES: "Lucia, a Swedish country pattern, was too expensive for the look."
Biederlack of America
Peter McCabe, executive vp
HITS: "In throws and pillows, the Camp collection of lodge looks in micro-fiber fleece. In blankets, the California Dreamin' collection of better quality cottons in bright, vivid colors."
MISSES: "We kind of need to rework some of our Nap Wraps. Some of the colors and designs need to be tweaked.""
Brentwood Originals
Loren Sweet, president
HITS: "The entire family of jacquard chenille fabrics (four styles total — Wabi, Fossil, Vintage Rose and Trieste), which were accessorized in pillows, throws and window, and also the new Alexander Chevron micro-fiber pillows and window."
MISSES: "The shirred Georgette window. It's apparently already out in the market. Corduroy window — been there, done that. And a micro-fiber blend/rayon jacquard throw called Paradise was too late for people's fall throw plans."
The Cecil Saydah Co.
Mark Grimes, product manager
HITS: "There was a very enthusiastic response to our new decorative pillow collection from all levels of retail. In the kitchen category, we introduced several new towel constructions that generated positive comments and lots of sample requests."
MISSES: "We introduced a pattern called Spring Fling in kitchen, table linens and bath coordinates that did not go over well. We were trying for a soft and delicate floral effect, but we think the colors may have been too soft to catch much attention."
Bay Linens
Dianne Morris, president
HITS: "A line of super-soft cottons under Wamsutta, including a ring-spun Pima cotton. Also the Wamsutta micro-fleece. Anything soft is selling."
MISSES: "Our two-pack fleece blanket and throw didn't work as well as we had hoped."
CHF
Joan Karron, executive vp
HITS: "Nick Munro was a hit. The whole Lynn Chase bath collection; All in the Bag, our adult bed in a bag program; all seven beds in the 20s something Loft Style group; and the whole bed, bath, decorative accessories and quilt program in Hello Kitty."
MISSES: "Cherubs, a bed in a bag item, was in a category well covered. Elysee, a Peri bath style was too close a look-alike to Seduction."
Classic Linens
Steven Puckett, president
HITS: "Any of the Bahama embroidered patterns. The Bahamian themes were good along with some special dobby treatment towels, the space-dyed yarn towel and a towel called SoHo, which was a ribbed cuff."
MISSES: "We had some embellishments — some top-sewn lace treatments — that did not get a lot of reaction. So we'll have to do some tweaking on those."
Cobra Trading Corp.
Rae Ellen Blum, vp, national sales manager
HITS: "The bath ensemble Cut Velvet Rose, a jacquard velour sculpted in white, ivory, sage, bisque and sand. Also, the Espresso bath ensemble collection and hotel towels in all different gram weights.
MISSES: "The Egyptian Cotton in pastel colors."
Croscill Home Fashions
Patrick Clemente, assistant product manager, bath accessories
HITS: "Our Asian Gold earthenware and wood accessories with elegant Japan-esque decals on a gold lacquer ground, along with its jacquard shower curtain and embellished towels. And our Fresco Grasses collection of resin and wood accessories, along with its printed shower curtain and embroidered towels, derived from Cheri Blum's artwork."
MISSES: "Our Arabella resin and wood accessories were overlooked by customers because they were not a direct coordinate to the successful Arabella bedding fabric, in the eyes of buyers. And our Aspen resin accessories were too lackluster as a Southwest collection."
Creative Bath Products Inc.
Rick Lipton, national sales manager
HITS: "The entire Echo Home collection, [because it] was well priced, thoughtfully conceived and well executed. The shining star was Dancing In The Streets — a black and white interpretation of world-class major cities, with fun with a cool sophistication. Also, Joseph Abboud. It remains all about color and texture, as in past markets – [this market's hits being] Smoky Bronzes to Cool Charcoals. Tango in a horizontal sheer/non sheer stripe and Angara in a crashed iridescent sheer were true highlights. And metal hooks introduced in Sienna and Angara in shades of Antique bronze, silver and gold.
"Open-line introductions, such as the Fun House Lenticular stand-alone shower curtain to Bees Knees a full coordinate with appliques, embellishments and air brushing techniques on the shower curtain and honey combed embellished towels. Classic design elements were still strong as our Classic Scroll fully coordinated ensemble in four colors proved, with almost every customer in the showroom choosing at least one, if not two, colors for their style outs.
"Plastic just may be back if the reaction we received to our new Pearl Finish in acrylic was any indication."
MISSES: "Bristol woven shower curtain was not seen as coordinating to our Bristol pressed tin accessories. The shower curtain was a soft blue with almost silvery gray highlights. The accessories were off-white with deeper grey/silver highlights. Our customers just didn't see the two working together. Squire, another woven jacquard coordinate, was well received as a shower curtain and towel group but again our customers did not see it working well enough with the accessories. We were forced to drop the accessories, but will continue forward with stand-alone shower curtain and towels."
Custom Comfort
Trevor Rabkin, co-ceo
HITS: "Java, our biggest hit, is a combination duvet combining three pieced fabrics — chenilles and crushed effects in earth and beige. Menage tapped into the fashion trend for opulent, rich fabrics with a damask, contemporary crush and a woven stripe in orange and charcoal."
MISSES: "Mercer, in charcoal and metallic pewter, was designed for an urban market but translated instead into a traditional design."
Down Lite International
Bob Altbeier, senior vp, sales
HITS: "The Lyocell was a big hit, and so was the new decorative pillow collection. And the quilted, feather-filled pillow. The Biltmore Estate group was really big, and also the fleece throw reversing to micro-fiber."
MISSES: "The Egyptian cotton — and that kind of surprised us."
Ellison Home
Kevin Finlay, president
HITS: "Our new eyelet and jacquard programs. Avebury was a big hit. On the print side, Mandarin and Sutton Place."
MISSES: "Two of our prints, Christina and Nordica, didn't get the response we'd hoped for."
Elrene Home Fashions
Tom Merriman, vp, national sales manager
HITS: "[For the Nautica license], our objective was to identify the Nautica brand for a contemporary, casual customer and it was a tremendous success.
[For the Villeroy & Boch license, a hit was] our Waves Embroidered place mat and napkin, which coordinates with their best-selling contemporary dinnerware program.
[For the Wolfgang Puck license], the mélange black colorway.
MISSES: "Our Biscayne solid chenille place mat. Customer's gravitated toward suede texture instead of chenille."
Ex-Cell Home Fashions
Paul Donahue, vp, merchandising, decorative pillows
HITS: "Sophisticated Solids: Elizabeth, an 18" x 18" classic tonal jacquard reversing to a color coordinated tonal stripe accented with a loop cord, and Sauvignon, an 18" x 18" crushed chenille in a classic basket weave pattern and rich jewel tones with a luster. Natures Retreat: Bamboo, an 18" x 18" pillow featuring appliquéd black bamboo leaves on a solid-color silk blend in mineral metallic tones, and Passport, an 18" x 18" silk blend solid color with diagonal pleating."
MISSES: "New Frontier: Colorado, an 18" x 18" polyester suede three piece quilt with a flange, and Dakota, an 18" x 18" polyester suede pieced with a flange."
Fashion Industries
Carolyn Winderbaum, vp of design, table linens
HITS: "Our entire Easter collection, especially Spring Cascade, Breath of Spring and Tulip Tango, which are Easter florals without the eggs and bunnies. Also, a brightly colored large fruit pattern, Belle Vie, with its woven plaid co-ordinate, and Picnic Joy."
MISSES: "Venetian Rose, a rose toile pattern in our Attic Heirlooms Collection, offered in three colors."
Foreston Trends
Richard Gould, vp, national sales manager
HITS: "We introduced 15 styles [of shower curtains] and had a strong response to our new fabrications of Toscana, Tapani (leather look), Savoy (silk look) and Trieste (chenille)."
MISSES: "Our woven design, Statton (a stripe in six spring colors), and dobby design Edgewood in three earth tone colors."
Hollander Home Fashions
Jeff Hollander, president
HITS: Fashion Bedding: Boudoir in the Vendome collection, Shetland and South Seas in the Park Ave. collection; Basic Bedding: Chenille down throws, new suede down throws, Beautyrest down top mattress pad and Laura Ashley embroidered mattress pad and pillow.
MISSES: Laura Ashley double density pillow. While the concept was accepted, the packaging needs to tell the story to the consumer. Lukewarm response to Quilted Terry Cuddlerolls.
Lacey Mills
Tom Etheridge, co-owner
HITS: "Our new Premiere collection — a new line of high-end bath products. All styles are tabletop construction made in the United States. We had high hopes and the feedback exceeded expectations. The best rug in the collection was Muse, an oval bath rug made of 100 percent cotton."
MISSES: "A cotton/rayon blend bath rug. Buyers said consumers may not understand or notice the difference between this rug and a 100 percent cotton rug.
Lawrence Home Fashions
Gail Walfish, merchandise manager
HITS: "In our Versailles collection we came out with 3 new embellished Jacquards, and all three are going to make it: Vivaldi, Bourbon Street and Hudson Heights. In our Lawrence collection, Barrington Blvd. was a huge success — it is a jacquard with a men's wear look. Tahoe West, also from our Lawrence Jacquard collection, is a Southwest look. In our Studio collection, El Fresco was what every customer picked."
MISSES: "If we had to pick a pattern that might not make it, we would have to pick Aberdeen from our Studio collection. It's a tough call; as we look at our recaps this one was probably the weakest of the 16 new bed ensembles that we showed."
Lintex Linens
Kurt Hamburger, president, managing director
HITS: "Our woven printed tablecloth with a grapevine pattern, Vintage, which coordinates with Basque/raw silk looks in earth tones. Leather place mats — even though it arrived late it took off like gangbusters. Also, sheers in 100 percent polyester and in poly-cotton blends."
MISSES: "Our pastel colors in table cloths for fall — no one got it."
Lorraine Home Fashions
Nick Caliendo, national sales manager
HITS: "Flemington is a heavweight jacquard panel with a fancier top treatment. Celedon was the best received color, as well as cabernet, in the red family.
"We also had an embroidered velvet called Velvet Floral, and we'll be making that in three colors: burgundy, moss green and gold.
"We also had some tiers. Porcelain Planter is one people went nuts for. It is a very intricately embroidered representation of a Chinese planter with brilliantly colored flowers."
MISSES: "We had a botanical print that was not well received. It was a very dated look."
Maples Rugs
Arnold Stevens, vp
HITS: "Solid level cut-and-loop Pindot and Damask — two traditional patterns that had an excellent reception."
MISSES: "There were two floral prints that did not get a lot of attention. We will take a look at the design and color to see if we can make it work."
Mohawk Home
Merle Johnson, vp, marketing
HITS: "Art Deco pillow collection; Tapestry coverlets; Madeira, an embroidered-look woven jacquard matelassé coverlet; Rayon chenille coordinating pillows and throws; and Fat Chef-themed merchandise and World Traveler-themed merchandise in coordinating tapestry pillows, throws, rugs, place mats and runners. In rugs, the Super texture collection, the entire Susan Sargent line and space-dyed printed scatters."
MISSES: "Any products with Paris or French themes. And in rugs, introductions in blue tones were weak."
The Northwest Company
Stan Mieszkowski, vp, president, sales and marketing
HITS: "Spiderman was the big hit. And SpongeBob SquarePants is still really big. Cat in a Hat is shaping up to be really big."
MISSES: "We expected The Incredible Hulk to do better. We though it could be as big as Spiderman. It will still do well, but not as big as we thought. People told us it was too scary."
Park B. Smith Ltd.
Park B. Smith, ceo
HITS: "The Spa collection of rugs and shower curtains.
"Merging the Smith & Johnson product look in the Park B. Smith showroom created winners in a range of good, better, best blankets."
MISSES: "We were at least one market, if not more, ahead with the deep tone shower curtain collection in baroque and spicy tones."
Pendleton Woolen Mills
Bob Christnacht, manager, Pendleton Blankets and Home
HITS: "Our No. 1 was the Summer Dreams merino blanket. A close second was the All Seasons blanket that uses mixed yarns to give it a heathered effect. Our Lumberman, a traditional buffalo plaid, did really well. People seem to be looking for a return to simpler things."
MISSES: "The one miss was a washable plaid throw. We tried to create a unisex feeling, something men or women could buy, with blue and pink, but it just didn't go."
PHI
Janie Leonard, national sales manager
HITS: "Romeo, a velvet/brocade quilt stood out with lots of embellishments. Cloissone, a brocade/velvet with heavy embroidery was another important quilt. A simpler style, Diamond Grid, used microsuede in a grid pattern on a coverlet."
MISSES: "Ribbons & Lace, a feminine washed silk with embellishments, didn't make it because of photography limitations. Bamboo, a cotton sateen print with a microsuede border failed."
Raymond Waites Designs
Michael Vidra, ceo
HITS: "Bali is a unique tropical floral print in paprika and cream on ebony. Three woven beds — our first wovens — with Maharajah, a silver/black tapestry polyester/cotton chenille with Indonesian/Indian influences, the strongest."
MISSES: "Afrique got lots of attention and no placements. It was very exotic with a paprika head color and leopard design sheets."
Revere Mills
Dan Harris, vp, marketing and product development
HITS: "Cashmere, a 100 percent micro-modal loop terry towel from Turkey. It's shiny and silky while being very absorbent. And Goliath, a combed monster of a towel at 30" x 60" at 24 pounds per dozen — which is a huge towel while being very soft.
MISSES: "Anything 'same 'ole, same 'ole'— such as Egyptian cotton towels. The customer wants something new to excite her now."
Rose Tree
Mark Rose, vp
HITS: "Antiquities, a flock pattern with different mosaics that had spot colors — monotone, then a pop of color throughout the pattern. It was interesting, a soothing look with bold colors in certain places.
"Also, British Colonial. It was very colorful and very creative. A lot of patterns and fabrics but had a British colonial motif and it was printed, where the other was woven."
MISSES: "The Royalton pattern missed. It was a bold, black paisley with a lot of color that was a little on the edge. And we kind of knew that coming into market."
Scala Intl.
Chip Scala, president
HITS: "Silk Patch, an exclusive luxury silk patch designed by Anne & Fran (Bertsch & Shenker) used very different fabrics and created a special look. Crushed Silk in deep peach was another hit with coordinating window panels. Box Quilt, a 3-inch box quilt design in eight colors of 300 count polished cotton created a sophisticated, simple fashion look.
"Fake Suede was a hit both in shower curtains and window curtains."
MISSES: "Pom Pom, a silk top of the bed just had too many pompoms."
Sheridan
Louis Smith, product development/marketing manager
HITS: "Hojas combined important fashion directions and layered weaving techniques in a deep aubergine that created a high perceived value. Safo is a woven patch jacquard, again with a layered look in red. Both were part of our new move into wovens where six of seven intros made the cut."
MISSES: "Barbados, a large-scale tropical print, was good but a little late in the cycle."
Sleep Innovations
Fred Natrin, senior vp, foam products
HITS: "We had major interest in four collections, all containing 'memory' foam cores. The Novaform Ultra collection consists of contour and bed pillows and over-sized mattress toppers. Buyers were impressed with the lenticular mounted on the boxed packaging and its point of purchase materials. Novaform Gel offers a supportive grid of patented gel technology that reduces pressure point while increasing support. Novaform Spa collection was highlighted by the reintroduction of the Novaform slipper. The Novaform Voyager collection, designed for use in the home, office or auto, and which includes pillows used for back and neck support and travel, all covered in black leatherette wrapped around a core of high density 'memory' foam."
MISSES: "Our introduction of Italian designed bath and spa accessories because they target different buyers than sleep products. "
S. Lichtenberg & Co.
Amy Hanlon, director of product design
HITS: In window, from the Manhattan collection, Tribeca, our solid heavyweight chenille panels with excellent texture and dimension, and SoHo, our chenille jacquard of classic design was the perfect coordinate to our solid chenille texture. From the Romantica collection, our luxurious classic rose velvet burnout completed with our new triple layer ascot valance. And Xanadu, embellished with beaded lace trim tucks, combines femininity and simplicity with appliqué pearl tab tops."
MISSES: "Astor, our woven damask jacquard, and Carlton, a simple jacquard with an exquisite all-over texture."
Terrisol Corp.
Michelle Wright, marketing manager
HITS: "Our double jacquard Suite collection in the Nautilus style in white with blue and navy, white with red and scarlet red, and white with green and olive green."
MISSES: "In our fiber reactive print velour Suite collection, the Melrose style in vintage rose and dream blue."
Texstyle
Jim Cox, president of sales
HITS: "Chloe, a embellished chiffon window program, was committed to immediately.
"We also introduced this market chair covers and furniture slip covers and won some good placements there as well. They had more embellished looks — embellishments at a better price.
"We also had success with our sateen and jacquard bedding sets — Wellington and Imperial sateens — and expanded into jacquards
MISSES: Delfino, in windows, a faux silk look. Placing solids can be tricky, and this one may not have been different enough.
Thomasville
Milt Mitler, vp
HITS: "Portico, a crushed polyester face cloth was No. 1, accented with gold embroidery in topaz/gold/copper/ beige. Inspiration, also offered as a bedspread, has a moiré design in the fabric on 250-count cotton sateen in coral/magenta/lavender/maize. Sussex in chocolate/honey created a handstitched, antique fabric look with a scroll and fleur-de-lis motif."
MISSES: "Windsor, a rich look on a black ground; Stanford, a large cabana/pinstripe; and Garden Quilt which was too much of the pieced look."
Trendex Home Designs
Lorraine Ragland Maberry, vp, sales and merchandising
HITS: "Our Fame & Ideka collection was a home run. It comes in place mats, napkins, runners, tablecloths, chair pads and decorative pillows. We also had success with our Kanpur collection — three dressier coordinates that come in red, turquoise, bluestone, copper, aubergine and natural."
MISSES: "Two lace-inspired patterns — one was a tone-on-tone, titled Lacey, and the other, Audace, which had more contrast. We thought because lace is so hot in ready to wear that the customer would be ready to introduce into the home. Wrong. Even though we had a wide palette of colors in both basics and fashion, the buyers were not into it."
United Feather and Down
Bob Hickman, vp, sales and marketing
HITS: The Lyocell and down combination pillow. That's generating a lot of interest. Each brings out the best in the other. And we had a terrific response to our easy-on, easy-off reversible pillow sham. And after a two-year hiatus and a major repositioning, Joseph Abboud is back, and it's really happening.
MISSES: We tried to reintroduce Comfort Cushions, kids' floor cushions, but I guess people don't look to us for that kind of thing."
Venus Home Fashions
Vivie Von Walstrom, executive vp and corporate design director
HITS: "Our embellished sheets — something to spice up assortments and add a unique touch. We did them in white and ivory, on 300- to 550-counts. The most popular are French Ribbon, Bell Flower and Orchid."
MISSES: "Our solid-color Cotton 200 sets — someone out there is giving them away."
Veratex
Dale Talbert, vp
HITS: "Our bath introductions had a strong market. This was our first foray into towels, through our license with Christy and which were in our Medici colors, and it was received very well. Our Art Deco beveled mirrored accessories were also a hit. Our Hike Up Your Skirt adjustable bed shirt, which allows the drop to be between 18 inches and 21 inches, was a huge hit. Also, our fur throws, a seasonal business we haven't really chased before, got a large placement. In our traditional bedding, Carlyle, a casual look; Montague, a steel blue design; Cabazah, a light-colored pattern; and Sultana, all were received well."
MISSES: "Three bedding groups — Contessa, Weymouth, and Dauphine."
Waverly
Evan Melnick, vp, sales/merchandising, home fashions
HITS: "In bedding, the combination of pattern and color mix — merlot and beige — drove Forever Yours. Boca Botanical used multiple fabrics that worked well together in a tropical mood using an overprinted jacquard.
"In window, all six colors in Chenille Stripe, a woven chenille stripe on an organza base were winners, especially the gold red. Another window winner is Rose Memento, a yarn-dyed floral jacquard."
MISSES: "Callaway Gardens was a nice bed, but no one jumped on it."
Windham Weavers
Lance Orlick, vp
HITS: "Tapestry curtains and valances were home runs and were very well received by buyers."
MISSES: "A cotton chenille rug. It just didn't work. People didn't like the construction."
Zheng Zhang USA
Keith Bolton, Vp, sales
HITS: "A pattern called Country Fields, a diamond-trip pattern in plums and watercolors and a tea-stained ground, a richly colored pattern that was very popular. We also had several winners in our jacquard comforter collections — Hampton Gardens, SoHo and Garland, particularly."
MISSES: "Some of our embroidered silks — that's something that needs some work. Because of the cost levels involved, that really has to have the bang for the buck.
"And, in general, anything that fit into the promotional end wasn't as popular. Everyone was looking harder at luxury and items with added value."
Zorlu
Lenore Ritter, design director
HITS: "Certainly the Easy Pleat was a big hit, along with the Emperor, which incorporates pucker embroidery, and Strathmore, a strie voile. We were also very excited about the strong showing made by our chenille tweed and our Royale Sateen group, the Royale Argyle and Houndstooth."
MISSES: "Candida, a puff print on a linen look. But that could have been as simple as maybe showing it in the wrong place in the showroom."
Related Content By Author
Subscribe to
Home Textiles Today eDaily
Receive the news you need to know about the trends in the industry delivered right to your inbox.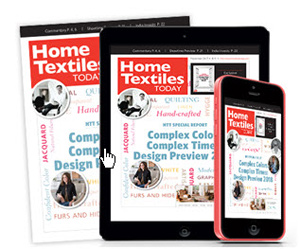 See the November 2017 issue of Home Textiles Today. In this issue, we look at Complex Colors, Complex Times--Trend forecasters and interior designers weigh in on 2018 palettes and motifs. Other articles include: Data: Exclusive HTT soft window research; Innovation: Material Changes conference preview; Country report: India invests in the future and Fabrics: Showtime preview. See details!