What's New at the Atlanta Rug Show
828 INTERNATIONAL TRADING CO.
Greenville, S.C. (800) 733-0828
828 International's latest rug collection is Varashawar, inspired by the cultures of India and Peshawar. The rugs are made in a Peshawar quality and are hand-tufted in India in a blended handspun Gazni wool twisted fiber. The collection includes the Oushak and Zigler patterns. Suggested retail is $399 for a 5-by-8.
The company will also show several new hand-knotted, hand-tufted, hand-hooked and power-loomed rugs which have been added to existing collections.
BALTA US INC.
Dalton, Ga. (877) 565-0497
The Casual Elegance collection, made using a drop-stitch technology, features more than 1 million points per square meter and a 12mm pile height. It is available in more than 15 casual and transitional patterns. For the launch of this collection, Balta will initially offer three sizes per design. The retail price points are set between $249 and $299 for a 5-by-8.
Also new is the Visiona collection, which is made using a special woven construction that blends cut-and-loop piles and has a 16 mm pile height. Designs are tonal geometric and border looks. It employs the company's own Berclon fiber. Retail price points are set to start at $129.
CAPEL INC.
Troy, N.C. (800) 334-3711
Capel is presenting nine new braided rug collections. Under the heading of New Classics, the new braided rugs are: Brunswick, an American original flat braid in a traditional, rustic color palette and made of a wool and synthetic fiber blend; New Generation, another wool and synthetic fiber blend made in a flat braid construction and available in country style colors; Bow Tie, a fabric and chenille combination braid in a striped repeat pattern that fits children's rooms, playrooms and dens; Cottonside, a 100 percent chenille braid made in a hammock rope style and available in bright colors; Oasis, a 100 percent chenille in a variegated color palette that includes canary yellow and coral reef; Saskatchewan, a heavy wool and chenille design by Dick Idol, available in a rustic, variegated pattern with neutral, earthy colors; Chenango, another chenille braid from Dick Idol but in a brighter palette and a soft construction; Outdoor Retreat, an indoor/outdoor exclusive braided rug design from Bob Timberlake, made of 100 percent polypropylene and available in heather-like designs; and Garden Gate, made in a 100 percent heather-like polypropylene heavy hammock rope construction.
CMI
PAWTUCKET, R.I. (800) 343-9339
The company is adding more than 20 colors in the black, brown and purple families to more than a dozen of its collections, including: Brook Farm in blackberry; Chestnut Knoll in black satin and saddle brown; Courtyard in cocoa and orchid; Deerfield in onyx and seal brown; Elegance in ebony; Lincoln in wine; Monroe in chocolate; Madison in dark plum, jet black and roasted brown; Midnight in java and carbon; Montage in ebony; Twilight in lavender; and Washington in black mix, brown mix and plum mix.
Also, a federal blue colorway has also been added to the company's Georgetown collection.
The new colors are also featured in a host of accessories, including accent rugs, chair pads, stair treads, trivets, rug slices, heart rugs, utility baskets, hampers with lids, waste baskets, nesting bowl sets, tote bags and pillows.
COURISTAN
Fort Lee, N.J. (800) 233-6186
Couristan is debuting several new collections as well as additions to existing lines.
The Aristocrat collection, inspired by 16th century French savonnerie and French accent floral patterns, comprises 100 percent wool and silk handmade rugs. Two new patterns are English Manor and Isfahan in an ebony colorway, and both have no fringes. The suggested retail for a 5'6"-by-8'6" is $720.
The Kashimar collection of 100 percent New Zealand semi-worsted wool is being expanded with two designs, All Over Center Medallion in antique red and Shalamzer in navy. A 5'5"-by-8'3" is set to retail for $659.
The Caribbean Vista design in red and sky blue is being added to the hand-crafted Oasis collection, which is made of 100 percent semi-worsted wool. The suggested retail price for a 5'6''-by-8' is set at $350.
FEIZY RUGS
Dallas (214) 747-6000
The company's new Cartesia collection centers on shapes and colors, from rusts and russets to chartreuse and charcoal and even rainbow palettes. It is hand tufted in a pure wool pile. The retail price point for a 5-by-8 is set at $598.
GULISTAN CARPET INC.
Pinehurst, N.C. (910) 639-3983
Gulistan is launching a Stainmaster-branded area rug collection, titled the 1200 Series. Positioned as the cornerstone of the company's business, the 1200 Series is available in 12 designs, from transitional to Persian, and carries a suggested $399 retail price for a 6-by-9.
Also new is the 900 Series, a collection of printed and carved Stainmaster-branded tufted rugs, made in seven designs with a target suggested retail of $299.
And Gulistan is adding new sizes to its 1000 Series of million-point, eight-frame polypropylene rugs. They include eight-foot rounds and 2'8"-by-7'6" runners. This collection carries a suggested retail of $299 and is comprised of 20 traditional, contemporary and transitional designs.
The company's sister, Bacova Guild Ltd., will for the first time participate in the market. It is showing its new 500 Series of half-million-point polypropylene rugs and its 800 Series of 10-frame, million-point polypropylene rugs.
HELLENIC RUG IMPORTS
Brooklyn, N.Y. (888) 356-5284
Hellenic Rug Imports and designer Bob Mackie are launching their joint collection of rugs — all hand-tufted and hand-knotted. The 40-piece collection includes wool and wool-and-silk varieties. Retail price points are set between $349 and $1,199 for a 6-by-9.
Hellenic will also introduce a new generation of machine made rugs. Titled Elegance, this collection is available in 30 contemporary designs and is made of fine denier heat-set olefin in a 12mm pile height. Positioned as a promotional offering, the collection's target retail price is $129 for a 5-by-8.
New additions are also being made to the Cristina Ferrare collection. And there are several additions this market to the recently released World Vineyards collection.
KARASTAN
Sugar Valley, Ga. (800) 843-4473
Karastan is focusing on geometric styling and updated traditional looks. New collections and offerings include: Artisan, inspired by architect Frank Lloyd Wright; Original Karastan, which has been expanded with the new Empress Kirman and Ravello designs; and Vintage Road, which has been expanded with the Amagansett design —each carries the Wools of New Zealand brand.
KAS ORIENTAL RUGS INC.
Somerset, N.J. (800) 967-4254
This market, the company is focusing on its contemporary collections, both in large scale florals and contemporary looks.
The Catalina collection, which is made of 100 percent fine wool and is hand carved and hand tufted in China, has been expanded with new designs, including Spring Butterfly Garden. Sizes range from scatter to area rug.
The company is also giving a makeover to its Sparta collection of hand-tufted rugs, using high-density Chinese wool.
Other introductions include new scatter rug programs in leather, water hyacinth, jute, sisal, coconut wood and indoor/outdoor constructions, as well as a new blended wool and viscose collection called "SoHo" and several new shag products.
MILLIKEN RUGS
LaGrange, Ga. (800) 241-4826
Milliken is debuting its Kashmiran collection as well as new extensions to its existing Pastiche collection.
Kashmiran is a wool rug collection of Oriental and Persian influences with a twist. The 10 designs include Balsa, Caramay, Pristina, Sharak, Terkan, Tiraz and Tournaiare. Milliken is also adding to its Stainmaster-branded offerings with more styles in the Pastiche collection. It features vibrant colors and soft-fiber technology in 10 new designs.
MOHAWK HOME
Sugar Valley, Ga. (800) 843-4473
Mohawk Home is introducing a collection of Laura Ashley-branded woven rugs. It comprises seven new designs in several color combinations, each carrying a suggested retail of $299.99.
The designs include: Laura and Ashton, both of which feature solid color interiors with patchwork design borders; Emily and Jacqueline, both are variations on the classic Aubusson style; Elizabeth, which features a traditional Persian center medallion; and Rachel and Caroline, which are both border design rugs with an all-over center motif of floral bouquets and vines.
Another major introduction from Mohawk Home is in the printed rug category, which is being expanded with 15 new designs and two new color palettes.
Other introductions include: expansions to the Urban Dimensions collection with new color combinations; new space-dyed nylons; and expanded tufted rug offerings to include an updated palette and new additions to the Hampton and Urban Retreat Shag collections. The Metropolitan collection is positioned as a new approach to scatter rug offerings.
MOMENI
New York (212) 532-9577
Marking its 30th anniversary, Momeni is showing several new introductions at the market. At the forefront is a new line of New Zealand wool machine-made rugs that are power loomed in China and feature some hand-serging and hand-carving detail work. Some of the collections in this line are: Elements, which is contemporary; Sutton Place, which employs European and decorative looks; and Persian Heritage, which features updated classical Persian Oriental rug designs.
Also new are nine additions to the 100 percent wool New Wave collection, which is hand-tufted in China.
New designs are being introduced to Lama, a group of contemporary and transitional rugs that are hand-tufted in India of New Zealand wool. Other collections also expanding with new designs include Delhi, Metro, Spencer, Bali, Dorado, Mandalay, Old World, Maison and Tuscany, among others.
The company is also offering its largest selection ever of hand-knotted Persian rugs, including tribal and village rugs like Gabbeh, Shiraz, Hamadan, Malayer, Karajeh and Kurdish, as well as a large selection of Pakistani Chobi rugs, Kazaks and Khal Mohamadi rugs.
NATCO HOME
West Warwick, R.I. (401) 828-0300
Natco Home is for the first time adding handmade rugs to its line.
The collection, which has not yet been officially named, is made in India of hand-tufted wool and is available in 12 designs. A 6-by-9 is set to retail for $299.
NOURISON
Saddle Brook, N.J. (201) 368-6900
For its power-loomed category, the company has several introductions. The new Nourison Chambord collection is made using Luxcelle fiber and features classic French designs highlighted with hand-carving effects.
Also new are the Golden Saga collection, which comprises classic Persian designs, and Parallels, a modern collection featuring hand-carved effects — both are made with Luxcelle fiber.
The new Cubix collection centers on a bright palette and contemporary designs. And new contemporary designs have been added to the Somerset collection.
Under the handmade rug category, Nourison is making several new introductions. The Nourison Ancestry collection is inspired by antique carpets. These hand-knotted rugs are made with 100 percent wool yarns.
The Nourison Dimensions collection, also new, is made of 100 percent wool and is hand carved. Its designs are geometric and abstract.
New designs have been added to the 100 percent wool Heritage Hall, India House and Julian collections and the 100 percent New Zealand wool Jaipur collection. New designs have also been added to the Nourison 2000, Nourmak, Spectrum, Suf-I-Noor, Tahoe and Versailles Palace collections of handmade rugs.
ORIAN RUGS
Anderson, S.C. (864) 224-0271
Orian Rugs is launching its new collection of rugs under the brand of the late singer Jerry Garcia of The Grateful Dead.
The collection features images taken from some of Garcia's close to 500 individual pieces in watercolor, gouache, pencil, ink, airbrush and digital media.
Sizes range from 4-by-6 to 8-by-11. Some patterns may also be translated into eight-foot runners, 3-by-5 accents and round rugs. Expected retails range from $199 to $899.
SHAW LIVING
Dalton, Ga. (706) 275-2932
Shaw Living is expanding its Kathy Ireland program with the First Lady collection. Featuring Shaw's trademarked EverTouch nylon fiber, this new collection comes in 30 traditional designs in antiqued colorways — vivid red, deep coral, and warm greens paired with brown and turquoise blue. The suggested retail for a 5-by-8 is $499.
ORIENTAL WEAVERS HOLDINGS
Dalton, Ga. (706) 277-4725
The company's Sphinx division is unveiling its new National Geographic collection. Included in the line are Wools of New Zealand-branded machine-made rugs. Designs include: South America, available in five patterns; Tropic Winds, available in three patterns; and West Indies, in three designs.
Sphinx offers its National Geographic Home collection in a wide array of sizes, ranging from 2'7"-by-9'4" to 9'10"-by-12'6". The suggested retail for the machine-made styles in South America and West Indies is $599 for a 5'8"-by-7'10" and Tropic Winds is $599 for a 5'3"-by-7'6".
Sphinx is also showing two new machine-made collections and new additions to its Andy Warhol Home and Serenity collections.
The new Egyptian machine-made Lava collection features sharp geometrics and flowing lines in bold red, orange and brown tones. It is made of 100 percent wool and is hand carved.
The Sierra collection, which pairs cool-water blues with earthy browns in casual contemporary to sophisticated transitional looks, is machine-made in Egypt of 100 percent wool and features hand carving. The Andy Warhol Home line now includes six additional machine-made designs, and the classic Serenity collection is also being expanded with nine updated designs.
TRANS-OCEAN INC.
White Plains, N.Y. (914) 949-5656
The company is adding two licensed programs to its offerings — Lillian August and Winterthur Museum. It is also vastly expanding its existing program with designer Liora Manné.
The Lillian August line comprises six collections of hand-crafted 100 percent wool rugs, including the hand-hooked China Chancellor and Westbrook rugs.
The Winterthur Museum collection, based on the license's 17th to 19th century American decorative arts foundation, includes the hand-hooked 100 percent wool Newport design, the hand-tufted 100 percent wool Belle Isle design and the Port Royal Wilton-woven 100 percent wool design.
Under the Liora Manné brand, additions include the hand-tufted wool and viscose pile Orleans, hand-tufted wool pile Ravella and hand-tufted wool pile Dunes designs.
Related Content By Author
Subscribe to
Home Textiles Today eDaily
Receive the news you need to know about the trends in the industry delivered right to your inbox.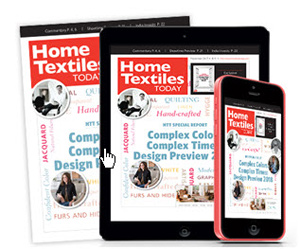 See the November 2017 issue of Home Textiles Today. In this issue, we look at Complex Colors, Complex Times--Trend forecasters and interior designers weigh in on 2018 palettes and motifs. Other articles include: Data: Exclusive HTT soft window research; Innovation: Material Changes conference preview; Country report: India invests in the future and Fabrics: Showtime preview. See details!